Trump makes legal claims about classified documents, experts push back: Fact check
He repeatedly mischaracterized the law after his court appearance, they said.
Earlier this week, former President Donald Trump, speaking to supporters hours after his arraignment, outlined potential legal arguments as he defends himself against his second indictment.
Trump took the stage at his Bedminster, New Jersey, golf club just hours after his appearance in a Miami courtroom, where he pleaded not guilty to 37 felony counts in relation to his alleged mishandling of classified documents.
"This day will go down in infamy," he said.
Trump unloaded on the charges and in the process mischaracterized aspects of the Presidential Records Act and the Espionage Act, experts told ABC News.
Here's a more in-depth look at the former president's claims.
He cites the Presidential Records Act
"Under the Presidential Records Act, which is civil not criminal, I had every right to have these documents," Trump said.
The 1978 law, not mentioned in the indictment, states just the opposite, as it requires records created by presidents and vice presidents be turned over to the National Archives and Records Administration (NARA) at the end of their administrations.
"On the contrary, the former President had absolutely no right to have taken any presidential records with him to Mar A Lago," Jason R. Baron, former director of litigation at NARA, told ABC News in an email.
"Under the Presidential Records Act, the Archivist of the United States assumed legal custody of all Trump White House official records immediately upon President Biden's swearing in as President," Baron said. "Every piece of paper constituting an official document, whether it was classified or unclassified, should have been turned over to NARA. Moreover, when NARA staff asked for the return of the records improperly taken, the former President should have immediately given NARA every official document in his possession."
Among the documents found at his Florida estate, according to prosecutors, were ones marked "top secret" and some about the country's nuclear programs.
"I think it is misleading because the Presidential Records Act just isn't the statute at issue," Margaret Kwoka, a law professor at Ohio State University, told ABC News of Trump's remarks.
"There's no reason to think that the Presidential Records Act somehow overrides the Espionage Act," Kwoka added. "And so this is not, in my view, going to provide a very strong sort of basis for defense against the charges in the indictment."
He alludes to a judge's decision in a case involving former President Bill Clinton
"Judge Amy Berman Jackson's decision states under the statutory scheme established by the Presidential Records Act, the decision to segregate personal materials from presidential records is made by the president during the president's term and in the president's sole discretion," Trump said.
Trump has repeatedly pointed to a case involving former President Bill Clinton in the wake of the indictment.
In 2010, the conservative group Judicial Watch sued the National Archives and Records Administration, arguing audio tapes kept by Clinton for interviews he did with historian Taylor Branch during his years in office -- and which he afterward allegedly kept in a sock drawer -- were "presidential records" and should be made available to the public.
U.S. District Court Judge Amy Berman Jackson dismissed the case, and Trump and his allies have taken to quoting different parts of her opinion in their defense.
The Presidential Records Act does contain an exception for personal records, according to Baron, including items such as "diaries, journals, and other personal notes that were never used in the transaction of government business."
"President Trump had the right to keep those types of records. But the argument being made by some that he had some kind of absolute authority while president to declare classified records or other official records about government business as his personal records is absurd in its face," he said. "It is also contrary to law. The decision by Judge Jackson cited prior precedent from the D.C. Circuit that stands for the opposite proposition."
That citation included in Jackson's opinion reads, in part, that the Presidential Records Act "does not bestow on the president the power to assert sweeping authority over whatever materials he chooses to designate as presidential records without any possibility of judicial review."
"Judge Jackson went on to speculate about the level of deference to be afforded a president making a categorical decision about whether records of his were personal, but she never ruled on that issue," Baron said. "Instead, the case was dismissed on the grounds that plaintiff had no standing to compel the Archivist to seize materials not in the government's possession."
There are also significant differences between the materials in question in the two cases.
"In that case, the records were very different and really did seem arguably personal," Kwoka said of the Clinton matter. "We're just sort of nowhere near the situation that we're discussing today with the records that President Trump kept."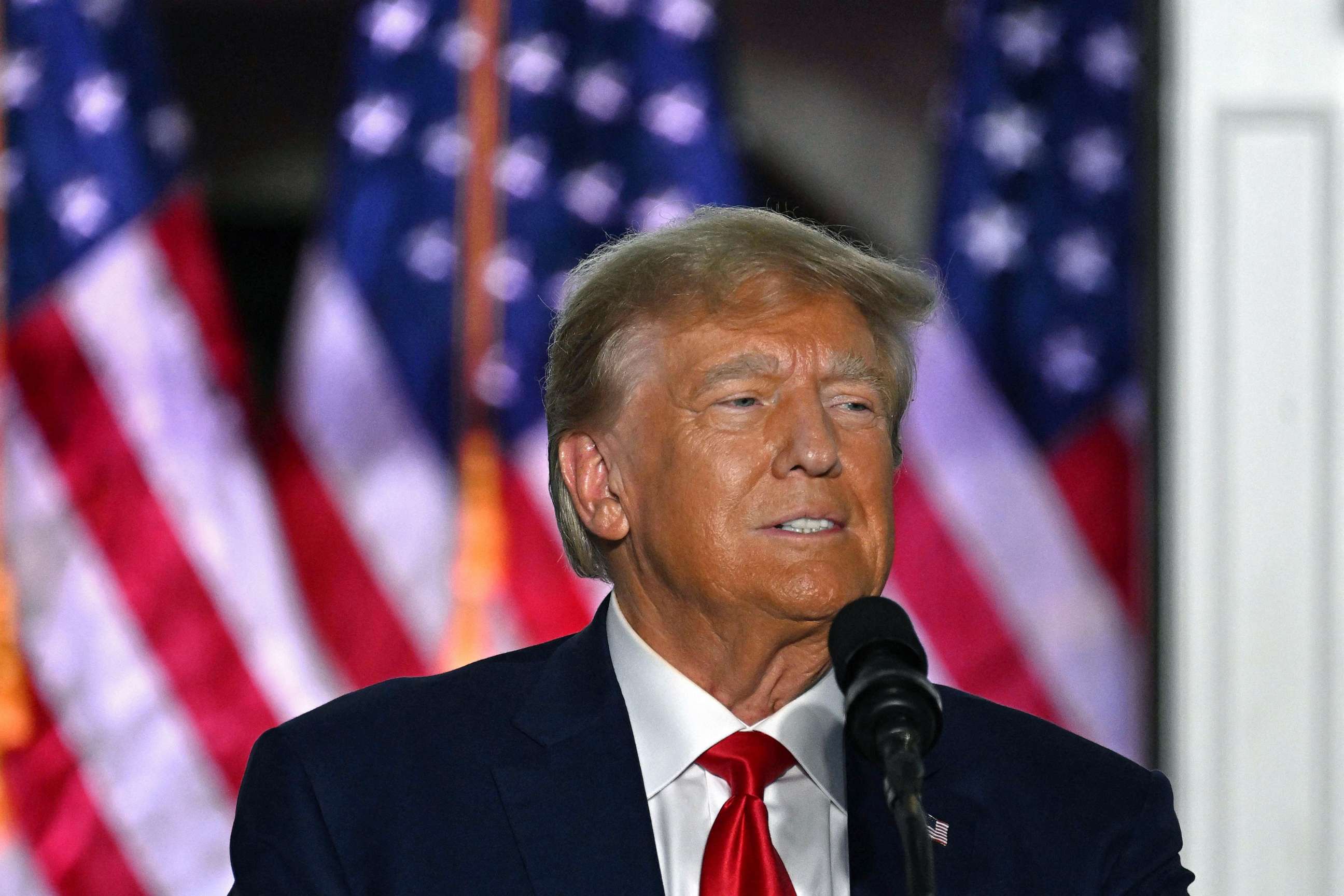 He claims he was still negotiating with the National Archives and Records Administration (NARA)
"I was supposed to negotiate with NARA, which is exactly what I was doing until Mar-a-Lago was raided," Trump said.
Trump continued to make an argument he and his team have been for months, asserting he's allowed to negotiate with NARA over which documents are personal and what's presidential after leaving office.
NARA, in a June 9 statement, said the law requires a president to separate personal and presidential documents "before leaving office."
"There is no history, practice, or provision in law for presidents to take official records with them when they leave office to sort through, such as for a two-year period as described in some reports," NARA said.
He says he's being treated like a spy
"The Espionage Act has been used to go after traitors and spies. It has nothing to do with a former president legally keeping his own documents," he said.
Trump has been charged under 18 U.S.C. § 793(e) of the Espionage Act, which prohibits unauthorized retention and disclosure of national defense information, and does not require that information be classified or disseminated to a foreign government.
Neither did the indictment charge him with disseminating information with the intent to harm the U.S.
Still, Trump and his allies have repeatedly claimed he's accused of being a spy.
"This is not an uncommon argument for defendants to make," David Aaron, a senior counsel at Perkins Coie and former federal prosecutor with the Justice Department's national security division, told ABC News. "The title Espionage Act is kind of a misnomer because it includes much more than espionage."
"Espionage is a different section entirely of Title 18. He's charged simply with willfully retaining national defense information," Aaron said. "He's not charged with disclosing classified information to foreign governments or to anyone else, although there are references in the current indictment to his alleged disclosure to unauthorized people."