— -- President Donald Trump, in his notable absence, praised the five former U.S. presidents who spearheaded a hurricane relief concert in a Texas college town Saturday night in a video played at the event.
Democrats Barack Obama, Bill Clinton and Jimmy Carter and Republicans George W. Bush and George H.W. Bush came together for the "Deep From the Heart: The One America Appeal" concert at Texas A&M University's Reed Arena in College Station to raise money for relief efforts from the recent hurricane devastation in Texas, Florida, Puerto Rico and the U.S. Virgin Islands.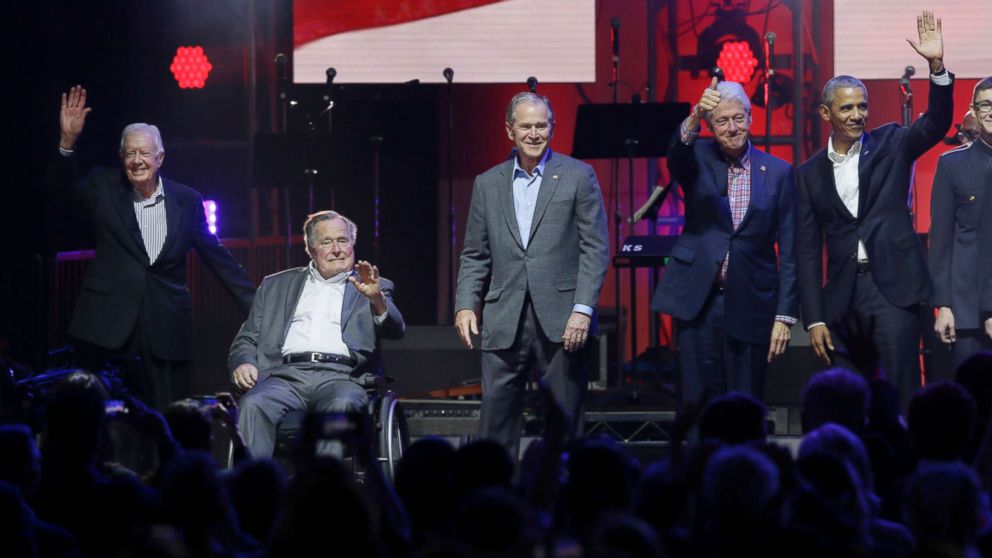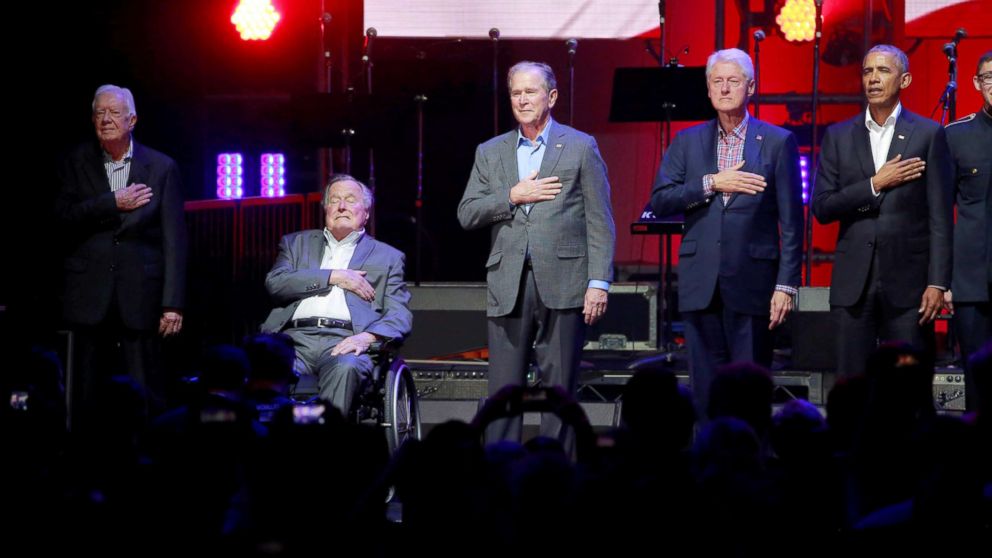 All ticket sales and other proceeds from the charity event will go to the special hurricane recovery effort launched last month by the five former presidents. The appeal had already raised $31 million since it launched Sept. 7, Jim McGrath, spokesman for former President George H.W. Bush told The Associated Press.
The lineup featured country music band Alabama, Rock-and-Roll Hall of Famer Sam Moore, gospel legend Yolanda Adams as well as Texas musicians Lyle Lovett, Robert Earl Keen, while Lady Gaga made a surprise appearance.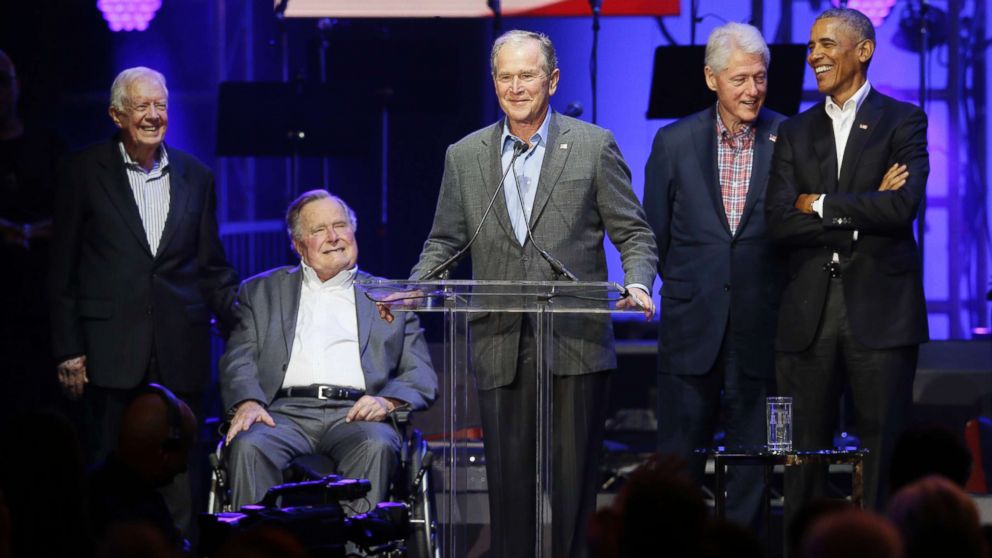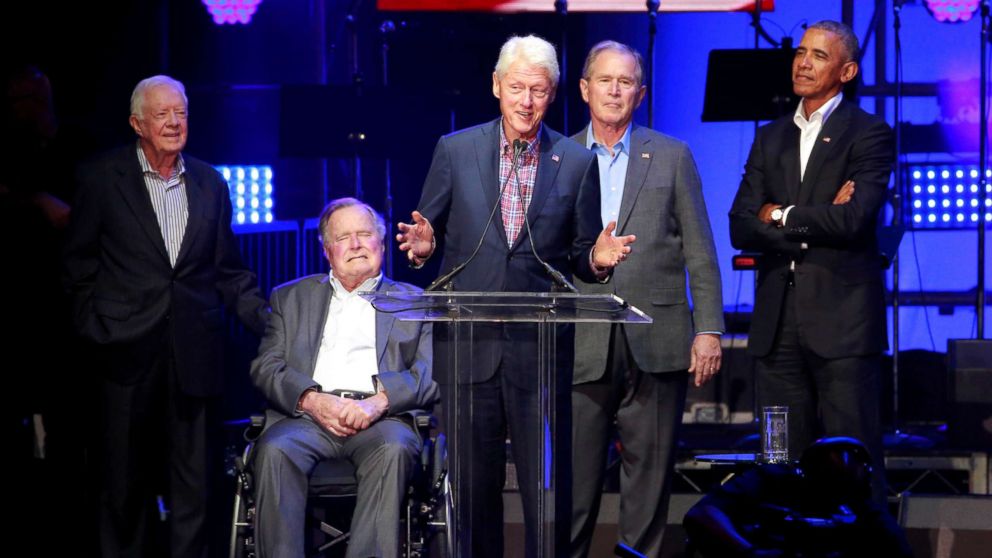 Although he wasn't physically present, Trump taped a video message that was played at the fundraising event.
"President Trump was honored to be given an opportunity to participate in relief and recovery efforts. He encourages all Americans to be as generous as they can in helping storm survivors through this difficult time," the White House said in a statement obtained by ABC News Friday.
In his video message, Trump notably thanks his predecessors for their "tremendous assistance" with supporting hurricane relief efforts.
"As we begin to rebuild, some of America's finest public servants are spearheading the One America Appeal. Through this effort, all five living former presidents are playing a tremendous role in helping our fellow citizens recover," Trump says. "To presidents Jimmy Carter, George H.W. Bush, Bill Clinton, George W. Bush and Barack Obama, Melania and I want to express our deep gratitude for your tremendous assistance."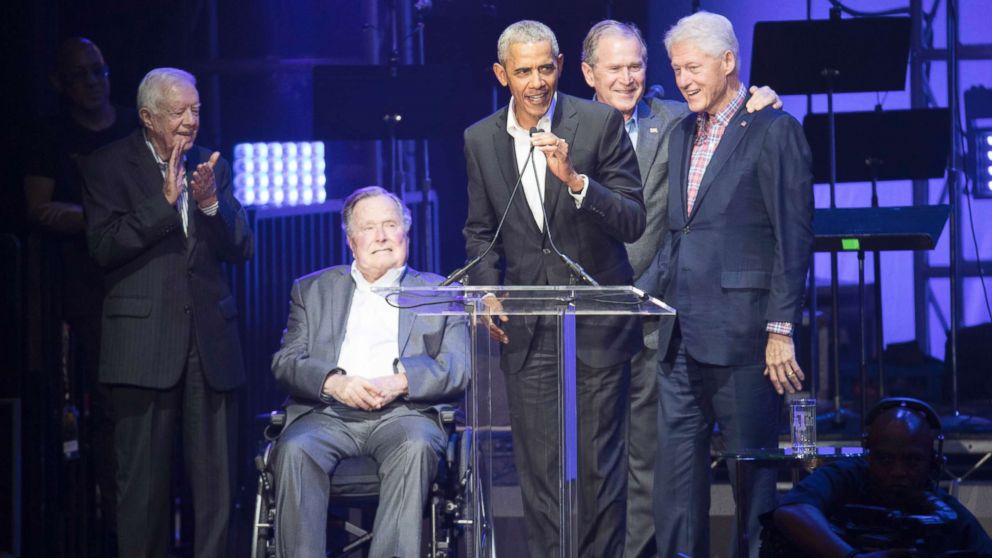 Trump's message marked a change of tone for a president who has accused Obama of illegally wiretapping Trump Tower in New York City, routinely derides his other predecessors and continues to call for an investigation into his former Democratic opponent and Clinton's wife, Hillary Clinton.
Trump has recently come under fire for the difference in his responses to the hurricane devastation in U.S. states compared to that in U.S. territories. After a string of hurricanes -- Harvey, Irma and Maria -- battered Caribbean islands and the southern U.S. in recent months, Trump criticized Puerto Rican leaders grappling with the devastation and suggested there could be a limit to how much aid the U.S. territory may get from the federal government.