— -- Tulsa police officer Betty Shelby, identified as the officer who shot 40-year-old Terence Crutcher on Friday night, has offered her side of the story in the fatal encounter.
In dashcam and helicopter video released by police, Crutcher appears to have his hands up moments before he is shot by Shelby. Shelby's attorney, Scott Wood, maintains that Crutcher refused to follow more than two dozen commands and that he reached into the open window of the car before Shelby perceived a threat and shot him.
The Crutcher family's attorneys Benjamin L. Crump and Damario Solomon-Simmons said the window was up, evidenced by the blood spattered on it when he was shot.
The Department of Justice is investigating Shelby's use of force.
Here is Shelby's side of the story, according to her attorney and the police department.
Shelby Was Responding to a Different Incident
At about 7:36 p.m. Friday, dispatchers received a 911 call about an abandoned SUV in the middle of a street, with the driver's door open and the engine still running, Tulsa Police Chief Chuck Jordan said Monday. The caller said a man was running from the vehicle, saying it was "going to blow."
Shelby and another officer were on their way to a domestic violence call when she came across the SUV, Jordan said.
On her way to that call, Shelby saw Crutcher standing in the middle of the road, looking down at the ground, Wood said, adding that she would have stopped and checked up on him had she not been on the other call.
She then saw the SUV parked in the middle of the street, obstructing traffic in both directions, Wood said. The engine was running when she got there, which she found odd because she assumed it was either disabled or broken down, he said.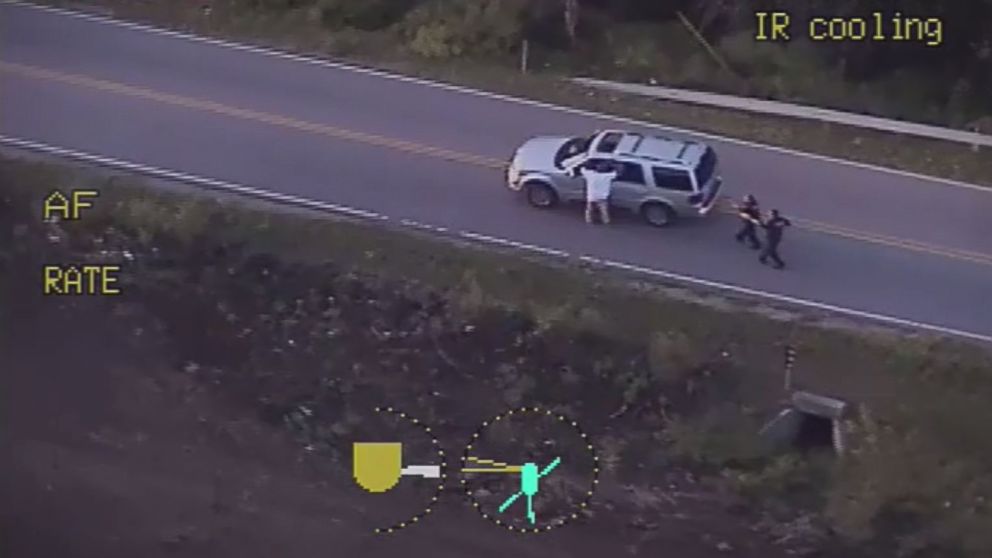 The Encounter Started More Than a Minute Before What Is Shown on the Released Video
Wood said "it's important to remember" that Shelby was on the scene with Crutcher for about a minute and a half before the start of the video clip released by police on Monday.
When Shelby approached the car, the doors were closed, and the windows were open, Wood said. She looked into the passenger's side to make sure no one was on the floor of the car, and as she was getting ready to move to the driver's side, she turned around and saw Crutcher walking toward her, Wood said.
Wood said that Shelby then said to Crutcher, "Hey, is this your car?"
Crutcher didn't respond, simply dropping his head while continuing to look at Shelby, "kind of under his brow," Wood said. Crutcher then began to put his hand into his left pocket, Wood said, adding that Shelby told Crutcher, "Hey, please keep your hands out of your pocket while you're talking to me. Let's deal with his car."
Crutcher did not respond, Wood said, so Shelby ordered him again to get his hand out of his pocket. He then pulled his hand away and put his hands up in the air, even though he was not instructed to do so, which Shelby found strange, Wood said.
Shelby tried to get Crutcher to talk to her, but he simply mumbled something unintelligible and stared at her, Wood said. He then turned and walked to the edge of the roadway and turned to look at her, his hands still in the air, Wood said. He put his hands down and started to reach into his pocket again, Wood said, and she ordered him again to get his hands out of his pocket.
At this point, Shelby, a drug recognition expert, believed Crutcher was "on something," Wood said, possibly PCP.
Shelby then radioed in that she had a subject "who is not following commands."
"You can kind of hear a degree of stress in her voice when she says that," Wood said.
Shelby then pulled out her gun and had Crutcher at gunpoint as she commanded him to get on his knees, Wood said. She pulled out a gun instead of a Taser because she thought he had a weapon, and she was planning to arrest him for being intoxicated in public and possibly obstructing the investigation, Wood said.
Shelby ordered Crutcher to stop multiple times as Crutcher walked toward the SUV with his hands up, Wood said.
But those orders cannot be heard in the audio from the dashcam video, which starts as another patrol car pulls up to the scene, showing Crutcher walking toward the SUV with his hands up as Shelby follows him, apparently with her weapon drawn and pointing at Crutcher.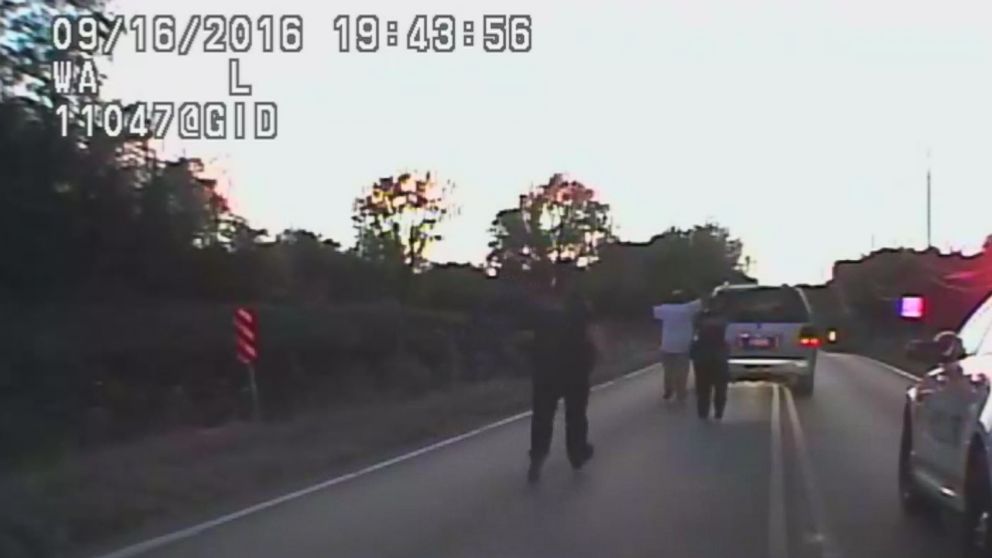 Crutcher Allegedly Attempted to Reach Into the SUV
As the video from the helicopter begins, Crutcher was "angling" toward his car while Shelby repeatedly commanded him to stop, Wood said. His hands were still in the air.
"As a police officer, you have to wonder — why would someone ignore commands at gunpoint to get to a certain location?" Wood said.
Crutcher's arms came down, and he turned to face the car, Wood said, and he reached into the driver's side window with his left hand. That's when Shelby fired one shot and a fellow officer, Tyler Turnbough, deployed a Taser, Wood said.
Shelby believed that when Crutcher attempted to reach into the car, he was retrieving a weapon, Wood said. In her interview with homicide detectives, she said, "I was never so scared in my life as in that moment right then," according to Wood.