— -- A series of powerful storms, which included a confirmed tornado, tore through Tulsa, Oklahoma overnight, damaging businesses and leaving at least 26 people injured, according to a local hospital.
The National Weather Service (NWS) of Tulsa issued warnings overnight of thunderstorms, flash flooding, and a possible tornado in the area. Photos released by the Tulsa Fire Department show parts of the city shrouded in darkness with businesses and street signs mangled.
On Sunday afternoon, the NWS found damage consistent with an EF-2 tornado, meaning it produced wind speeds of at least 111 miles per hour.
As many as 11,000 people were left without power as a result of the storm, according to a report in Tulsa World.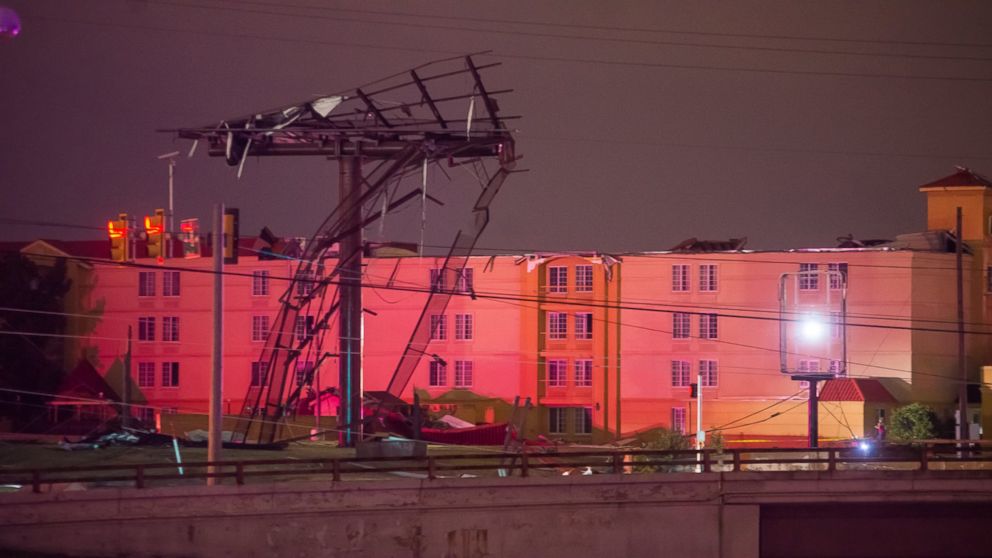 Lauren Landwerlin of Saint Francis Hospital in Tulsa confirmed to ABC News that it received 26 patients overnight with storm-related injuries. None of the patients had critical injuries, Landwerlin said, and most were treated for lacerations.
A flash flood warning remains in effect for the area until 1 p.m. this afternoon, according to the U.S. National Weather Service, which is warning against driving through flooded areas.
Rain may exceed three inches in parts of Tulsa and its surrounding areas, the weather service warns, which may cause river levels to rise.
Flooding in New Orleans and Kansas City
Meanwhile, flash flooding submerged parts of Kansas City and New Orleans in water this weekend.
Four to six inches of rain were reported across parts of Kansas City, where highway I-35 had to be shut down.
Photos posted on social media by The Missouri Department of Public Safety show vehicles submerged up to the windows in water.
In New Orleans, parts of Jefferson Parish were pummeled with heavy rains that accumulated close to eight inches in some areas, according to Nola.com.
One social media user posted an image from inside the Broad Theater in downtown New Orleans, which shows the building flooded across the floor of its lobby.
Another user posted a video of a man kayaking across the street of a neighborhood that appears entirely flooded.
ABC News' Matt Foster and Brendan Rand contributed to this report.