— -- A woman from Hawaii said United Airlines gave a standby customer the nearly $1,000 seat she purchased for her young son, forcing her to hold the boy on her lap during a three-hour flight.
Shirley Yamauchi said she noticed nothing unusual when she boarded the United flight in Houston last week with her 27-month-old son, Taizo, while traveling from Hawaii to Boston.
"The tickets were scanned without any incident," she told ABC News. "I didn't see any difficulty or anything strange."
But after she and her son were seated on the plane, she said, a passenger who was on the standby list arrived at their row with a ticket for Taizo's seat.
"The flight attendant, when I let her know that these were my seats, she came back and told me that the flight is full, and she shrugged, and that was the end of it," Yamauchi recalled.
Yamauchi's experience follows an April incident in which people on board a United aircraft recorded fellow passenger David Dao wrenched from his seat and dragged down the aisle after refusing to give up his seat to make room for United crew members.
Yamauchi said she "didn't want to cause a scene," so she held her son in her lap for the flight.
"I didn't want [Taizo] hurt, especially," she said, explaining why she did not argue with the flight attendant. "I, of course, feared my personal safety, with everything I've seen with United Airlines. I didn't want to see anybody get hurt."
Yamauchi said holding 25-pound Taizo in her lap during the flight caused her to temporarily lose feeling in her legs and left arm.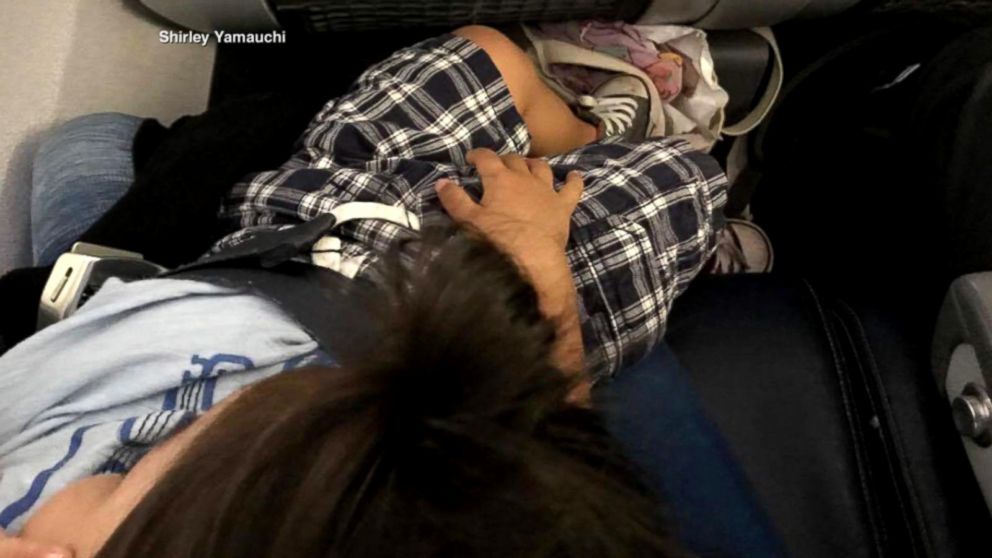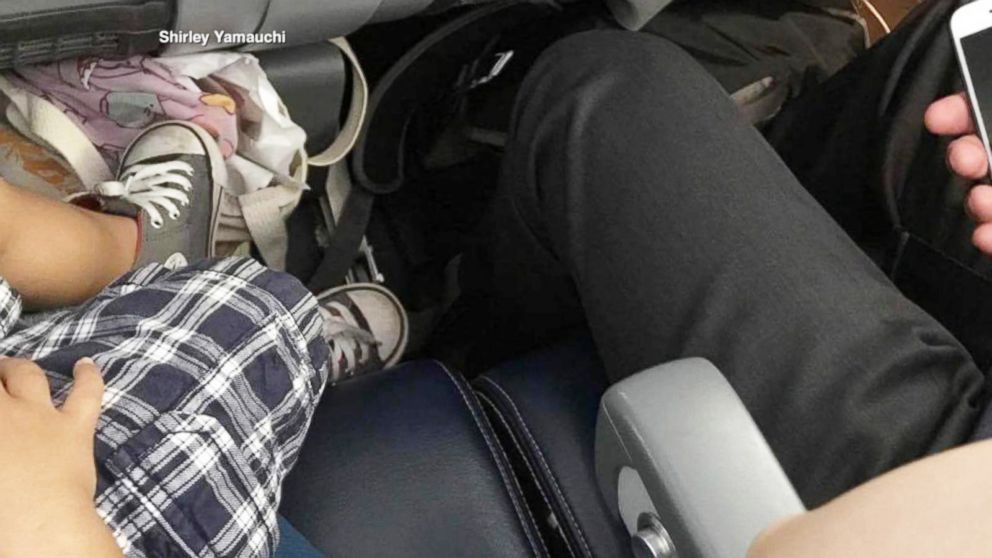 The Federal Aviation Administration says in its guidelines, "The safest place for your child on an airplane is in a government-approved child safety restraint system or device, not on your lap ... You aren't capable of holding your child securely, especially during unexpected turbulence."
United's manual states that "children under the age of 2 are allowed to travel on an adult's lap."
United Airlines told ABC News in a statement that the mix-up occurred after someone "inaccurately scanned the boarding pass of Ms. Yamauchi's son." The airline also said it refunded her the cost of the ticket and offered her compensation.
"On a recent flight from Houston to Boston, we inaccurately scanned the boarding pass of Ms. Yamauchi's son," the statement read. "As a result, her son's seat appeared to be not checked in, and we released his seat to another customer, and Ms. Yamauchi held her son for the flight."
It continued, "We deeply apologize to Ms. Yamauchi and her son for this experience. We are refunding their tickets and providing compensation as a goodwill gesture. We are also working with our employees to prevent this from happening again."