— -- Christophe "Douky" Deketelaere was happily posing for photos while I was a nervous wreck being strapped into the cockpit of his high-performance ex-military jet.
Deketelare, 52, a former elite pilot with the French Air Force, did not know that I had nearly chickened out of riding shotgun with him in an L-39C Albatros Czech fighter-training aircraft, which is capable of reaching up to 565 mph in a dive.
Deketelaere, now a pilot with Breitling's Jet Team, has been taking adventurous journalists up in the air for a demonstration of the team's aerobatics (a.k.a. dips, spins, turns and barrel rolls) for years -- and this ride was probably one of hundreds he piloted over the team's two-year American tour.
"Top Gun" was a favorite movie of mine as a little girl, so with the iconic movie celebrating its 30th anniversary in May, why not actually experience the fighter pilot lifestyle -- if only for 25 minutes? This would be a "once in a lifetime experience" I was told repeatedly.
I'm not an adrenaline junkie as some of my ABC News colleagues believe. Going on The Twilight Zone Tower of Terror ride at Walt Disney World already pushes my limits. Breitling, the Swiss luxury watchmaker, assembled the team in 2003 in order to "share its passion for aviation." The company says its seven pilots, who all hail from France, are the first and world's largest professional civilian aerobatic jet team.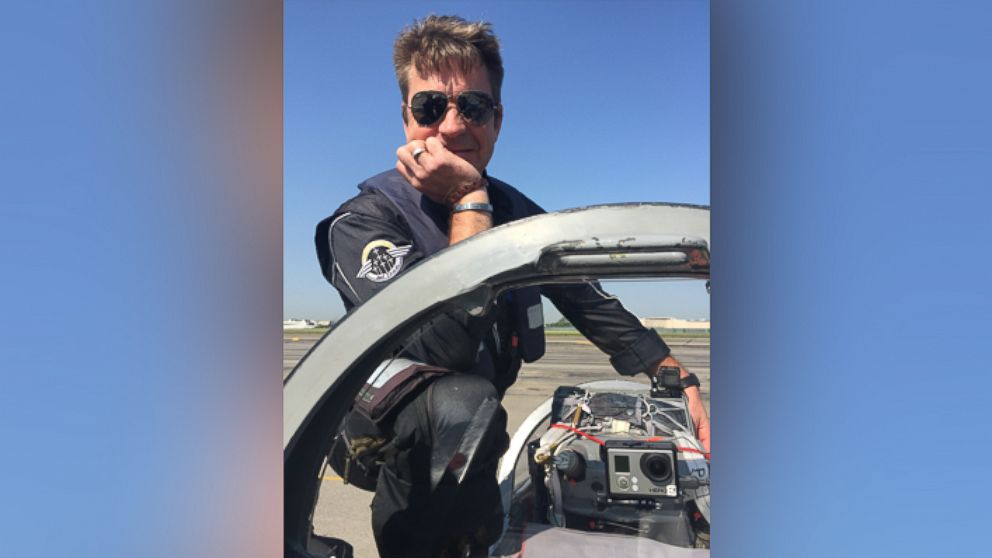 After being fitted in my black flight suit and yellow helmet, I could feel tiny beads of perspiration multiplying across my forehead as the requisite safety video detailed again and again how to eject oneself from the jet in case of an emergency. Um, was it too late to graciously bow out? Fifteen minutes later I was stepping into the jet at Republic Airport in East Farmingdale, New York, praying that my breakfast would remain in my stomach throughout the flight.
Deketelaere, in his charming French way, was doing his best to calm my nerves. He hummed and sang French tunes as we waited to taxi down the runway while assuring me that I'd love every minute of my time in the air. I gulped and sat frozen in place behind him, concentrating mightily on not accidentally hitting the red ejection lever situated less than five inches from my right knee. The brief excursion would take us soaring over the Long Island Sound at a height of 5,000 to 10,000 feet with the team showing off its intensive training and pageantry.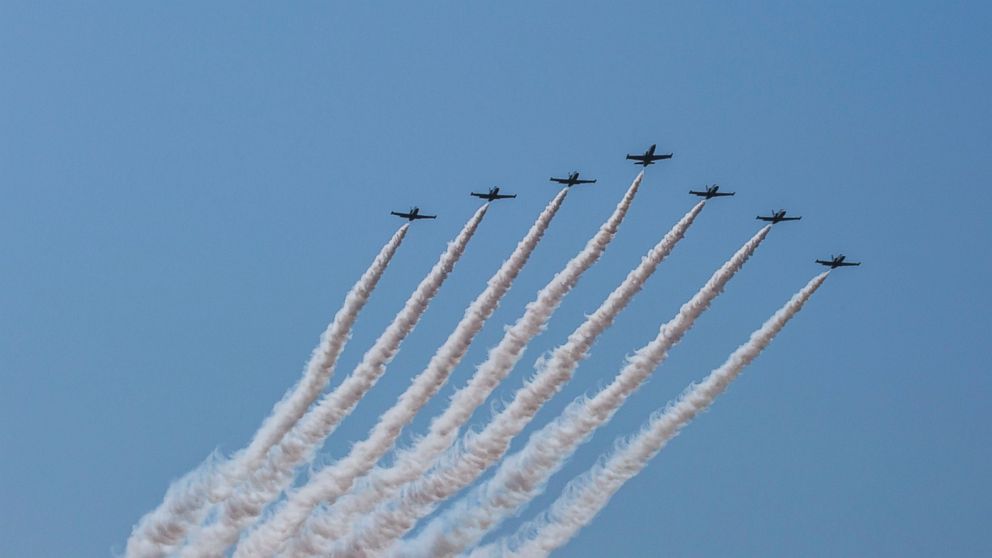 "Are you ready?" Deketelaere asked as he positioned the jet within 10 feet of his teammates in a tight V formation. "We're about to start the aerobatics." I was content flying just as we were -- straight, smooth and serenely. Now was the time of reckoning. "Let's go," I replied.
After the first few loops my inner compass was disoriented. Was the blue in my vision the heavens or the water? My head was spinning as I felt the impact of 4-G acceleration for the first time.
Imagine an unseen force thrusting your body into a concrete sidewalk. I closed my eyes tightly and quickly grabbed the white little paper bag conveniently placed for those with weak stomachs. The next few minutes were a blur as I heaved into the bag.
"Are we at the airport yet?" I whispered into the helmet microphone. "Six minutes away," Deketelaere tried to comfort me. "Hang on."
Ten minutes later, with my feet safely planted on the ground, I was told the jets had swooped, glided and whooshed in unison, just as they do for the large crowds that gather every weekend at air shows across the country.
Deketelaere told me that it took him a long time to learn the sky-high stunts and maneuvers required of all Breitling pilots. Even though the current team has been working and traveling together for years, they still review tapes of their air show performances to refine their flying and point out weaknesses.
"We're never perfect, from our perspective," he said. "If we're 1 meter off, we're not perfect. We try to correct and improve with each other."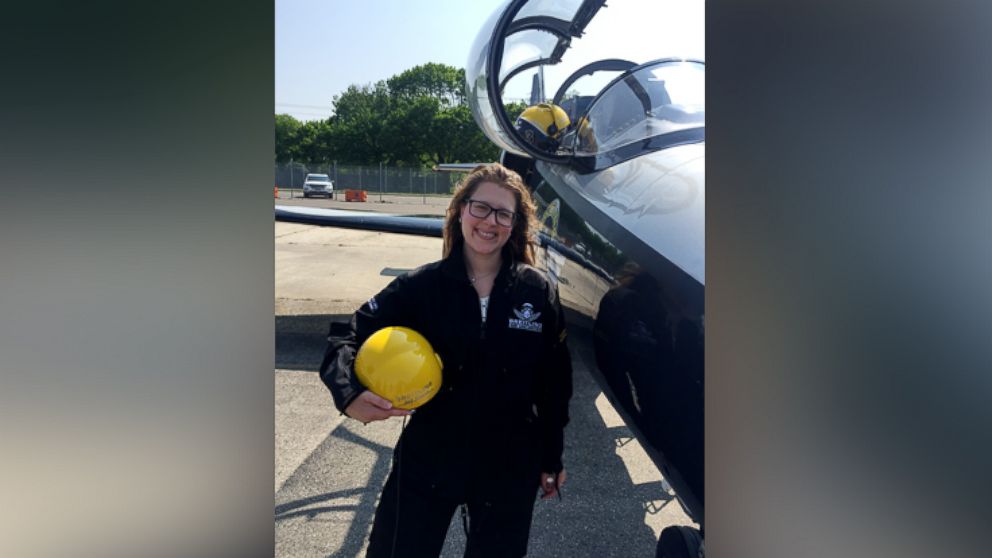 Back on home turf, I recounted the experience to friends, family and colleagues. All were impressed that I had the guts to set foot into the jet, trusting my life to a stranger. One week after my scheduled flight, a Navy Blue Angels pilot was killed when his F-18 crashed during a practice run in Tennessee. The crash put my flight into perspective; had the tragic incident happened earlier, I might have lost my nerve and bailed right there on the tarmac in Long Island.
The flight suit Breitling gave to all the journalists are ours to keep. I will proudly don my uniform -- equipped with a paper bag -- if called again to the skies.