— -- Civil rights groups are expressing concern that a wave of anti-Muslim sentiment is fueling the growth of right wing extremism across the United States, citing dozens of anti-Sharia demonstrations across the U.S. this weekend and an ongoing uptick in online recruitment.
Police in Seattle and St. Paul, Minnesota, made arrests after fighting broke out during a series of marches across the U.S. on Saturday against Sharia, a strict form of Islamic law. The marches, launched by ACT for America, a self-described non-profit national security organization, is run by vocal supporters of President Donald Trump.
Ibrahim Hooper, the National Communications Director for the Council on American-Islamic Relations (CAIR), told ABC News in a recent interview that the anti-Sharia rallies were being used by some neo-Nazi and white power groups to recruit new members.
"What we are seeing in America right now is the mainstreaming of hate," Hooper said. "Extremists feel empowered now because they think that they have the president on their side."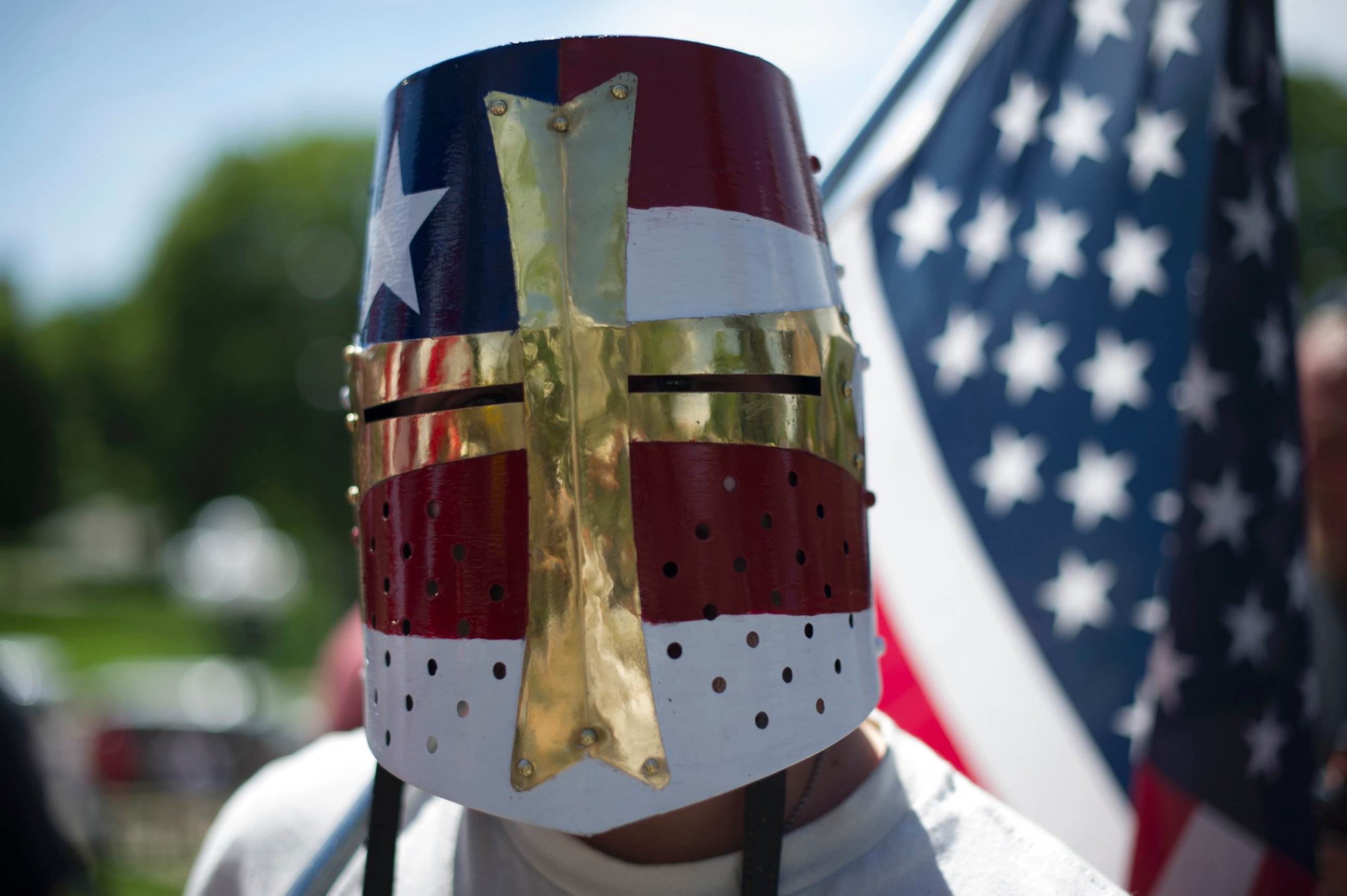 Neo-nazis seeking a larger audience through Islamophobia
Hooper cited a June 6 article published by the Southern Poverty Law Center (SPLC), a nonprofit legal advocacy organization, as an example of what he sees as a growing issue: neo-nazi and far-right extremists finding a larger audience though Islamaphobia shared by some Trump supporters.
The SPLC article notes that Billy Roper, who the group describes as a neo-Nazi, organized a Batesville, Arkansas rally for "March Against Sharia," before controversy led it to be canceled by ACT for America.
"What you see there is that white supremacist groups are colluding with anti-Muslim groups in order to reach a wider message," Hooper said of Roper's involvement in the canceled rally.
"It has come to the attention of our organization that a volunteer organizer involved in the Arkansas "March Against Sharia, March for Human Rights" event has disturbing associations with white supremacist groups," a statement from ACT for America read about Roper. "As soon as this information revealed itself to ACT for America, our organization took immediate action by canceling the event."
ABC News reached out to Roper for a comment about the removal of his rally, but did not receive a response.
Scott Presler, an organizer for ACT for America stressed to ABC News last week that the purpose of Saturday's rallies was not to give voice to anti-Muslim sentiment, but to attempt to bring to light a series of crimes perpetrated in the U.S. that he claims were committed in the name of Sharia, the religious law that forms part of the Islamic tradition and whose application is frequently debated by modern and traditional Muslim scholars.
Presler gave several examples of the alleged threat Sharia poses to Americans, including a Virginia imam whose apparent praise of female genital mutilation in a May address led to his dismissal at the Dar al-Hirah Islamic Center, according to a report in The Washington Post.
A coalition of 129 national and local organizations, including the SPLC and CAIR, issued letters to 29 mayors in advance of Saturday's marches urging them to embrace "values of pluralism, diversity and liberty for all while firmly rejecting the forces of hate and bigotry that seek to divide us."
Nevertheless, many of the rallies proceeded, and led to scuffles between protesters and counter-protesters in at least two cities, according to local news reports.
Counter-protesters at the Seattle rally chanted "Neo-Nazi scum go home!" at marchers, according to according to ABC affiliate KOMO-TV.
Images from social media show some protesters holding signs with racist slogans and imagery on them, including Pepe the Frog, which is a symbol that has frequently become associated with modern hate groups.
Hooper said the scandal over the doomed Batesville rally highlights the degree to which far-right extremism has gained a wider audience in the U.S.
"White supremacists see an opportunity as Islamophobia spreads," Hooper said, noting Trump's strong rhetoric condemning Islamic extremism. "And here's a white supremacist [attempting to] collude with an anti-Muslim group."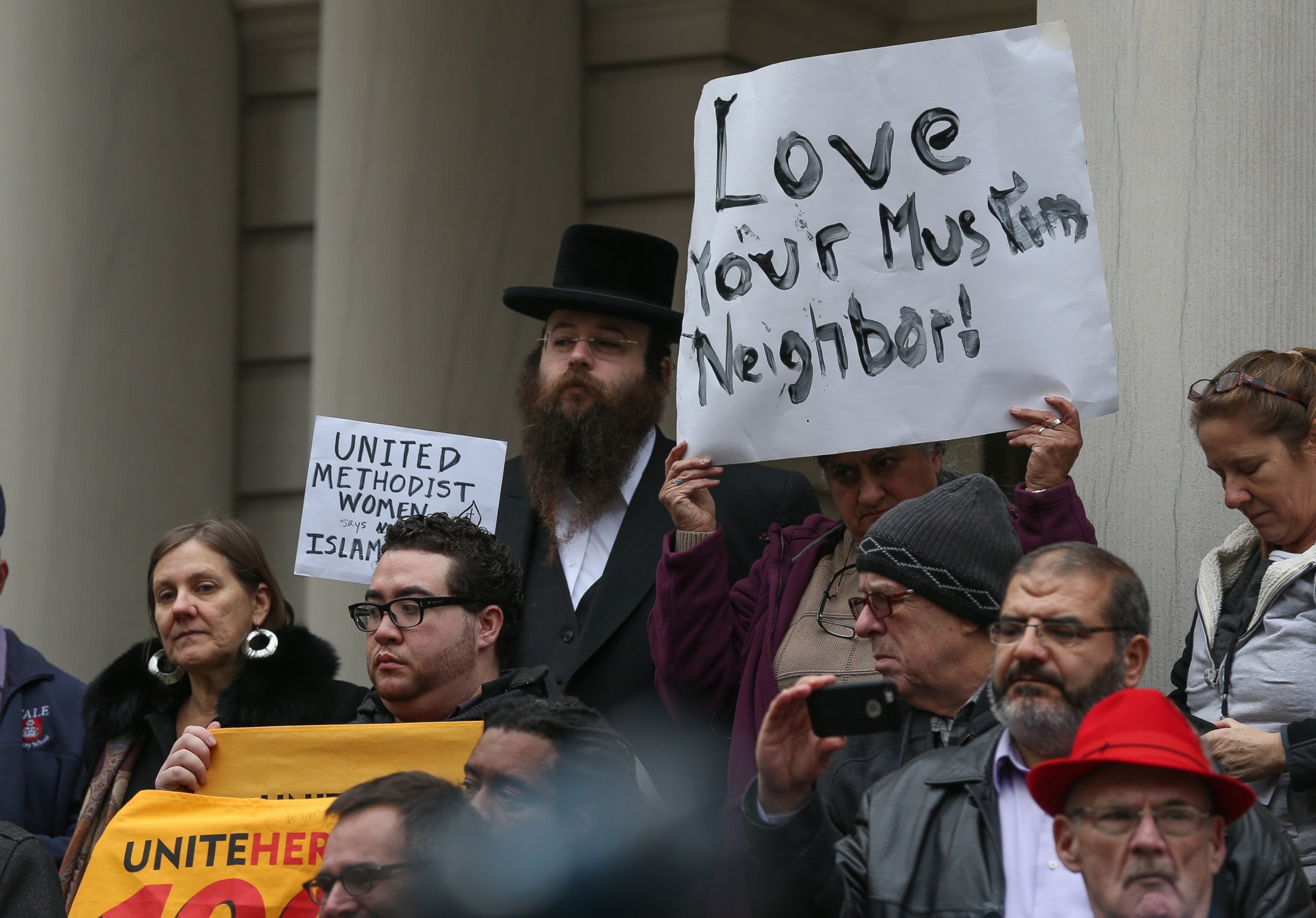 Finding safe spaces for radicalization online
Ryan Lenz, a senior Investigative reporter for SPLC working on HATEWATCH, a section on the group's website that "monitors and exposes the activities of the American radical right," said that Hooper's point of view makes sense to him, given the research he's conducted.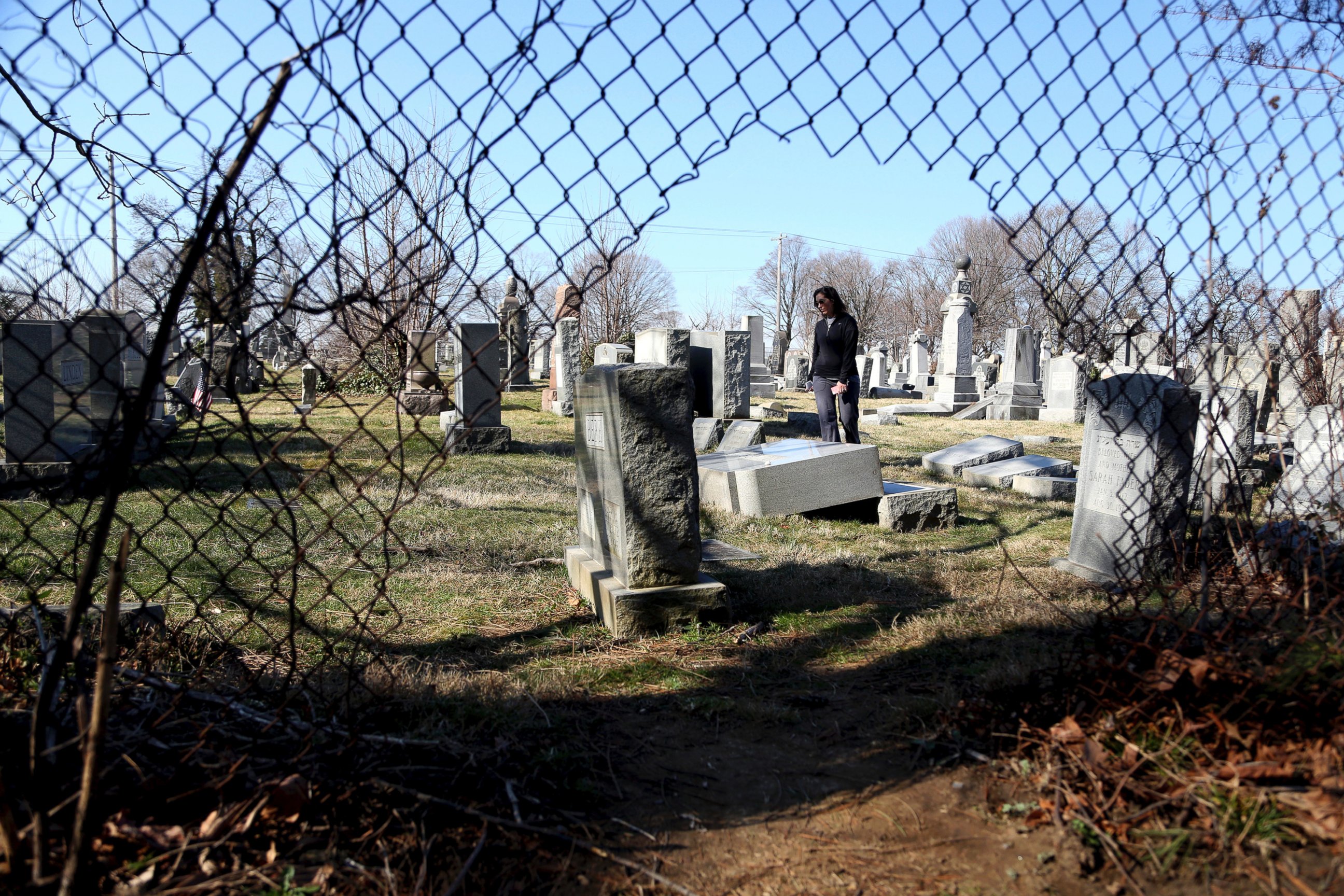 "We will know more at the end of the year how things have grown," Lenz said, regarding SPLC's annual tally of new hate groups. "But anecdotally, Trump's voice has been an inspiration to many people with extremist beliefs."
As both a candidate and a president, Trump has raised alarm bells from civil rights groups for promoting policies that critics say are targeted against Muslims. An executive order issued by Trump's White House, intended to limit travel from specific countries with majority Muslim populations, now in its second version, has been blocked by the U.S. Court of Appeals for the 4th Circuit.
Trump has also drawn criticism for his verbal disputes with prominent Muslims like the family of slain Army Capt. Humayun Khan, and London Mayor Sadiq Khan, who the president appeared to criticize following the terror attack in that city that left seven dead on June 3.
Lenz said ACT for America's rallies against Sharia were based on a false premise, and were reacting to propaganda from right wing extremist groups that portray Islamic extremists as manipulating the U.S. government from within in an attempt to enact policies that undo the law set forth by our constitution.
The SPLC defined the far-right wing conspiracy theory surrounding Sharia in 2015 as one that "contends American Muslims are trying to undermine the U.S. Constitution and maybe even overthrow the government someday by implementing Sharia religious law in legal proceedings across the country."
"Fear of Sharia is a canard," Lenz said. "It's based on an entirely false fear."
Lenz suggests that the cultural climate is in part becoming more toxic as a result of the growth of online recruitment, both through anonymous social media account and neo-nazi websites like The Daily Stormer -- a virulently racist, sexist, anti-Semitic and anti-Muslim website that is also frequently pro-Trump.
The Daily Stormer has drawn 2.8 million visitors this month and its traffic has been growing throughout 2017, according to SimiliarWeb.com, a site that tracks website traffic.
Andrew Anglin, the avowed white supremacist who runs the Daily Stormer, acknowledged to ABC News by email that his website "openly and adamantly promotes far-right groups."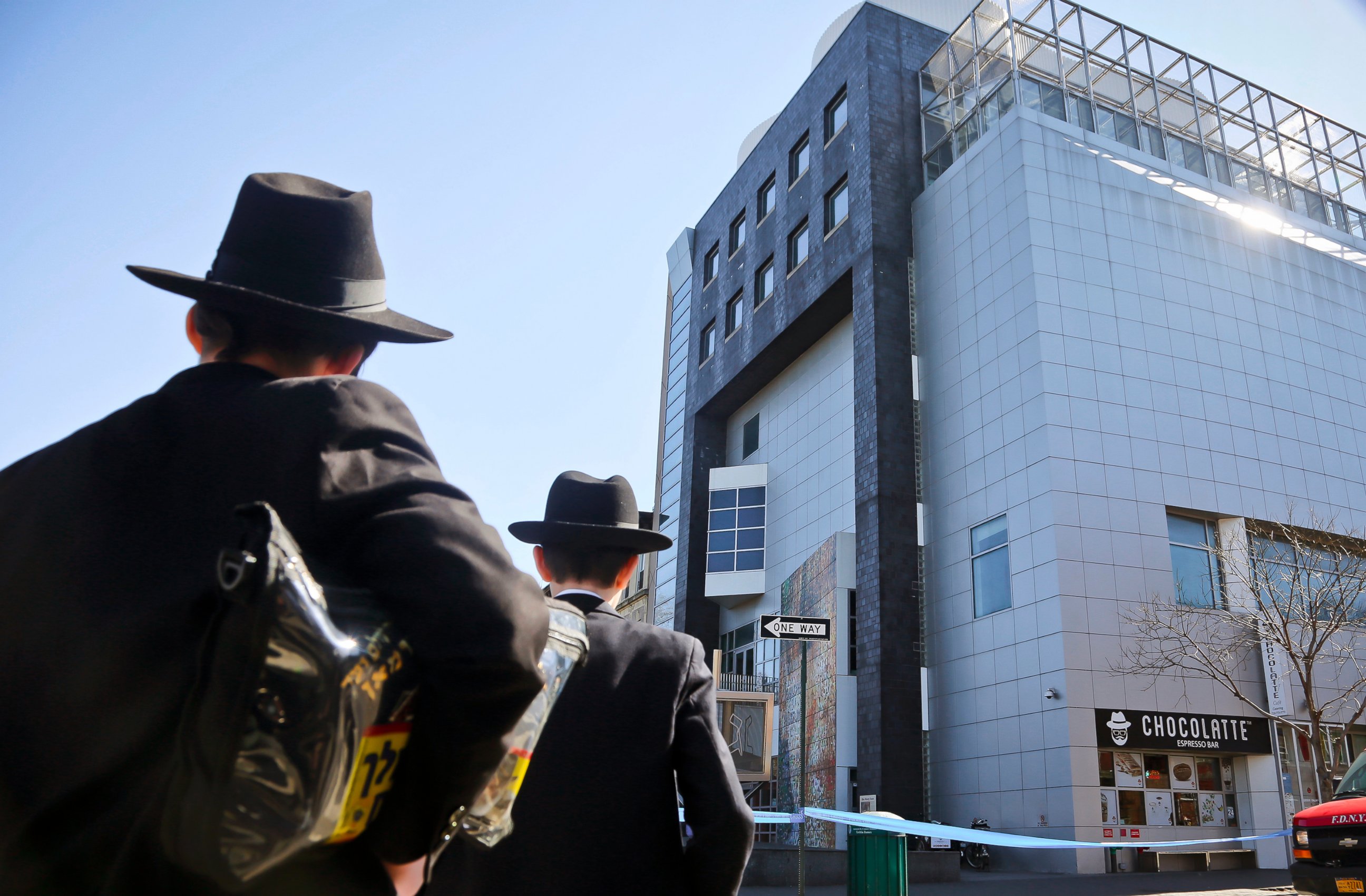 He claimed to be a pacifist in his email, but also made several racist and anti-Semitic comments to explain his ideology and the growth of his website, much of which is unpublishable.
The SPLC is currently suing Anglin, claiming he used his website to "publish 30 articles" urging his followers to launch a "troll storm" against Tanya Gersh, a real estate agent in Whitefish, Montana who Anglin allegedly accused of attempting to extort money from the mother of white supremacist Richard Spencer.
"The post on the Daily Stormer last December claimed I had been trying to extort and threaten the mother of Richard Spencer, a white nationalist whose family has a vacation home in our town," Gersh told The Guardian in April.
"It had a photograph of me and contact information: phone numbers, email addresses, and links to social media profiles for me, my husband, my friends, my colleagues. It had my son's Twitter handle," she said. "He is 12 years old."
The SPLC sued Anglin because "Gersh, her husband and 12-year-old son have received more than 700 harassing messages since December," according to a press release regarding their legal actions.
Anglin called the lawsuit a "lolsuit" in his email to ABC News, and defended his openly anti-Semitic posts calling for the harassment of Gersh on the grounds of free speech.
Since the lawsuit was issued, SPLC reported that Anglin raised more than $150,000 in donations for his legal defense, and has retained the services of first-amendment lawyer Marc Randazza, according to a report in The Associated Press.
Alexander Meleagrou-Hitchens, the research director of the Program on Extremism at George Washington University, told ABC News earlier this week that far right wing and fascist recruitment online functioned in a similar way to the way recruiting for the Islamic State militant group (ISIS) does -- although he and other academics suggest that they are less coherent or sophisticated in their organizing than ISIS.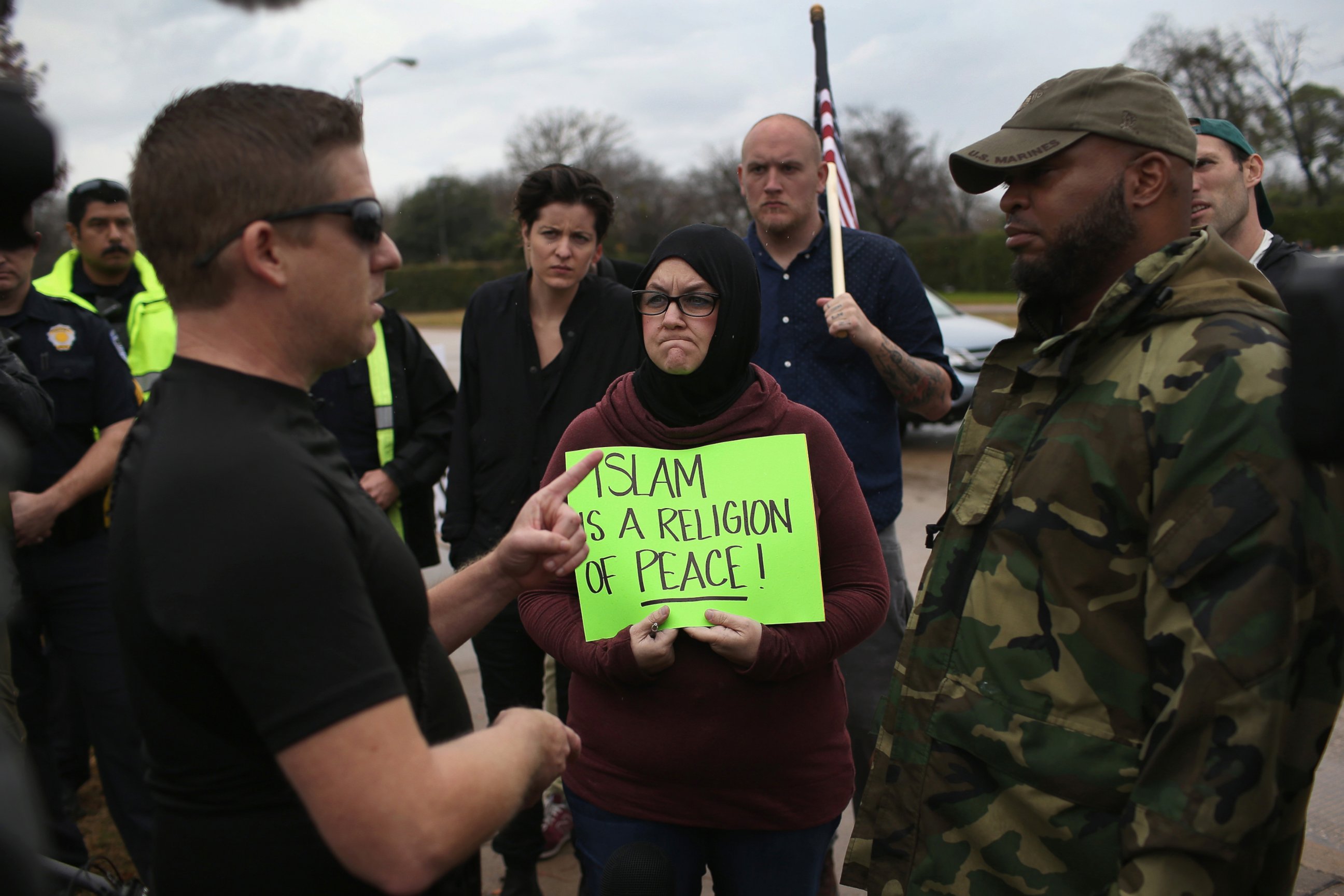 Lenz said that far right groups have found a safe space to organize online that they might not have had in the past.
"You can see it on Twitter," he said, referring to the ubiquity of accounts that pop up, giving voice to far right wing extremist ideology. "They keep reemerging even when they violate the terms and services."
Trump's response to white supremacists
Trump has been criticized repeatedly by rights groups for not rebuking the white supremacist contingent of his support more vociferously.
The White House condemned the May 26 stabbings in Portland, Oregon, for example, when two men were stabbed to death allegedly after trying to stop another man's anti-Muslim tirade against two teenage girls. Though this came three days after the incident took place, and following an outcry on social media that the president had not spoken up fast enough.
Trump ultimately did so in with a tweet from his @POTUS Twitter account, which is typically run by staffers.
"The violent attacks in Portland on Friday are unacceptable. The victims were standing up to hate and intolerance. Our prayers are w/ them," the tweet read.
Trump has condemned far-right wing extremism in the past. In February he called a rise of anti-Semitism following his inauguration "horrible" and "painful." Still, Hooper and Lenz worry that more needs to be done to combat the threat far right extremism poses in U.S., which they said has shown signs of growth.
ABC News reached out to the White House for comment on this story but did not receive a response.