NTSB on East Palestine toxic train derailment: '100% preventable'
The safety agency released a preliminary investigative report Thursday.
Federal investigators on Thursday released a preliminary report into the derailment of a Norfolk Southern train carrying toxic chemicals in East Palestine, Ohio, earlier this month.
Detailing the report at a Washington, D.C., news conference, Chairwoman Jennifer Homendy said "we know what derailed the train" and addressed the town's worried residents.
"I can tell you this much: This was 100% preventable. We call things 'accidents.' There is no accident. Every single event that we investigate is preventable. So our hearts are with, you know, that the NTSB has one goal and that is safety. And ensuring that this never happens again," she said.
The NTSB will hold a rare field hearing in East Palestine this spring, she said, but added that a final report with recommendations might not be finished for up to two years.
"We know what happened: A wheel bearing failed," Homendy said in an interview with ABC News. "It's looking at the systems, the policies, the procedures that led to this failure that we're going to have to look at and figure out how to prevent this from reoccurring."
The NTSB report reads, in part: "Surveillance video from a local residence showed what appeared to be a wheel bearing in the final stage of overheat failure moments before the derailment. The wheel bearing and affected wheelset have been collected as evidence and will be examined by the NTSB."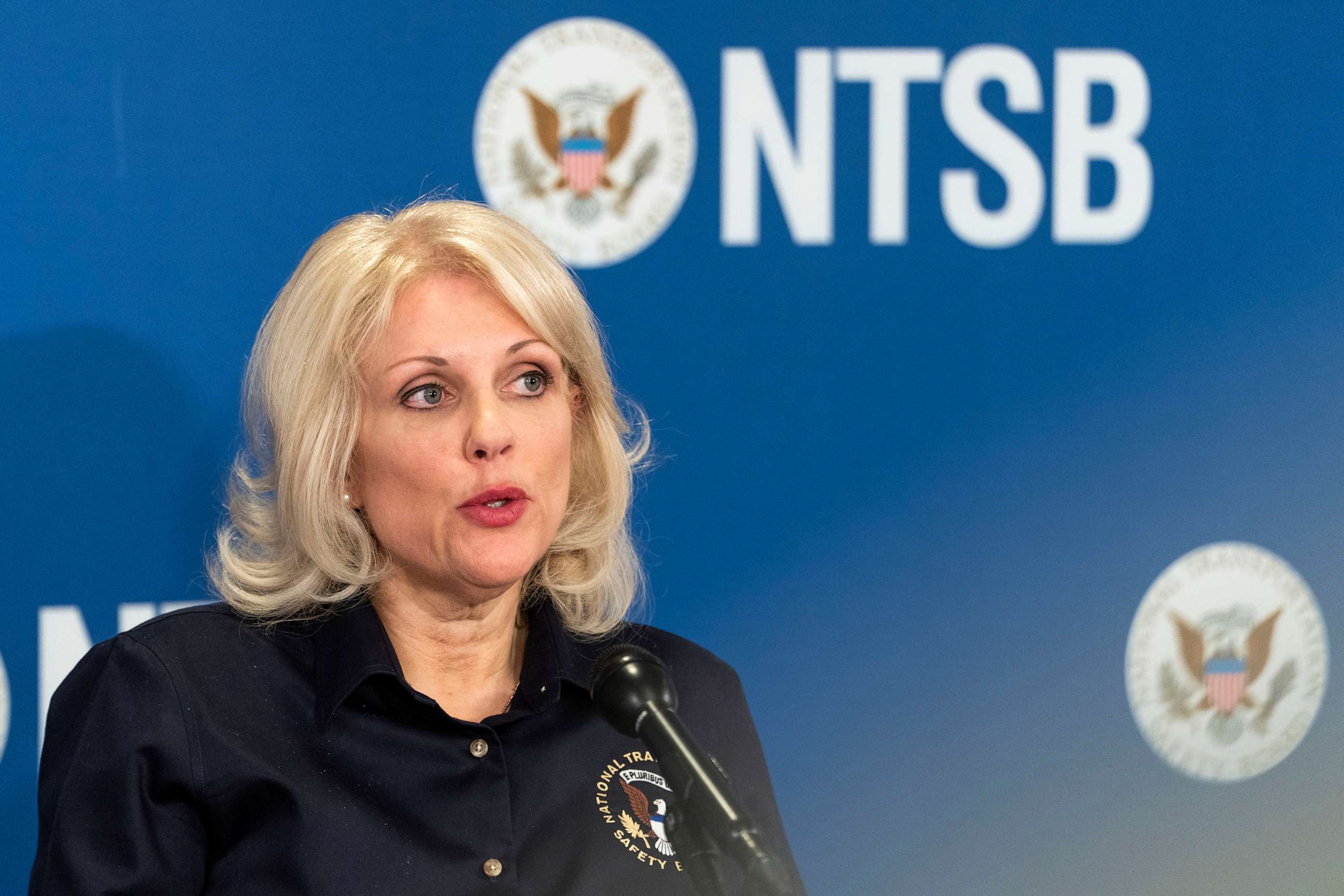 The agency released an investigative update last week saying that through surveillance video it identified and examined a rail car with "what appears to be a wheel bearing in the final stage of overheat failure moments before the derailment."
According to the report released Thursday, the wheel bearing passed three sensors prior to derailment. With each passing, the temperature was higher. The third and final sensor recorded the temperature at 253 degrees. Critical audible alarms went off and instructed the crew to stop.
In the process of stopping the train, automatic emergency braking kicked in and the train made a full stop. The focus will now be on car 23 that carried plastic pellets, and it was a combination of the hot axle and plastic pellets that started the initial fire.
Homendy said at the news conference that placards posted on the train cars indicating hazardous material on board were plastic and melted and that needs to change.
Speaking with ABC News, she said the train sensors would not have notified the crew to stop and inspect it until they recorded a temperature of 170 degrees or higher, per Norfolk Southern rules -- and those rules vary among rail companies and are not set by federal regulators.
"It wasn't until it was 253 degrees Fahrenheit above ambient temperature that [the crew] got a notification that they needed to immediately stop and inspect the hot axle and possibly set out the car," Homendy said.
"So we will look at the detectors on this route and determine how far they were from each other, where differences could be -- changes," she said.
Thirty-eight rail cars total derailed in the incident, the NTSB said. Eleven of those cars contained hazardous materials, five of which contained vinyl chloride, a highly volatile colorless gas produced for commercial uses.
The release of the report also coincides with Transportation Secretary Pete Buttigieg's first visit to the derailment site.
Buttigieg has faced criticism from Republicans for not traveling to the site sooner. The secretary defended his decision, writing on Twitter that he "followed the norm of staying out of the way of the independent NTSB."
At a press conference after touring the community on Thursday, Buttigieg briefly mispronounced East Palestine before correcting himself and then made what appeared to be a thinly-veiled reference to former President Donald Trump, who had touched down one day prior.
"To any national political figures who have decided to get involved in the plight ... I have a simple message which is: I need your help. Because if you're serious about this, there is more we can do to prevent more communities from going through this," he said.
Asked several times about the timing of his visit, Buttigieg maintained that he was "trying to strike the right balance" and allowing NTSB to play its role first.
He was joined on the trip by Amit Bose, the administrator of the Federal Railroad Administration, and Tristan Brown, the deputy administrator for the Pipeline and Hazardous Materials Safety Administration.
Asked at the Washington news conference about the political finger-pointing and Trump's visit to East Palestine Wednesday, Homendy said, "Enough with the politics on this. Enough with the politics. I don't understand why this has gotten so political. This is a community that is suffering. This is not about politics. This is about addressing their needs, their concerns, that's what this should be about."
ABC News' Sasha Pezenik contributed to this report.