Trump says new aircraft carrier ensures that 'if a fight does come ... we will win'
The U.S.S. Gerald R. Ford has a price tag of almost $13 billion.
— -- President Trump at the commissioning of the Navy's first newly-designed aircraft carrier in 40 years declared that the massive ship ensures that "if a fight does come ... we will win."
The president made his remarks aboard the USS Gerald R. Ford, which was unveiled at a commissioning ceremony today in Norfolk, Virginia.
The massive ship -- which displaces 100,000 tons of water and is about twice as long as the Washington Monument would be on its side -- cost nearly $13 billion to build, making it the Navy's most expensive aircraft carrier ever.
Navy officials say the ship is state-of-the-art, from its voyage-management system to the design of its sleeping quarters for sailors.
The president said the aircraft carrier sends a message to the world that "American might is second to none."
"This ship also ensures that if a fight does come, it will always end the same way," Trump said. "We will win, win, win. We will never lose."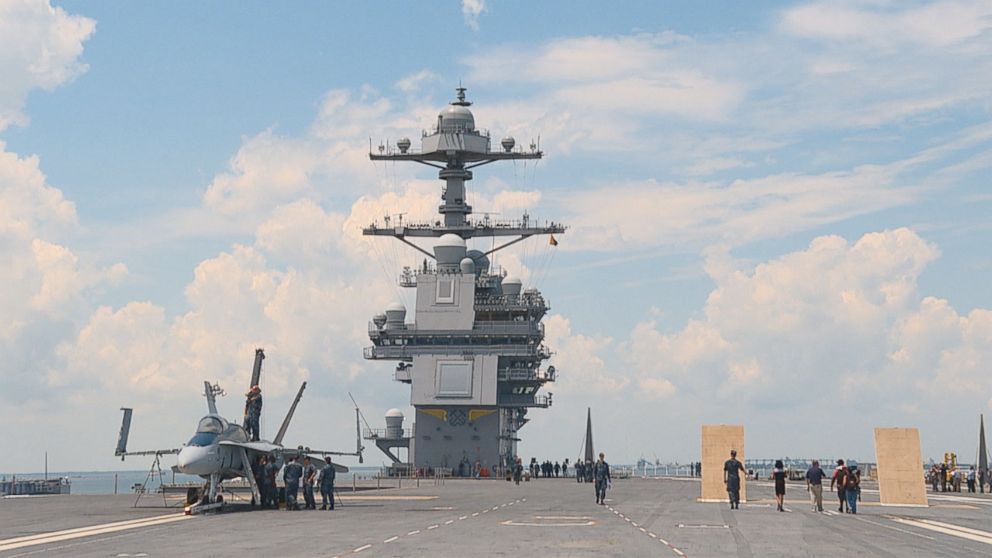 The president also touted securing $20 billion dollars for the defense budget and took a subtle swipe at previous administrations for what he said was unpredictable military funding.
"For years our government has subjected the military to unpredictable funding ... This has led to deferred maintenance, a lack of investment in new equipment and technology."
Navy officials said the USS Gerald R. Ford is the first of a class that will replace Nimitz-class carriers as the next generation of ships.
"This is the first new design of an aircraft carrier in more than 40 years, and it really is a state-of-the-art ship," U.S. Navy Cmdr. Dave Hecht told ABC News. "The USS Gerald R. Ford is really a quantum leap into the 21st century."
ABC News and other media were invited on a tour of the carrier 12 days before its commissioning today. Officers brought the press around for a quick look at the flight deck, crew quarters, navigation room, and other spaces that represent advancements from earlier classes of carriers.
"Our voyage-management system is the only one of its kind. Our steering gear-control system, only one of its kind," Petty Officer 1st Class Jose Triana said. "You really can't compare it to anything else.'
On the flight deck, planes will use a new electromagnetic system to launch as opposed to the old steam-driven catapult.
The redesign extends to the sleeping areas. Before, 100 sailors would be crammed together at night. Now, only 25 to 30 will sleep in each area.
The massive 1,100-foot warship won't be sent into combat for at least four more years, as it still needs to undergo more testing. Around 2,600 sailors will work and call the ship home once it's fully operational.
Despite the delays and big price tag, the U.S. Navy says the Ford-class carriers will be $4 billion cheaper to construct compared to older ships.