Uvalde police chief Pete Arredondo told investigators he heard gunfire, but decided it wasn't active shooter
Arredondo spoke with investigators less than 24 hours after the Uvalde attack.
There was still active gunfire inside an elementary school in Texas on May 24 when the school district's police chief arrived and decided not to treat the scene as an active shooter event.
Pete Arredondo, the Uvalde schools police chief who has since been fired for his actions that day, told investigators he assumed students were already dead but wanted to focus his attention on rescuing those children still alive.
"My first thought is that we needed to vacate," said Arredondo. "We have him contained. ... There's probably gonna be some deceased in there, but we don't need any more from out here."
Arredondo made comments less than 24 hours after 19 students and two of their teachers were killed at Robb Elementary School in what stands as the second-worst school shooting in American history. The wide-ranging interview, obtained by ABC News, includes the only videotaped comments Arredondo has made since the shooting, and the hour-long conversation provides the most detailed look to date at the chief's thought process in what top Texas officials have called a "failure" of police response in waiting to make an effort to stop the rampage.
Uvalde:365 is a continuing ABC News series reported from Uvalde and focused on the Texas community and how it forges on in the shadow of tragedy.
"When we entered the building on the south entrance ... I saw a cloud of smoke," Arredondo told investigators. "I had just heard the shots right there. They were sporadic."
Arredondo said he headed toward the classroom where the shots were coming from and, just before he got to the door, he stopped short to avoid being hit by continued gunfire.
"You didn't physically grab [the door]?" the investigator asked.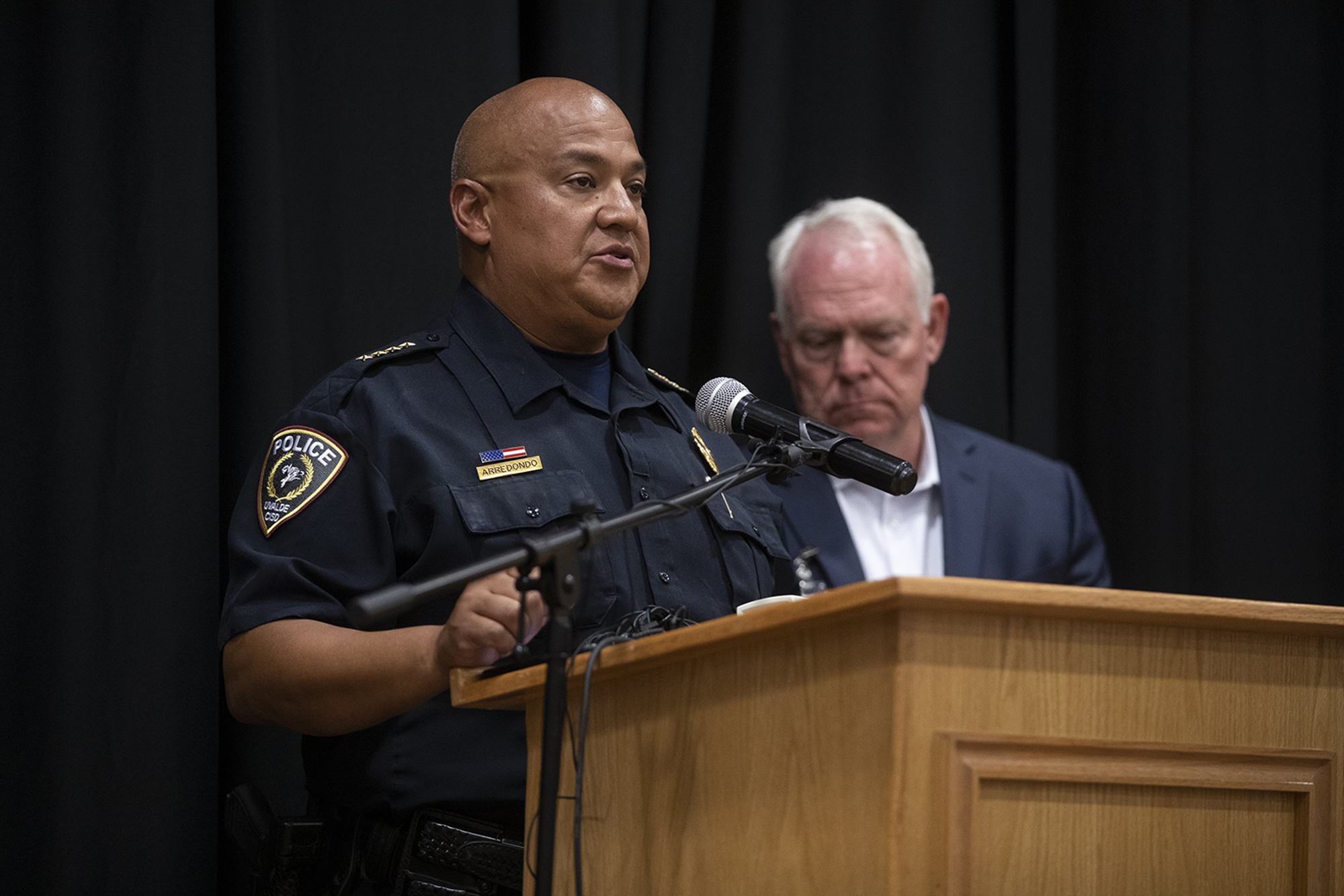 "No, no. It was gunfire coming out by that time," said Arredondo.
Arredondo described spending the next hour searching for keys to unlock the door. This interview confirms early reporting that he never actually checked if it was locked.
In the hour that followed his arrival on the scene, Arredondo described requesting backup, instructing officers to evacuate students from other classrooms out the windows, and asking for officers to get breaching tools.
He issued those requests through his cell phone, including calling 911 himself to communicate with dispatch. He said he left his radio in his car, and radio communication at the schools was known to malfunction anyway prior to the incident.
Despite explaining that he gave orders at the scene, Arredondo later told a special investigative committee of the state Legislature that he did not consider himself the incident commander.
"While you're in there, you don't title yourself," he told the committee. "I know our policy states you're the incident commander. My approach and thought was responding as a police officer. And so I didn't title myself. But once I got in there and we took that fire, back then, I realized, we need some things. We've got to get in that door. We need an extraction tool. We need those keys. As far as ... I'm talking about the command part ... the people that went in, there was a big group of them outside that door. I have no idea who they were and how they walked in or anything."
Steven McCraw, director of the Texas Department of Public Safety, has said Arredondo was, in fact, the incident commander by virtue of his actions and the fact that the school's safety plan assigns that position to the district police chief.
Seventy-seven minutes after the first shot, a team from the U.S. Border Patrol entered the classroom, ending the active shooter incident. Arredondo told interviewers that moments after the shooter was killed, officers and EMTs rushed to get survivors out of the classrooms to receive medical attention.
"One in particular was Eva Ruiz," said Arredondo of teacher Eva Mireles, the wife of School District Police Officer Ruben Ruiz. "She was still alive. And I know they were carrying her out. And I -- and -- I obviously gave her some words of encouragement to fight."
Mireles was one of 21 people who died.
Arredondo told the investigators he had previously reported door locking issues to the district administration. He and his five-person team regularly checked if doors in the Uvalde schools were locked. He said the classrooms where the shooting took place were regularly unlocked.
"That room itself, those two rooms, I remember those specifically because those were always like that," said Arredondo. "I remember when I would go swing doors, I'm like, 'Damn, the doors opened.' And I remember that section without even knowing the numbers."
Arredondo and his lawyers have not responded to multiple requests for comment from ABC News. Ahead of his firing, Arredondo released a lengthy statement defending his actions that day.