— -- Sgt. Joey Johnson, 27, a veteran who served for 10 months in Afghanistan, prepared the ultimate surprise for his new wife on their wedding day: a first dance without the aid of his wheelchair.
Johnson, from Fishers, Indiana, suffered a spinal injury in a motorcycle accident on Aug. 12, 2012, just four months after he met his future wife, Michelle Johnson, at a country music concert.
"We realized that we had the same birthday, June 29, and same last name Johnson," Michelle Johnson told ABC News. "Joey had just come back from a tour in Afghanistan a few weeks before."
Johnson had served in Forward Operating Base Salerno in Khowst, Afghanistan.
"We knew we were meant to be," she said. "Joey's parents Ruth and Michael Johnson also have the same birthday, January 14."
Johnson suffered from post-traumatic stress disorder after Afghanistan and needed a rush, his wife said, explaining why he turned to riding a motorcycle. Now, he can't feel anything from the chest down and is a paraplegic.
He proposed in April 2013 and the couple decided to have their wedding on June 28, 2014 -- the day before their birthday.
"Our family and I have been through so much, but we all know that Joey is still the same person, funny and loving guy he was before," she said. "He had to learn a different way of life with him and his chair: from showering, getting dressed and trying to function every day. But we are soul mates."
Michelle, who has a wedding planning business called Beautiful Occasions by Michelle, said she had no idea what was to come on their big day.
"If you know Joey, he cannot keep a secret. But he made my dreams come true and I never knew how special our day would really be," she said.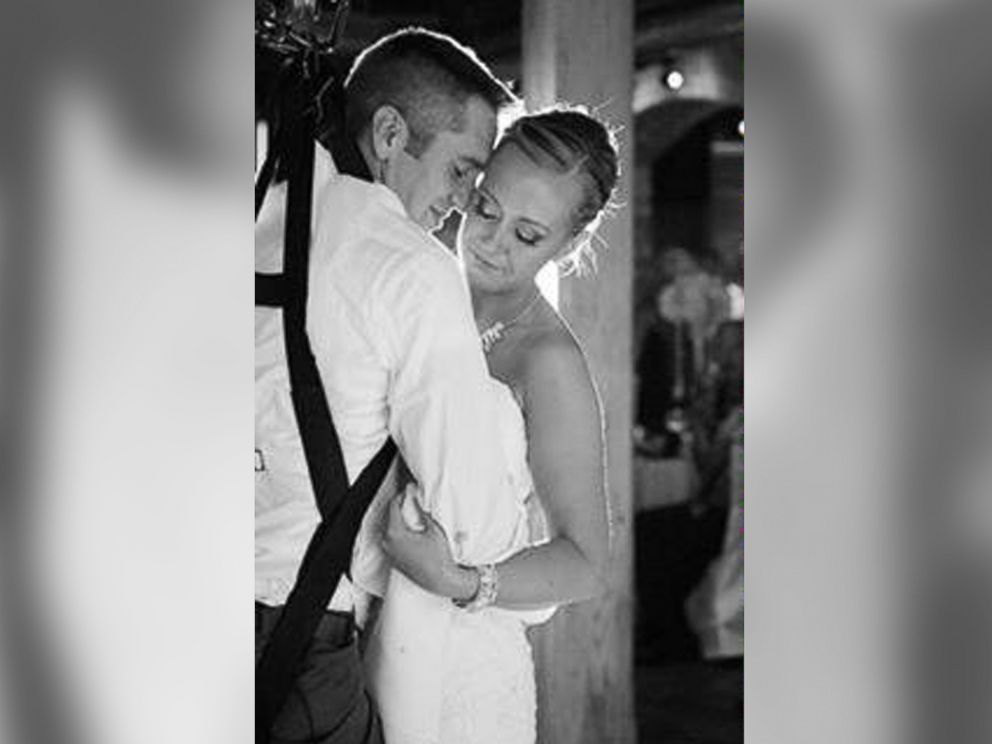 After the couple cut the cake, Michelle was told by her mother and mother-in-law that she needed to rest in the bridal suite.
"I kind of knew something was going on, but I really never knew what was to come," she said.
Meanwhile, her husband's friends had created a system so he could stand for the first dance, stunning his wife.
"Everyone was crying in the room. It was so amazing to be eye to eye with him again and such a dream come true," she said.
The couple bought their first house in July.