— -- The leaders of a suburban Minneapolis mosque that was bombed three months ago have released new footage in hopes of generating more leads for investigators in the unsolved case.
The blast rang out at the Dar Al-Farooq Islamic Center in Bloomington on Aug. 5 as more than a dozen people were gathering inside for morning prayers. Although no one was injured in the explosion, it damaged the imam's office and rattled worshipers there, according to Bloomington Police Chief Jeff Potts.
The investigation was turned over to federal officials that day, and the FBI said at the time that preliminary information indicated the explosion was caused by a destructive device in violation of federal law.
Richard Thornton, special agent in charge of the FBI's Minneapolis Division, said the explosion was caused by an "improvised explosive device."
The following day, Minnesota Gov. Mark Dayton condemned the bombing as an "act of terrorism."
The Dar Al-Farooq Islamic Center has released surveillance footage from inside the building at the time the explosion occurred, according to ABC affiliate KTSP in Saint Paul. The video shows members of the mosque running for their lives down a hallway next to the room where the bomb detonated, which left massive cracks in the white cinder block walls.
The Dar Al-Farooq Islamic Center did not immediately return ABC News' request for comment Wednesday.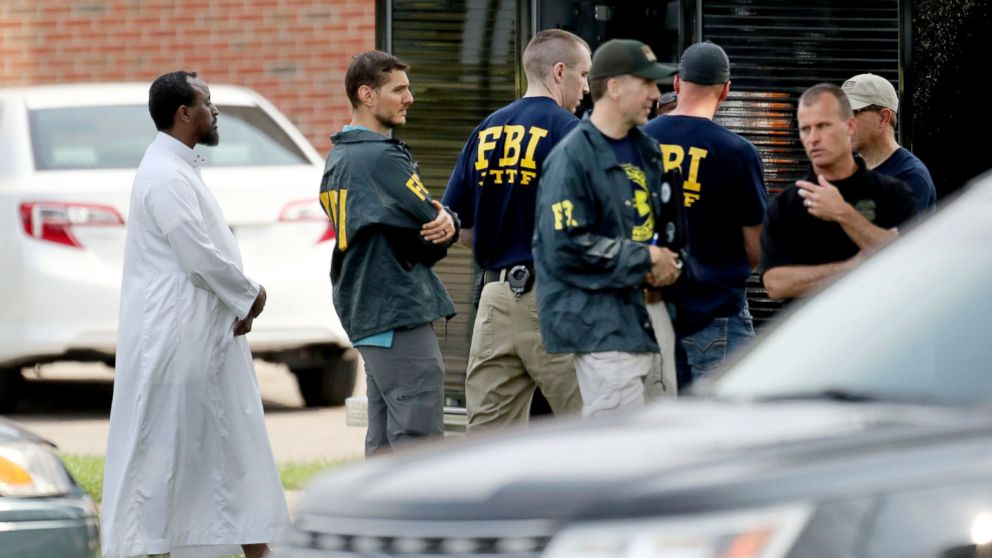 The Dar Al-Farooq Islamic Center's executive director, Mohamed Omar, told KTSP the footage was released to help law enforcement resolve the case and bring the perpetrator "to justice."
Omar told KTSP he met with FBI agents two weeks ago who told him they were making progress on the investigation. The agents also showed him an image of a man making a purchase at a store who they said is a person of interest, Omar said.
Omar described the man in the image as a white male who appeared to be middle-aged or older. He said the individual was not anyone he had seen in the area before.
"The man was no one I recognized and no one here recognized," Omar told KTSP. "They have now shown me a lot of photos of people, but this time they did say they were narrowing their list of people."
As the investigation continues, Omar said the Islamic Center and the surrounding community has been on edge. According to the latest census data, Minnesota is home to the largest Somali population in the United States, about 57,000 people.
"People here are still shaken by this whole thing and it is very scary for everyone, because you do not know when you can feel completely safe," Omar told KTSP.