— -- Three inmates who escaped from a maximum security prison in California most likely had help from both jail insiders and sources on the outside, the Orange County Sheriff's Department said in a press conference today.
One of the inmates, Bac Duong, 43, was arrested today in California around 11:45 a.m. local time after turning himself in, OCSD Sheriff-Coroner Sandra Hutchens said.
The other two inmates are still on the run, according to police.
Hossein Nayeri, along with Jonathan Tieu and Duong, allegedly broke out of the prison by sawing through one-inch thick bars, the OCSD said.
The three inmates were last seen Jan. 22 at 5 a.m. in their holding area, but their escape wasn't confirmed until 16 hours later, giving them a lengthy head start on authorities searching for them.
Investigators determined that a Vietnamese gang is likely connected to the inmates' elaborate escape, police said. Officers searched a residence and a warehouse in the city of Westminster, Calif. Thursday night, according to OCSD Public Information Officer Lt. Jeff Hallock.
Several people were detained as a result of the searches but no one was arrested.
"We continue to work tirelessly on the clock" to find them, Hallock said.
Jail teacher Nooshafarin Ravaghi, 44, was arrested Thursday on charges of accessory to felony for allegedly aiding the inmates in their escape from the Orange County Central Men's Jail, the OCSD said Thursday night.
Ravaghi taught English as a Second Language classes at the jail, and one of the inmates, Hossein Nayeri, attended her classes. Police said they believe the two had a close personal relationship and that Ravaghi played a "significant role" in the escape plan, Hallock said. Investigators found correspondence between the two in the form of handwritten letters.
"[It's] not the kind of relationship you'd expect from a teacher and inmate in custody," Hallock said, adding that there isn't any information that would determine the relationship was romantic.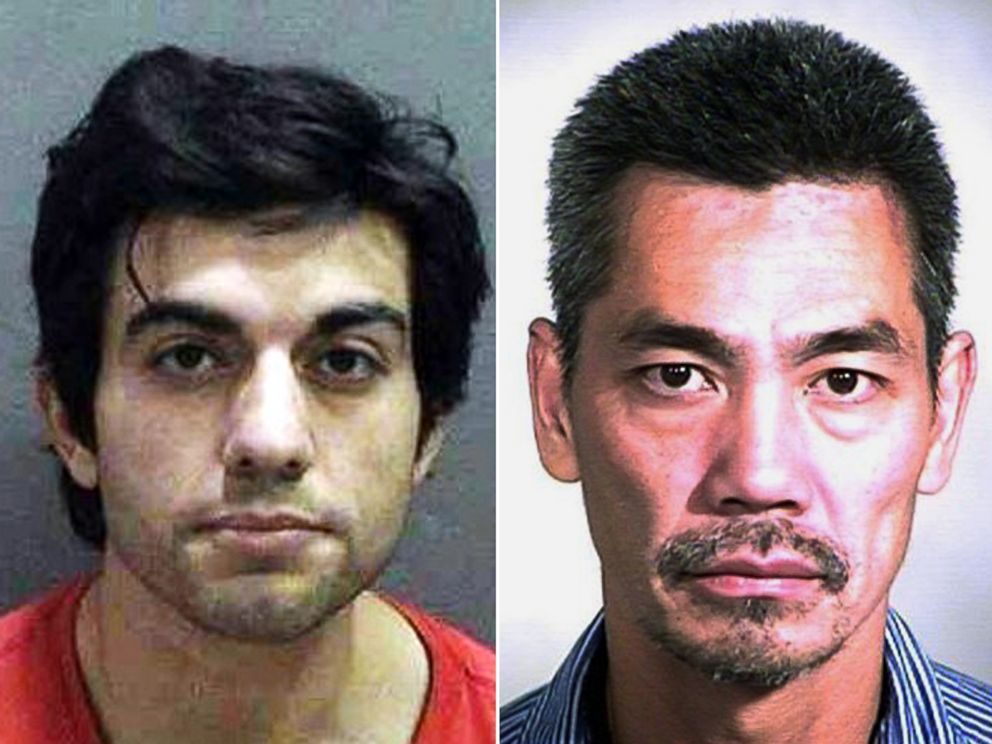 Ravaghi also taught an English as a Second Language class at Rancho Santiago Community College District in Santa Ana, California, the OCSD said. Ravaghi described herself as an adjunct professor on her LinkedIn page.
Investigators said Ravaghi provided the inmates with information that helped them escape, such as a photo she printed out on Google Earth that would have shown an image of the entire jail complex. She denied providing the inmates with weapons or tools that would have helped them cut through their steel cell bars, police said.
Security clearance shows Ravaghi first entering the jail in July 2015, police said. Clearance to work in the jail included a background check and a three-hour class on jail policy, which Ravaghi completed.
Had inmates requested any information from Ravaghi, she would have been required to notify jail staff in accordance with jail policy, Hallock said.
A total of ten people were arrested Wednesday in connection with the inmates' escape, police said. Some of those arrested were members of a Vietnamese gang, Sheriff-Coroner Sandra Hutchens said. None of the escapees was among those arrested.

The van, which was for sale, was stolen over the weekend when Duong took it on a test drive and drove away, police said. Investigators reinforced the importance of locating the van to the capture of the inmates.
"We're asking people to keep their eyes peeled for a white van," Hallock said.

Tieu, 20, is charged with murder, and Duong, 43, is charged with attempted murder. Nayeri, 37, is charged with torture and kidnapping. All three inmates have pleaded not guilty to the charges.
The OCSD is working with the U.S. Marshals Service to find the inmates, the department said Wednesday.
Police are offering a $200,000 reward for information leading up to the capture of the inmates.
It was not immediately clear if Ravaghi had an attorney.