Milwaukee Unrest Continues Through 2nd Night, 1 Person Reported Shot
A violent protest continued for a second night after a fatal police shooting.
— -- This story has been updated with new details.
Milwaukee police say they are battling continued unrest early Monday morning, making multiple arrests and rushing one shooting victim and at least one officer to the hospital in the second night of violence following a fatal police shooting.
The skirmishes began on Saturday after a Milwaukee officer fatally shot a 23-year-old man, whom officials say was armed and had a criminal record.
Milwaukee Police sent out a series of tweets about the confrontations Monday outside a police station. They depicted a chaotic scene, with police claiming that demonstrators were throwing objects and firing shots in the area while officers in tactical gear worked to quell the situation. Police say one officer was taken to the hospital after being injured when a rock smashed through the windshield of his patrol car.
Earlier on Sunday, the Wisconsin National Guard was activated. "Following a request from Milwaukee County Sheriff David Clarke, and after discussions with Milwaukee Mayor Tom Barrett and Adjutant General Donald Dunbar I have activated the Wisconsin National Guard to be in a position to aid local law enforcement upon request," Gov. Scott Walker said in a statement.
Walker also asked residents of his state to be respectful of law enforcement.
"I will not comment on the specifics of the case as it is now under this investigation. I do, however, hope people will give law enforcement the respect they deserve for working so hard to keep us safe," he said.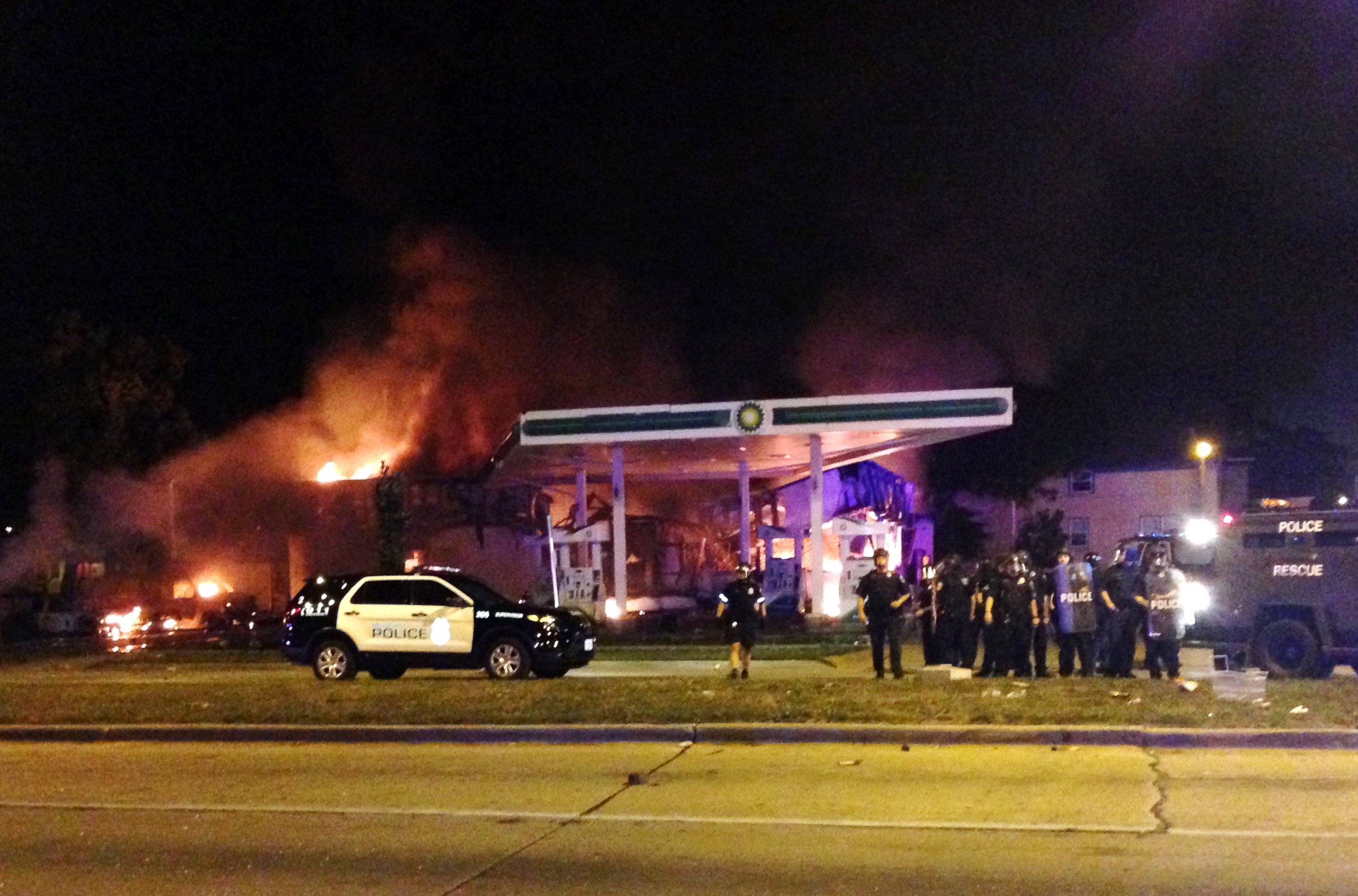 Milwaukee Mayor Tom Barrett briefed reporters Sunday afternoon and noted that the Wisconsin National Guard would be activated, but not deployed unless needed. He said that 125 members of the Guard are on their way to the city "as we speak."
Barrett also addressed questions about body camera footage of the shooting victim and said he saw a still image that demonstrated the individual was armed. He said that footage was under review by state officials and that it would be released to the public at "some later point."
Earlier on Sunday, White House Deputy Press Secretary Jen Friedman said President Obama had been briefed on the events that took place in Milwaukee.
Protests Erupt After Police Shooting in Milwaukee
Police officers patrol a gas station following a shooting death by the police, Aug. 15, 2016, in Milwaukee. Hundreds of angry people confronted the police after an officer shot and killed a fleeing man who police say was armed on Aug. 13.
Darren Hauck/Getty Images
On Saturday night, protesters filled the streets in the neighborhood where the shooting happened and were met by officers in riot gear. According to police, between 200 and 800 people were part of the protests.
17 people were arrested, Milwaukee Police Chief Edward Flynn said Sunday. He added that everyone arrested had a prior criminal record.
Flynn said that six businesses in total were set ablaze during the unrest.
According to Milwaukee Mayor Tom Barrett's statement last night, things got "out of hand" as people started to use Facebook to get the word out to congregate near the scene of the crime.
Then, the scene quickly became violent and unruly: Protesters set four businesses and several police cars on fire, hurled bricks through police car windows, threw rocks at police and vandalized bus shelters and street lights. Some social media users posted videos of what appeared to be individuals looting a small grocery store.
A BP gas station was also set on fire, but police said the blaze could not initially be extinguished due to gunshots being fired by protesters. Three people were inside the gas station, but they safely escaped, police said.
Blazes were also spotted burning at several other businesses, including an O'Reilly's Auto Parts store, a beauty salon and a bank.
Protesters also appeared to vandalize traffic lights and a bus shelter.
Flynn described the deceased suspect as a 23-year-old Milwaukee man "with a lengthy arrest record." His name was not released.
In a statement, Milwaukee Police said of the fatal shooting, "A Milwaukee Police officer shot and killed an armed suspect fleeing from a car on Milwaukee's North Side. The incident began when two uniformed MPD officers stopped two suspects in a car in the 3200 block of N. 44th Street at about 3:30 p.m. on August 13. Shortly after stopping the suspects, both occupants fled from the car on foot. The officers pursued the suspects, and during the foot pursuit one officer shot one suspect, armed with a semiautomatic handgun, in a yard also in the 3200 block of N. 44th Street. The suspect died from his injuries at the scene."
Police earlier said that the handgun the suspect was armed with was taken in a burglary in Waukesha, Wisconsin last March. The victim of that burglary reported 500 rounds of ammunition were also stolen with the handgun. Mayor Barrett said the gun that was recovered had 23 rounds in it.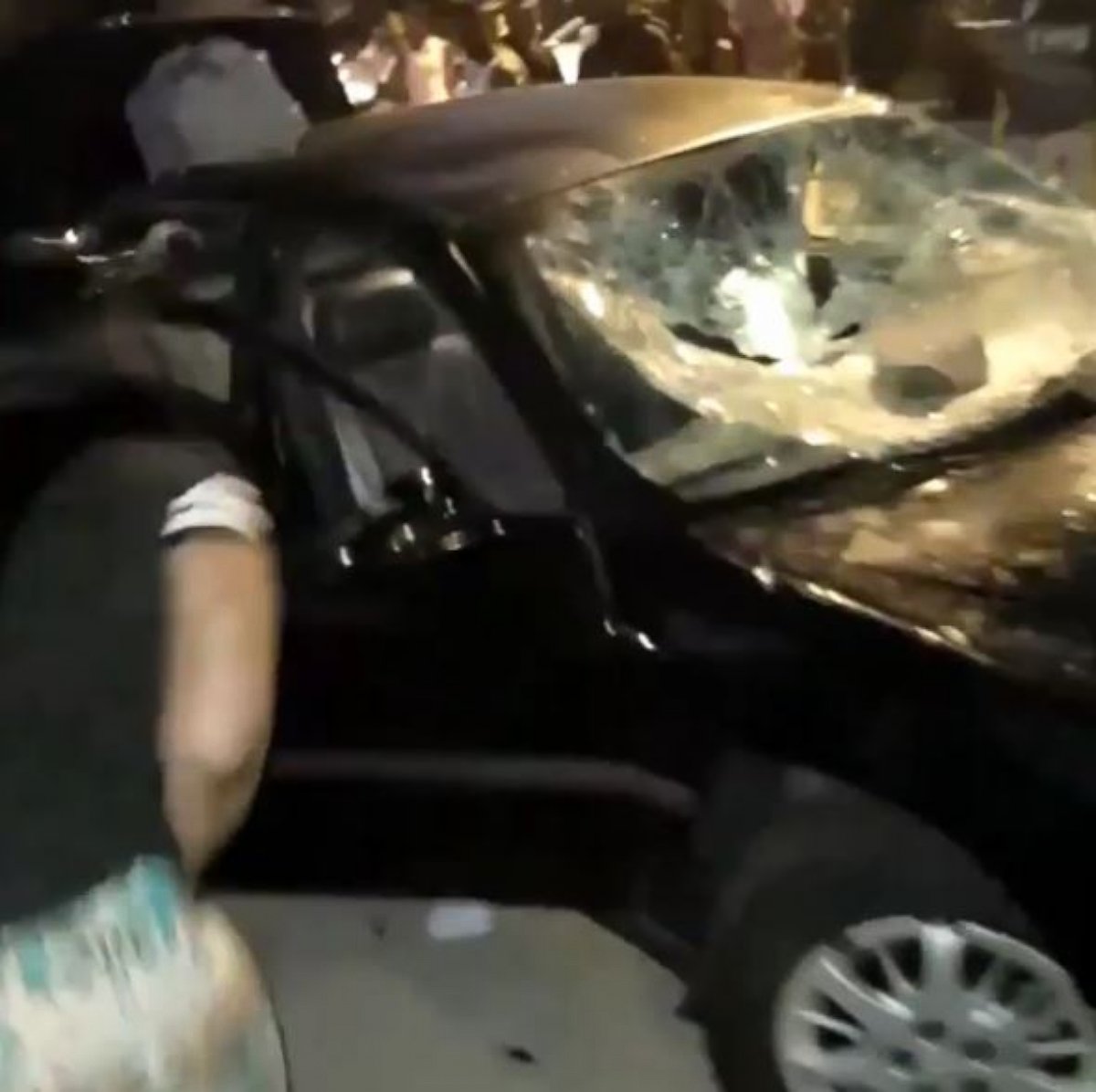 Mayor Barrett said the officer -- a 24-year-old black male with six years of service with the MPD, three years as an officer -- was wearing a body camera which was operating at the time of the shooting. The officer was not injured.
Earlier on Sunday, police said in a statement that the officer "will be placed on administrative duty during the investigation and subsequent review by the Milwaukee County District Attorney's Office."
At the late night press conference on Saturday, city council Aldermen spoke about "racial problems" and "injustices" that African-American residents face. One of the officials claimed local officials have neglected the area of the city where the shooting took place, turning a blind eye to murders and shootings.
ABC News' Joshua Hoyos, Alexandra Faul, Brendan Rand, Benjamin Siegel and Lucien Bruggeman contributed to this report.