He tried to meet the president by hopping a barrier at the White House and was convinced that Taylor Swift was stalking him.
Both incidents landed Travis Reinking on the radar of authorities ranging from local Illinois cops to Secret Service agents.
The latter helped authorities strip Reinking of his guns last year.
Yet, a half-naked Reinking -- armed with one of the seized rifles -- allegedly targeted a Waffle House near Nashville during the pre-dawn hours on Sunday and shot four people to death. Four others were wounded by either bullets or shattered glass.
Authorities believe he would have killed or wounded more had a 29-year-old patron at the restaurant not tackled him and stopped the attack. While Reinking was attempting to reload, James Shaw, Jr., standing by the bathroom area of the restaurant, confronted him and wrested control of Reinking's gun and "tossed it over the counter," according to police.
Reinking, 29, a construction worker from Morton, Illinois, allegedly committed the bloodshed and then apparently ran home for some pants. He remained on the lam as of Sunday evening, as Metropolitan Nashville Police officers and dogs hunt him down.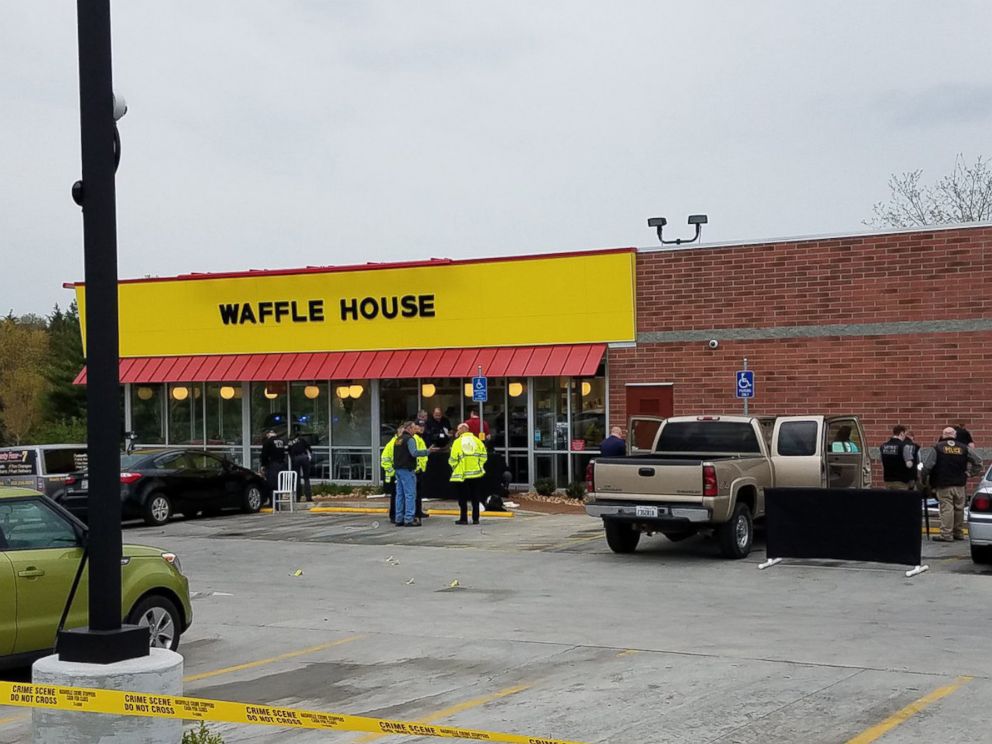 Police said Reinking drove up to the Waffle House in a gold Chevrolet Silverado pickup about 3:30 a.m.
He lingered inside the cab for "three to four minutes" before he allegedly exited, clad in only a green jacket without pants or a shirt, armed with an AR-15 rifle.
According to police, Reinking shot up the Waffle House and killed Waffle House employee Taurean Sanderlin, 29, and customer Joe Perez, 20, while they were standing outside.
Then, police said, Reinking entered the eatery and "continued shooting."
Akilah Sasilva, 23, and a 21-year-old unidentified woman were both shot inside the Waffle House. Sasilva died after she was taken to a local hospital.
Two others managed to survive gunshot wounds, police said.
After Shaw stopped the attack, Reinking, now unarmed, fled on foot, shedding the jacket as well.
Police confirmed more ammo was found inside the jacket.
Police believe the now completely naked suspect stopped by an apartment complex nearby to retrieve a pair of black trousers but remains shirtless, witnesses alerted police.
As authorities attempt to reel Reinking into custody, a profile of Reinking began to form.
According to police, Reinking worked in construction locally in Nashville.
He was fired from his job three weeks ago but was hired by a new employer Monday. He failed to show up for work the following day, however, police said.
Before Sunday, trouble had been brewing for Reinking for years.
On the evening of May 27, 2016, Tazewell County Sheriff's deputies and emergency personnel descended on a CVS Pharmacy parking lot where Reinking was allegedly suicidal and convinced that pop singer Taylor Swift was stalking and harassing him. He also believed the cops and his parents were in on it.
In the incident report, Reinking claimed Swift "hacked his Netflix account and told him to meet her at the Dairy Queen in Morton."
While at the Dairy Queen, Reinking told deputies Swift "was across the street yelling at him before she took off running," according to the report.
Reinking gave chase up the side of a building, the report states, "in an attempt to get her to stop harassing him."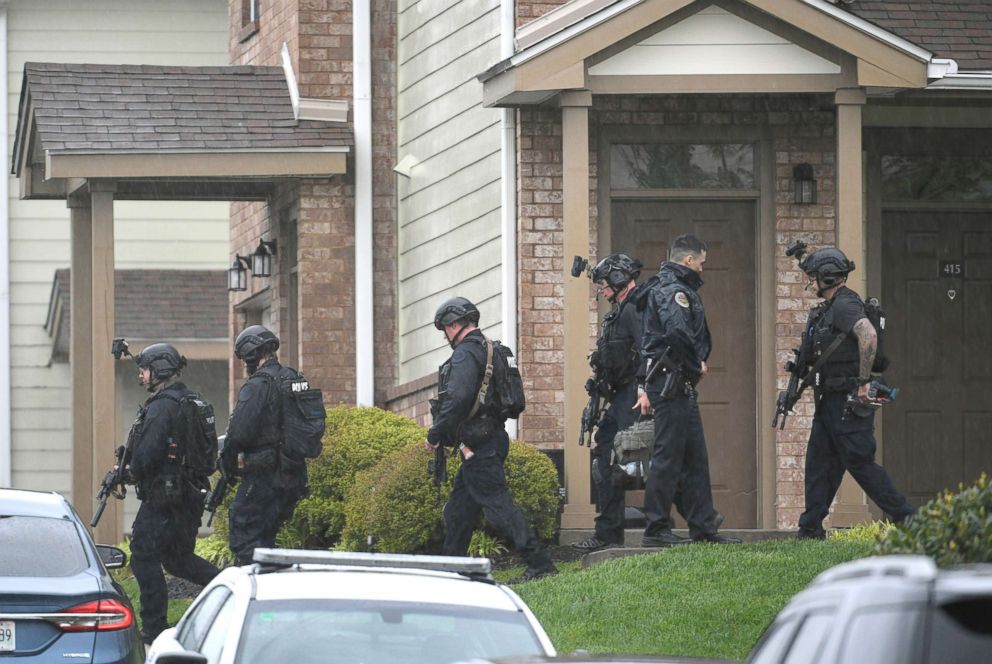 Reinking's relatives were on hand to talk the young man from doing harm to himself and he ultimately was taken to a hospital to be mentally evaluated.
On June 16, 2017, Reinking was accused of driving up to a local pool in Tremont Park where police state in a report that he flashed an AR-15 rifle, but then quickly stored it in his car trunk.
But, the report notes, Reinking allegedly took off a "pink woman's dress" to barge into a pool uninvited. When he was ordered out by lifeguards, he allegedly yelled at them and "showed his genitals saying he was a man," the report revealed.
Nobody from the pool decided to press criminal trespassing charges, authorities said.
But the incident compelled Tazewell deputies to inquire about the weapon in the car trunk. When they did, they discovered he had a firearm's license, police said.
When the deputies spoke with Reinking's father, he admitted he "took three rifles and a handgun away and locked them up when [Reinking] was having problems," according to the incident report made after the pool incident.
Reinking had left the state for nine months, his father told deputies, according to the report.
The weapons were allegedly stored by Reinking's sister "for safekeeping," the report states.
The report adds that deputies warned Reinking's father that when his son returns home "he might want to lock the guns back up until he gets mental help, which [his father] stated he would."
A month later on July 7, 2017, Reinking was arrested by the United States Secret Service for attempting to breach a barrier at the White House in a desperate hope to get a meeting with President Trump.
Reinking allegedly demanded to "get into the White House and speak with POTUS," according to a report on the incident, which doesn't include his name.
He was informed on ways to take an official tour but refused and repeated his demands, according to the report. He then took off his tie, balled it into his fist and attempted to walk past security barriers, the report said.
"Do what you need to do," he allegedly told the agents, according to the report. "Arrest me if you have to."
Agents quickly took Reinking into custody and charged him with "unlawful entry," the report adds.
In a statement by the Secret Service, Reinking was "charged with unlawful entry after crossing an exterior security barrier near the White House Complex."
Last August, Reinking was concerned that up to 30 people were "tapping into his computer and phone," according to a Tazewell County Sheriff's report, all following his attempts to send letters to Swift.
Weeks later on Aug. 24, 2017, Tazewell deputies retrieved Reinking's guns, including one Kimber 9mm pistol, a Bushmaster AR-15, CZ USA .22 caliber rifle, and a Remington 710 with miscellaneous ammunition, according to a report filed.
Reinking's firearms license was also revoked, according to the report.
The weapons landed back in Reinking's father's possession.
The father admitted to authorities Sunday that he gave the guns back to his son, according to the police statement.
One of the weapons, an AR-15, was allegedly used in the Waffle House slayings, police said.
ABC News' Jack Date and Benjamin Stein contributed to this report.