— -- Quick action by an officer in Mount Pleasant, South Carolina, may have saved a man's life, and the dramatic moment was all captured on the cop's dashboard camera.
Mount Pleasant Police dash-cam video shows Cpl. Adam Willis run over to a car that was completely engulfed in flames in a parking lot early Saturday morning.
As Willis extinguished some of the flames by the driver's side door, he saw a man sitting in the driver's seat.
"I saw an arm holding the steering wheel," Willis told ABC News today. "I reached in... I thought to myself, 'Please, just be alive.'
"He came to pretty quick," Willis recalled. "He looked at me... I told him to get out."
The dramatic video captures Willis' pulling the man out of the burning car and the two men running away from the area.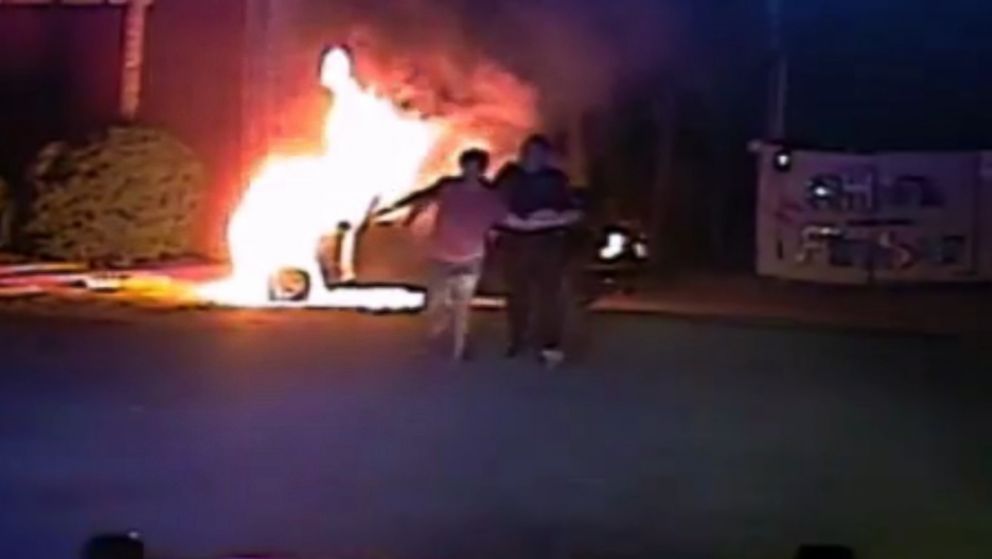 "There was nothing else going through my mind," Willis said. "Our training... You have these critical incidents that require just a bunch of adrenaline. It's more of a reactionary thing and that's exactly what I went through."
The man didn't have any visible injuries, Willis said, but was hospitalized as a precautionary measure.
"He might have had minor injuries, but he's going to be OK from what I understand," Willis said. "I'm very relieved that neither one of us was injured... I'm just thankful to God for that."
Public Information Officer Chip Googe told ABC News today that Willis, a 10-year veteran of the Mount Pleasant Police Department, is "probably one of the most active and productive officers we have. We're just very proud of him risking his own life in defense of somebody else."
"He didn't really think of the consequences he may have suffered in getting that individual out of the car," Googe added. "It takes a special type of person to run towards danger and not away from it."
The cause of the fire remains under investigation, Googe said.