— -- Joanna Graham just moved to the small suburban town of Norfolk, Virginia, from the nearby city of Washington, D.C., over the winter and the transition has not been easy. Her husband, who is in the U.S. Navy, was deployed shortly after the move, and she noticed many differences between her old life in the city and her new life in this small town.
But the discovery of a so-called "Wishing Tree" near her street has showed her a side to the community that is beginning to make it feel more like home. She stumbled upon it while on a run -- she loves to run triathlons and Redgate Avenue in West Ghent, a historic neighborhood in Norfolk, is part of her regular route.
She came across the sprawling cedar in the early hours of the morning. It was filled with more than 200 wishes written on white tags and attached to the tree with twine.
"I found a lot of solace, and a lot of hope, in this tree this morning," Graham said. "It's funny how the universe will send you these messages of hope that you didn't even know you needed."
What is remarkable about this tree, Graham said, is the quality of the wishes. With the exception of a few tags, none of them detailed particularly materialistic desires.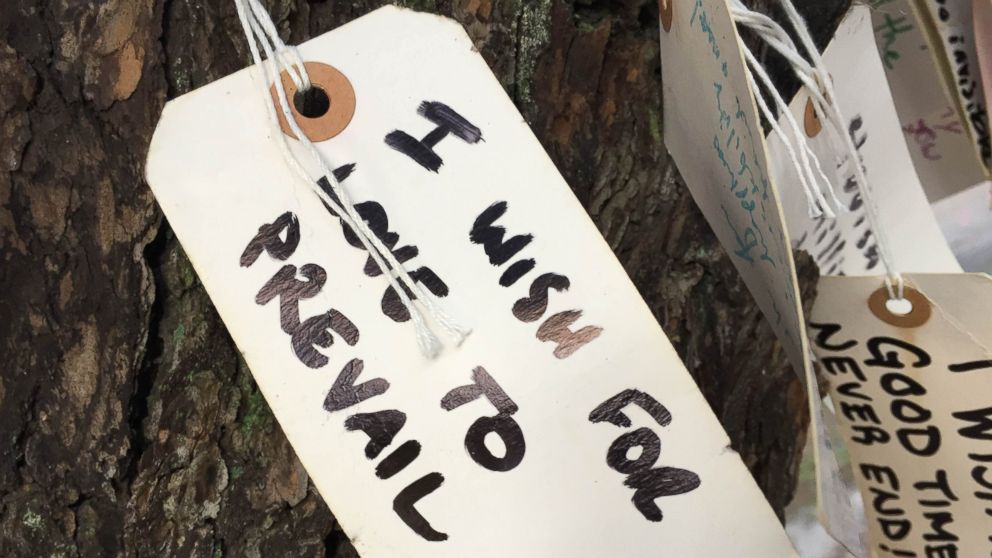 "I wish to have a fresh start and my family to believe in me, I want off probation," reads one wish. Others include: "I wish for you to never stop dancing;" "I wish for us to become our own heroes."
According to The Virginian Pilot, a local woman, Suzanne Sherman, started the project by putting her own wish on the tree, leaving a bag of tags and twine, and writing instructions: "Find a blank tag. Write your wish … for you, a friend, a loved one, etc. Tie it on the tree. Read someone else's wish and hope it comes true."
Sherman couldn't be reached by ABC News for comment, but told The Pilot, "The story shouldn't be about me. It should be about the tree."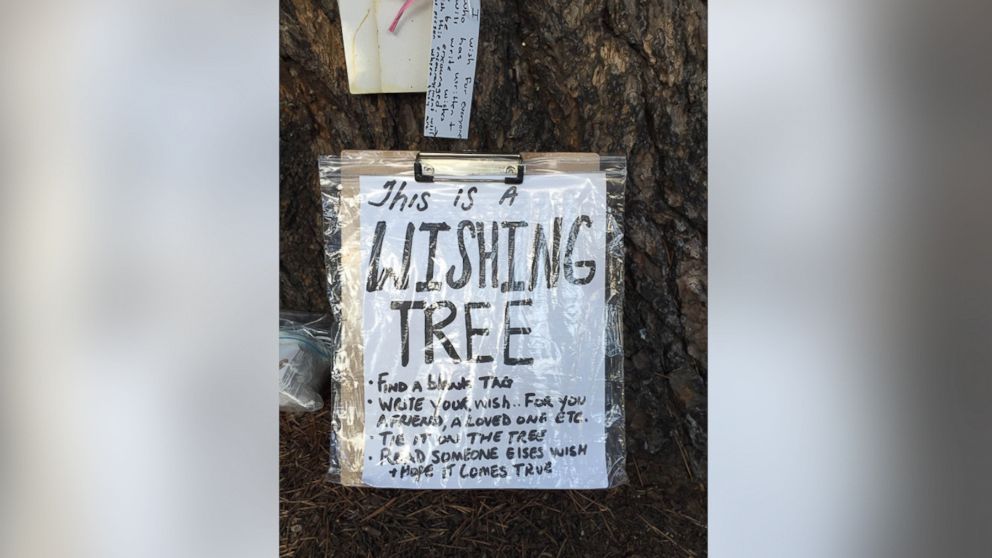 The tree is quite the symbol for the small town around it, according to Graham. This is, after all, a town that protested getting a Starbucks because it feared it would put the "local guys" out of business, Graham said.
It's a town with a very unique heart, Graham said, one that the community works hard to protect but shows loud and clear with this tree.
"It's feeling more comfortable and more like home every day. I was not surprised at all that something like this popped up in Ghent. I would've been surprised to find this in Arlington, where we lived before," she said.
That being said, the tree is inspiring others, even in the city, to follow suit. After posting a photo of the tree to Instagram this morning, Graham received a text from a friend in Northeast D.C.: She absolutely loved the tree and wants to start one in her neighborhood.
Others posted the tree on Instagram as well, like Karen Hibbard, a photographer and mother from Chesapeake, Maryland, who found it while she was dropping off her daughter at the nearby hospital for volunteer work.
"I just thought it was a neat way for people to get their thoughts and feelings out there and reflect. From their needs to their dreams to just a little piece of their lives there on the tree," Hibbard said.
The honest, heartwarming wishes remind Graham of what her mother used to say. You may not grow up to change the world like Rosa Parks or Ghandi, Graham said her mother would tell her, but what you should do is grow up and "make your little path that much better than it was."
"It was a nice reminder that in spite of everything, there are still a lot of people who are trying to make this world a little better of a world than they found it," Graham said.
And whether it be the simple path of her jog or the larger path of becoming part of a community, Graham's journey is better than it was because of the tree. "I was smiling stupidly for the rest of that run," Graham said.