— -- Eighteen years ago, Alexis Manigo was snatched from a Florida hospital as a newborn and spent her entire life being raised by a woman, Gloria Williams, who wasn't her mom.
Recently, after DNA testing, Manigo, who was given the name Kamiyah Mobley at birth, discovered her true identity.
But instead of harboring ill will towards the suspect, Manigo, who is still reeling from the discovery, called her "a great mother."
"That's all I want people to know," she told "Good Morning America" in an exclusive interview. "She was a great mother."
"I will never have malice for her," she added. "I will always love her."
Williams, 51, allegedly snatched Manigo from a hospital in Jacksonville, Florida just hours after she was born, and has been arrested and charged with the kidnapping.
Williams, who has not yet entered a plea, appeared before a judge for her first court hearing in Jacksonville today. The judge set no bond for Williams on the kidnapping charge but set her bail at $503,000 on the interference with custody charge. Williams' next court appearance is slated for Feb. 8.
Earlier this month, authorities revealed that they used DNA testing to determine that Manigo was not Williams' biological daughter, and that the teenager was the victim of a decades-old kidnapping case.
"I understand what she did was wrong, but just don't lock her up and throw away the key," Manigo pleaded.
"She loved me for 18 years, she cared about me for 18 years," Manigo said. "I just want people to realize that."
"She made one mistake, but I was loved," Manigo said. "From that one mistake I was given the best life."
"I had everything I ever needed, wanted, I had love especially. There is no price you can put on the love that was given to me," Manigo said.
Manigo added that the attention that she has been getting has been "overwhelming." Last week, she was joyfully reunited with her birth mother and father, saying "when you find a new family, it's just more love."
She added that the reunion was bittersweet because it also meant that the woman who raised her was taken away from her.
"For some it's a victory," Manigo said. "But at the same time you do take a loss when someone so dear to you is just snatched like that."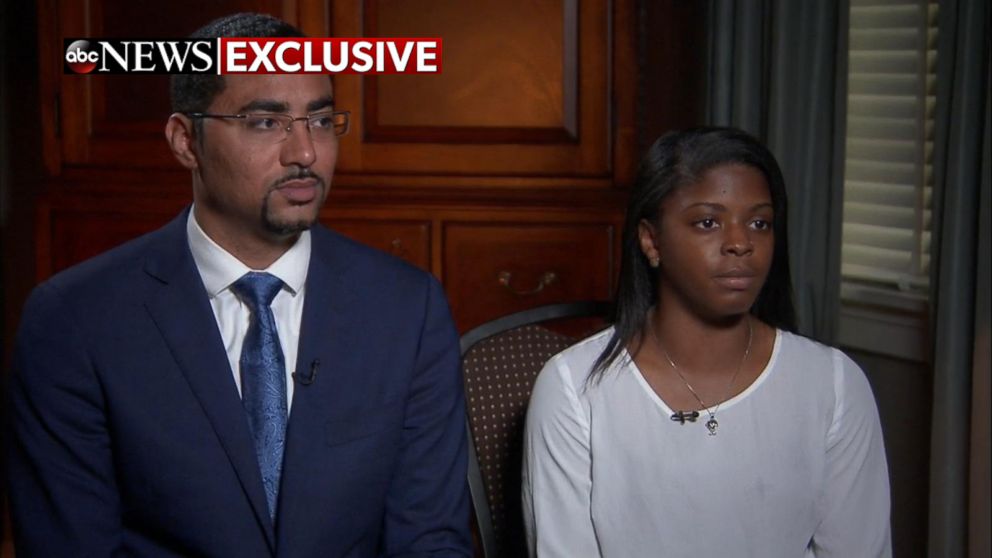 Manigo said she is still processing everything that has happened, and though she identified herself as "Alexis Manigo," she said she is fine with people calling her by her birth name.
"It's all a bit much for me, but if you know me by 'Alexis' continue to call me 'Alexis', if you know me as 'Kamiyah,' then you can call me that to. I'm not really specific right now. I haven't even thought about that, I'm just taking it one step at a time," Manigo said. "I don't want any malice with anybody."
"Regardless of what you refer to me to, I know who I am, I've never questioned myself," Manigo said. "I know who I am as a person."
Williams was extradited from South Carolina to Florida on Tuesday but Manigo said, "I still think of her as mom, she will always be 'Mom.'"
Manigo said it has been hard for her to deal with the comments and judgment that has been directed on Williams and her online.
"They want me to hate her, and it's not in me to," Manigo said.
Manigo's attorney, Justin Bamberg, told "GMA" that people online have made hurtful comments directed towards Manigo and Williams.
"Until you are in that situation, I don't think you should be so quick to judge," Bamberg said. "I want you to ask yourself, 'What would I say if I woke up tomorrow and I found out that my mother was not my mother?'"
"Anybody can be bold behind the keyboard, that's the new thing," Bamberg added. "Be upset, but also be mindful that there is an innocent 18-year-old who is left to deal with this."
ABC News' Eva Pilgrim and Scott Withers contributed to this report.