— -- A North Carolina woman who fought off two armed home invaders who shot her as she breast-fed her newborn son has spoken out for the first time since the attack, thanking supporters from her hospital bed.
"My recovery would not have been as successful or as expedient without each of your prayers," Semantha Bunce said Wednesday.
Bunce, 21, is still hospitalized and recovering from two wounds after two suspects broke into her Charlotte home Nov. 3, according to a police report.
Bunce, who is a combat medic for the National Guard, was feeding the baby when two suspects forced themselves into her home, according to ABC affiliate WSOC-TV in Charlotte, and fired at her from the stairwell before she shot back from her bedroom door.
She did not speak specifically about the invasion when addressing the media Wednesday from the Carolinas Medical Center, opting instead to thank her supporters for the generosity they have shown, some in surprising ways.
"My breast milk supply has decreased, unfortunately," as a result of her injuries, she said Wednesday, "but I've had women reach out to me and offer to donate breast milk to us so he didn't have to suffer."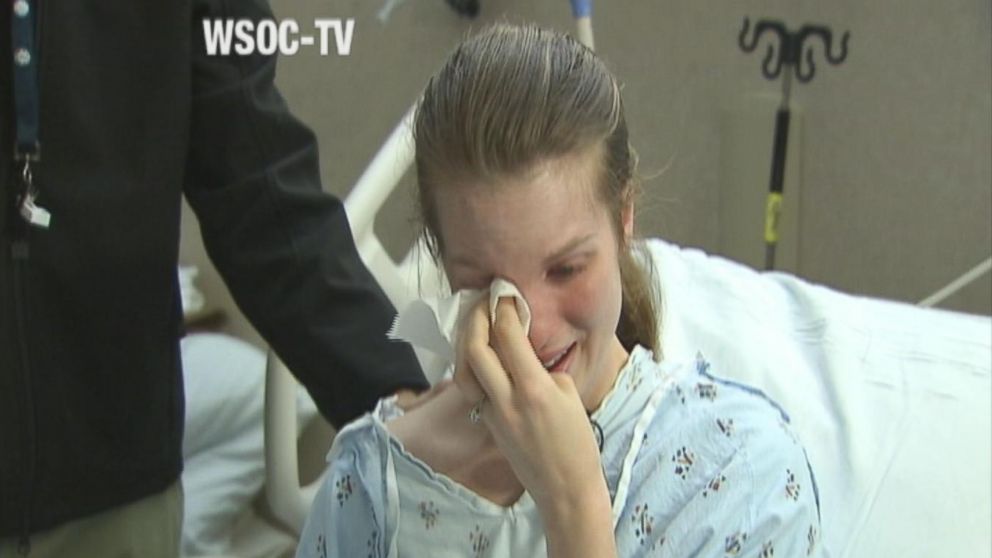 Friend and "fellow soldier" Hollie Ritchie has also set up a GoFundMe page to help cover her medical expenses and so far the page has raised more than $56,000.
"Words can truly not express the amount of gratitude that me and my family have for everybody who supported us during this time," Bunce said Wednesday.
The police report notes that there are two suspects in the case and one, Reco Latur Dawkins Jr., has been arrested. Lt. David Robinson said the investigation is still ongoing.
Dawkins Jr. turned himself in Saturday, four days after the attack, and has since been charged with attempted murder, felony breaking and entering and conspiracy to commit felony breaking and entering, police said in a press release. A judge set his bond at $1 million, WSOC reported. It's unclear whether he has entered a plea.
Bunce's next door neighbor John Marshall was listed on the police report as the second victim, though he was not injured in the incident. He told ABC News that he was watching TV in his home.
"I heard a bunch of gunshots, you know, 'Boom, boom, boom, boom,' and I started calling 911," he said.
Marshall was uninjured but a bullet did go through his bedroom. "Lucky I wasn't sleeping," he said. "I was so scared."