— -- Police near Lancaster, Pennsylvania, are searching for a driver who authorities say set in motion a crash that tipped a school bus on its side, sending 16 people to the hospital and leaving a 6-year-old boy "struggling for his life."
Police said four vehicles were involved in the Wednesday morning crash: a tractor-trailer, an escort vehicle for the tractor-trailer, the missing car and the school bus.
Police said the unknown driver hit the back of the escort vehicle in East Lampeter Township, about 65 miles west of Philadelphia. The escort vehicle was then pushed into another lane, side-swiping the school bus.
The collision tipped the bus onto its side and trapped one student underneath; the student was transported to the hospital via helicopter, police said.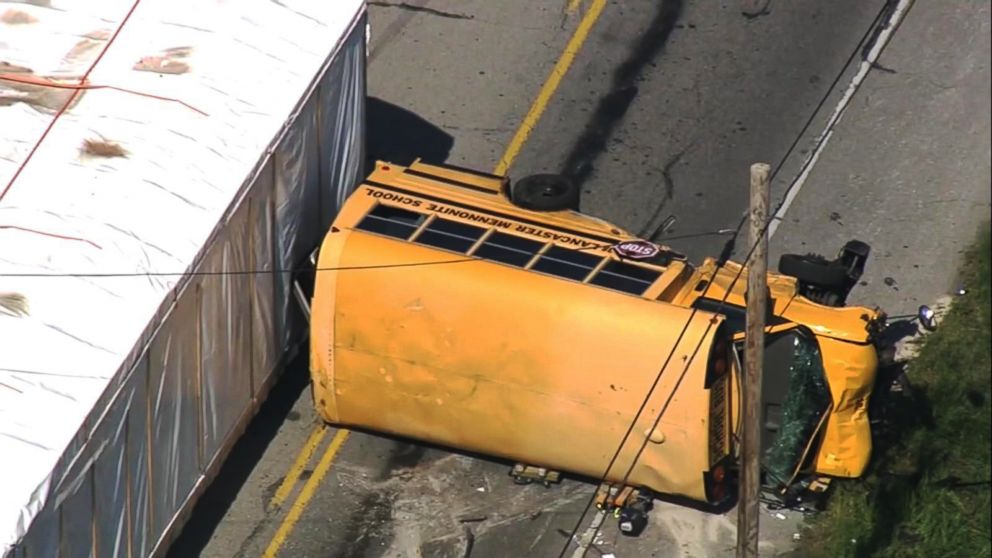 Fourteen students, the school bus driver and the driver of the escort vehicle were hospitalized, a Lancaster General Hospital spokesperson said. Both adults and 12 of the students have since been released, a hospital spokesperson said today.
The remaining two students have been transferred to other hospitals for further treatment.
A 6-year-old boy is considered a critical patient with serious injuries, officials said. While the patient had "some improvement," Lancaster County District Attorney's Office spokesman Brett Hambright said this morning the boy is still "struggling for his life."
A 16-year-old boy is expected to be released from the hospital today, officials added.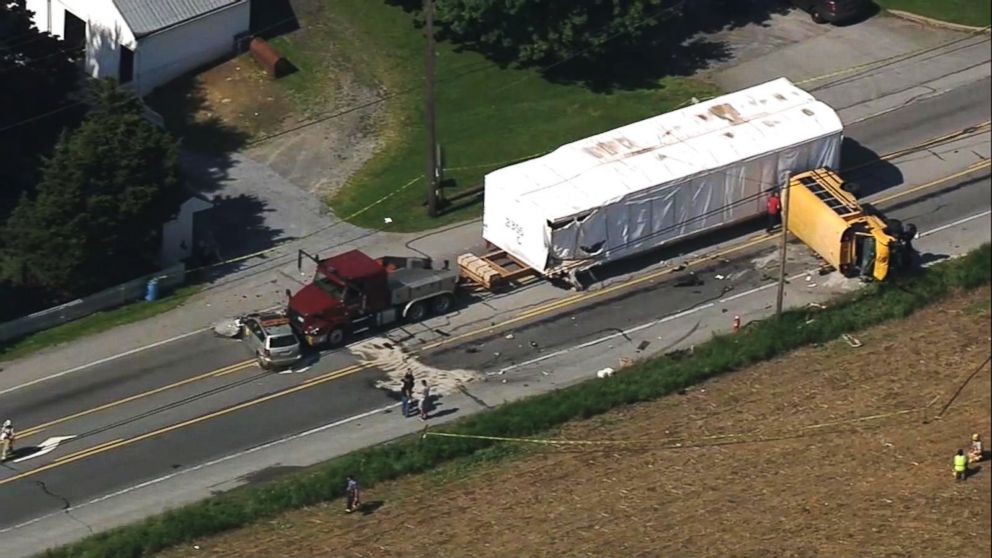 Police are looking for the missing driver who "essentially set this crash into motion," Hambright said.
The missing car appears to be a light-colored sedan, possibly a white Chevrolet Malibu, Hambright said. The front of the vehicle could be damaged, he noted, adding that the car may also have driver's side damage.
The Lancaster County District Attorney's Office today released this video of the car:
Hambright said authorities want to speak with the driver.
"That side of the story is very important to us," East Lampeter Township Police Chief John Bowman said. "It's pretty much all hands on deck to locate the vehicle and hopefully have a conversation with the driver."
Bowman said the police department has received a large number of tips and he encouraged anyone with information to come forward.
Callers can reach the East Lampeter Township Police Department at 717-291-4676.
The students involved in the crash were from the Lancaster Mennonite School, police said.
The Lancaster Mennonite School said in a statement on Facebook this morning, "Thank you for your prayers as our school community continues to heal, physically and emotionally, from Wednesday's bus accident."
"Several pastors are at the Locust Grove Campus today having prayer with the students," the school said. "School is operating normally, although prayer and support will be infused throughout the day. School counselors are available, as always, to help in times of crisis."