— -- Two police officers on Long Island, New York, used an eyedropper to save the life of a newborn baby who was not breathing, police said.
Officers Steven Golub and Devin Humphreys of the Northport Village Police Department responded to a call on Jan. 14 at 5:05 p.m. of a woman in labor at a home in Northport, located within the town of Huntington on Long Island, New York, police said in a statement.
While the officers were dispatched, 911 operator Dana Gunther remained on the line with the male caller, who said the baby girl was born on the bathroom floor. Gunther gave the caller instructions on how to care for the newborn. But it soon became clear the baby was not breathing, police said.
As Gunther provided the caller with instructions on how to revive the baby, the police officers arrived at the home and found the mother on the bathroom floor with the newborn in her arms and the umbilical cord still attached, police said. The baby girl had turned dark blue and was unconscious, police said.
"I saw the mom sitting on the floor of the bathroom and she was holding the baby," Golub told ABC's New York station WABC. "I immediately knew the baby was turning blue, and I knew the baby needed to start breathing."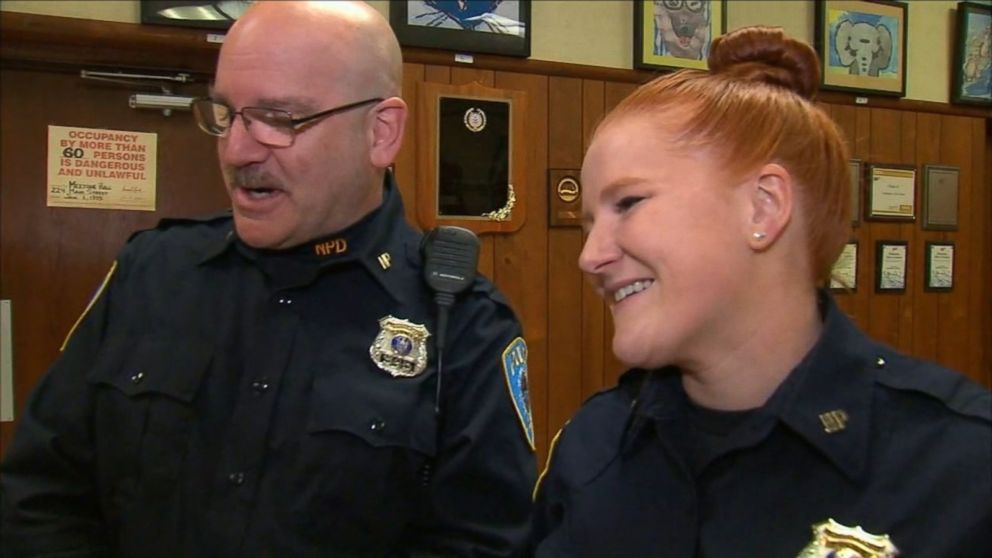 The other officer, Humphreys, took the newborn in her arms and discovered she was suffering from a "complete airway obstruction," police said, but the officer was unable to clear the baby's airway with her finger.
"I called over my shoulder," Humphreys told WABC. "I was like, 'Get me a turkey baster, anything with suction.'"
The officers were able to find an eyedropper inside the home and used it to remove fluid from the baby's nose, mouth and throat. The newborn eventually began to breathe, cough and cry, police said.
"When I was clearing out her mouth, she bit me on the finger," Humphreys said of the baby girl. "She started to make little cries as I was going, so I knew it was working. So, I kept going until EMS got there."
The Northport Village Fire Department rescue squad arrived on scene and administered medical care to the newborn, police said. The mother and her newborn daughter were transported to Huntington Hospital, where police say both are expected to make a full recovery.
"When you're dealing with children, especially a newborn infant, the emotions can get the best of you," Northport Village Police Department Chief Bill Ricca told ABC News. "Even though the most seasoned officer can turn around and hesitate, these two officers just jumped right in and did what they had to do."