— -- By the end of this week, 20 young girls in Chesapeake, Virginia, will be one step closer to becoming firefighters.
Camp Fury, run by the Chesapeake Fire Department along with Girl Scouts of the Colonial Coast, gives girls in middle and high school the skills they'll need to become firefighters one day. More importantly, it teaches girls that they can indeed become firefighters.
"I hope that by exposing these girls to nontraditional careers for women, their minds aren't limited to what careers they think they should go into," said Kaitlin Smith, public relations manager with Girl Scouts of the Colonial Coast.
"It's mostly female firefighters running the camps," Smith said. "They realize there's a lot more to being a firefighter and they develop a well-rounded view. Being able to talk to women in the firefighter service, seeing the things they get to do makes it a more real career option for them."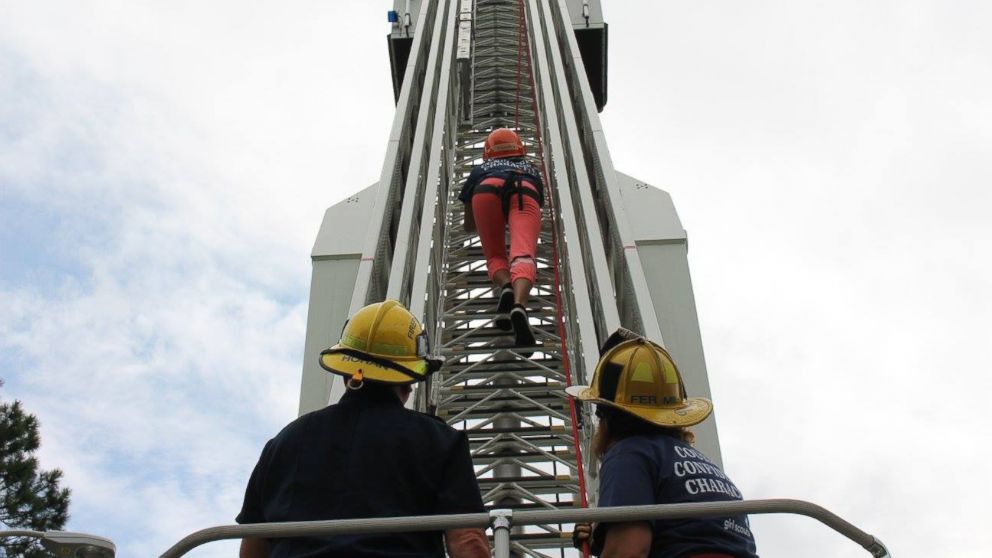 This week is the first ever for Camp Fury in Chesapeake. The camp has run for two years across the peninsula in Hampton, Virginia, and began eight years ago in Tuscon, Arizona. Now, about 20 female firefighters from Hampton, Chesapeake and Norfolk have come together to assist in Chesapeake. Many of the men working at the stations also assist.
"I think it's important to see how we work together, men and women, and to see there is a very welcoming attitude in the fire service for the girls, so they can see this is an actual option," said firefighter and program manager Mandy George, who has been with the Chesapeake Fire Department for five years.
Yes, the girls enjoy riding in fire engines and spending the night at the station -- but they also train with 30 pounds of equipment, including full turnout gear and self-contained breathing apparatuses, or SCBA masks. They learn forcible entry with axes and Halligan bars, they train in search and rescue, and they hold down a hose line with the full force of a fire hydrant behind them.
But even after they learn these skills, the biggest event of the week, according to George, is the aerial climb.
It's a training exercise most adult firefighters even shy away from, said George. "It's very high, very steep and most of the girls have never done anything like that," she said.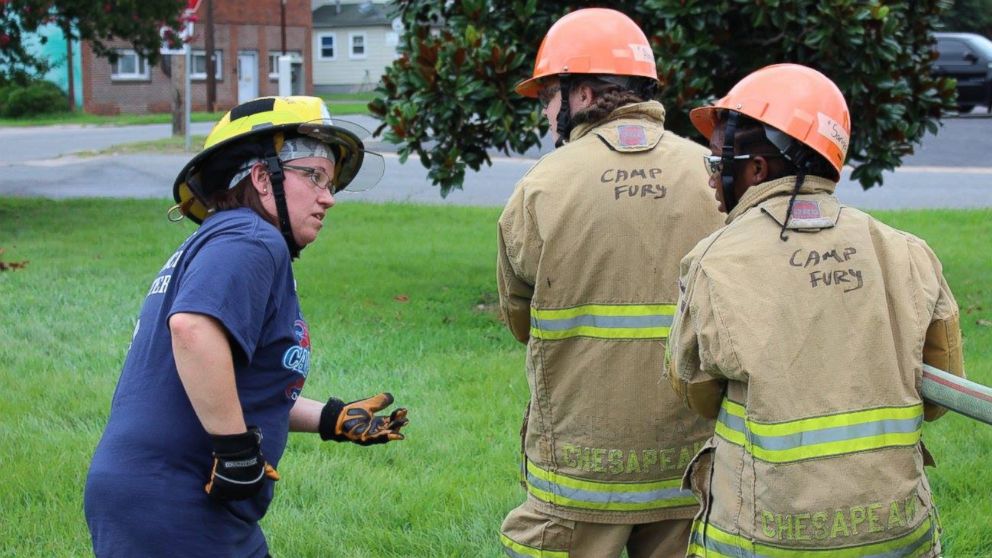 Sometimes there are tears, usually there is hesitation.
"But once they're done and they're back on the ground, they're so happy. It means so much to them, conquering that fear. Many of them can't wait to do it again. It builds such confidence in their spirit."
At least five guest speakers will also visit the camp this week, from female pilots with the Navy to special agents with the FBI.
George hopes the camp can expand in years to come. It currently runs for one week, from Aug. 8-12, and is $185 per camper, said George. She hopes one day it can be free for every girl.
She has already had campers tell her they want to be firefighters, she said.
"I hope that they know that it's not necessarily brute force that allows them to do this, but that skill is involved and they can push through their fears and conquer them, that being uncomfortable and taking on new challenges is okay," George said.
In past years at Camp Fury in Hampton, the camp experience has certainly left a lasting impression. George hopes for the same at Chesapeake. "They talk about it all year and they can't wait for next year," George said.