It was a wedding under the Texas sky that one guest described as a "fairy tale," but a young couple's married life together ended in tragedy when a helicopter whisking them away from their reception crashed into a hillside, killing them and their pilot.
Will Troy Byler and Bailee Raye Ackerman Byler, students at Sam Houston State University in Huntsville, were married Saturday and had been husband and wife for less than two hours when the Bell 206B helicopter they were in crashed early Sunday morning about 15 miles from the groom's family ranch in southwest Texas.
"I am in awe of you, Will Byler, and I hope that everyone gets to experience a love like the one we have. Today is the beginning of forever TOGETHER!" the 24-year-old bride wrote in a Facebook post in December 2017 after Byler, also 24, asked her to marry him.
The couple's nuptials had all the elements of the perfect outdoor wedding with the bride dressed in a flowing white gown as her father, Shane Ackerman, walked her down the aisle under a clear Texas sky.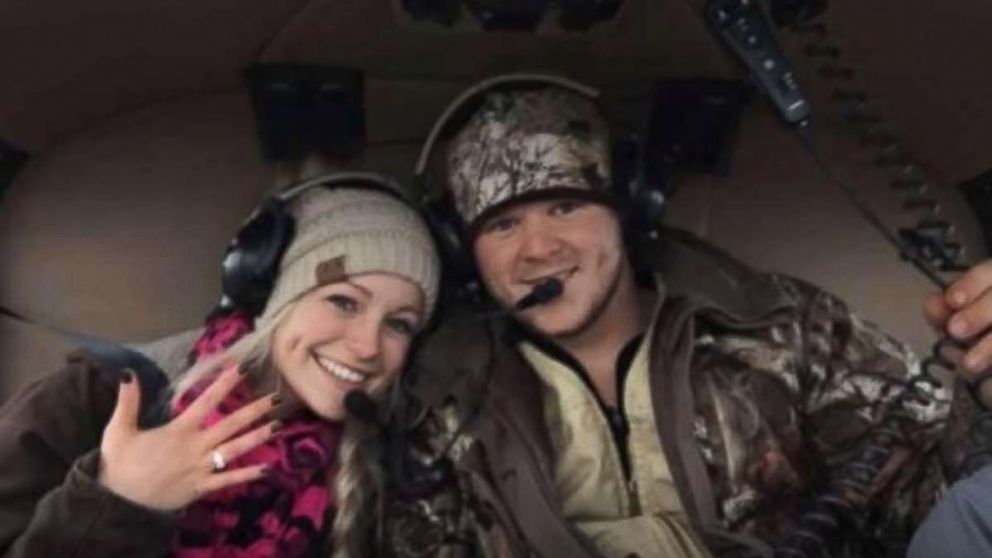 "We celebrated their fairy-tale wedding and they were surrounded by their family and friends as they flew off in the family helicopter," Eric Smith, one of the many wedding guests, wrote on Facebook.
Soon after departing their reception to the cheers of their guests and fireworks, the helicopter carrying the couple to their wedding night destination in San Antonio crashed into a hillside about 10 to 20 miles from Byler's family ranch in Uvalde, Texas, about 85 miles west of San Antonio, Craig Hatch, an air safety investigator for the National Transportation Safety Board, said at a press conference Monday afternoon.
Hatch said the wreckage of the helicopter was strewn over 100 yards along the hillside.
While there was the smell of fuel in the area, there was no evidence that the helicopter had burst into flames, Hatch stated.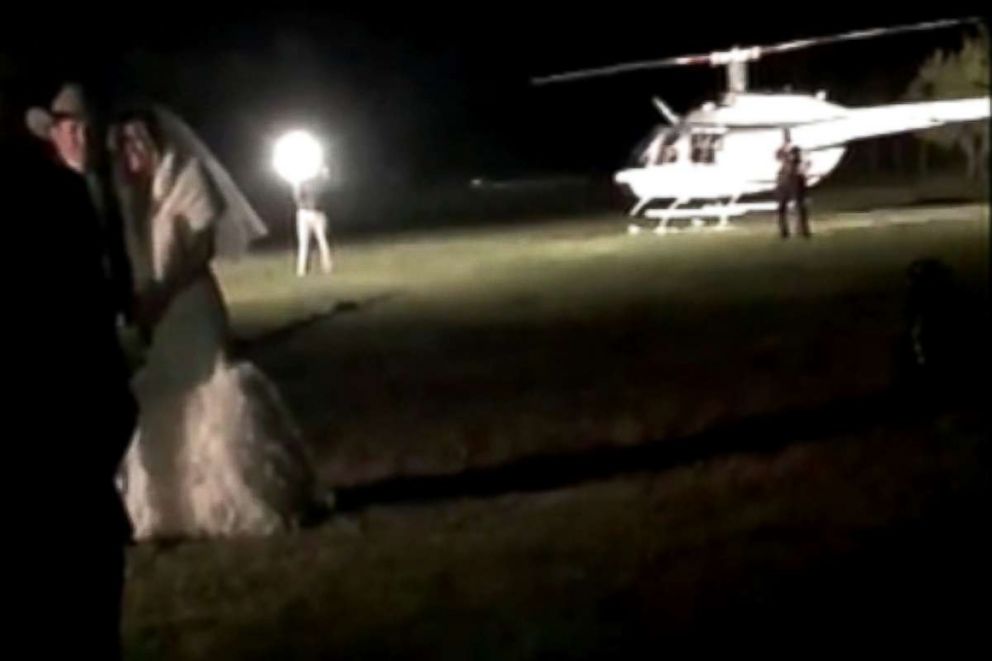 The investigation is just in its preliminary stage and Hatch would not speculate on what might have caused the crash.
Rachel Kellner, a game warden for the Texas Parks and Wildlife Search and Rescue, said she and her partner, Dennis Gazaway, found the crash site at daylight Sunday morning after searching the rugged terrain on all-terrain vehicles with the help of a search helicopter.
"We definitely saw the helicopter in a terrible state," Kellner said. "It was in debris along the side of the hill."
She said family members of the couple arrived at the scene in a helicopter.
"We told the family that we would stay there with their loved ones," she said.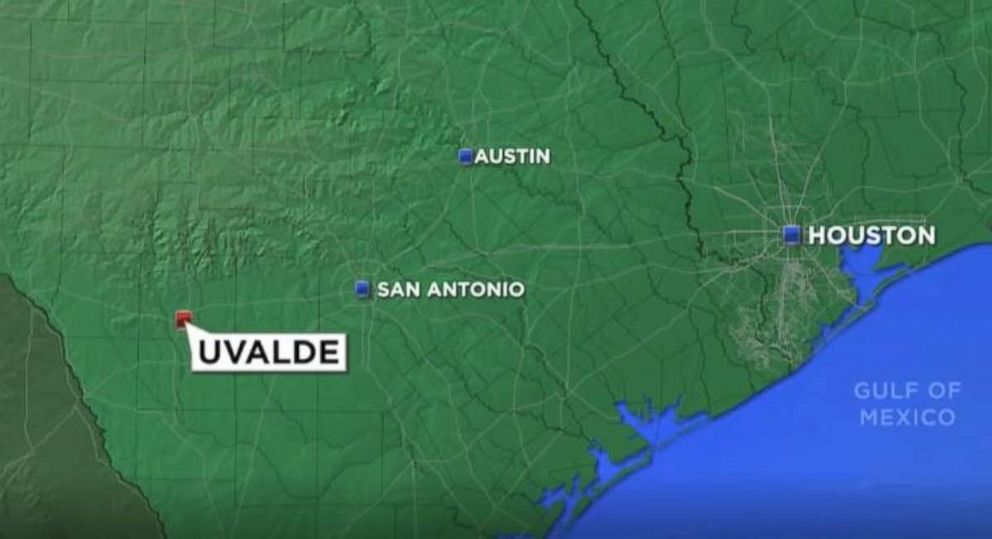 The bodies were removed from the crash site Sunday afternoon.
"We stayed until that was done," Kellner said.
The Uvalde County Sheriff's Office said in a statement that its dispatch center received a call about midnight Sunday from an aviation monitoring center reporting a possible down aircraft and that the wreckage of the helicopter was located near Chalk Bluff Park in Uvalde.
The pilot was Gerald Green Lawrence, 76, Uvalde County Justice of the Peace Judge Steven Kennedy told ABC News.
Lawrence was a captain in the Army who served during the Vietnam war, his step-daughter, Amilyn Willard, told ABC News affiliate KTRK-TV.
Hatch described Lawrence as a "highly qualified pilot."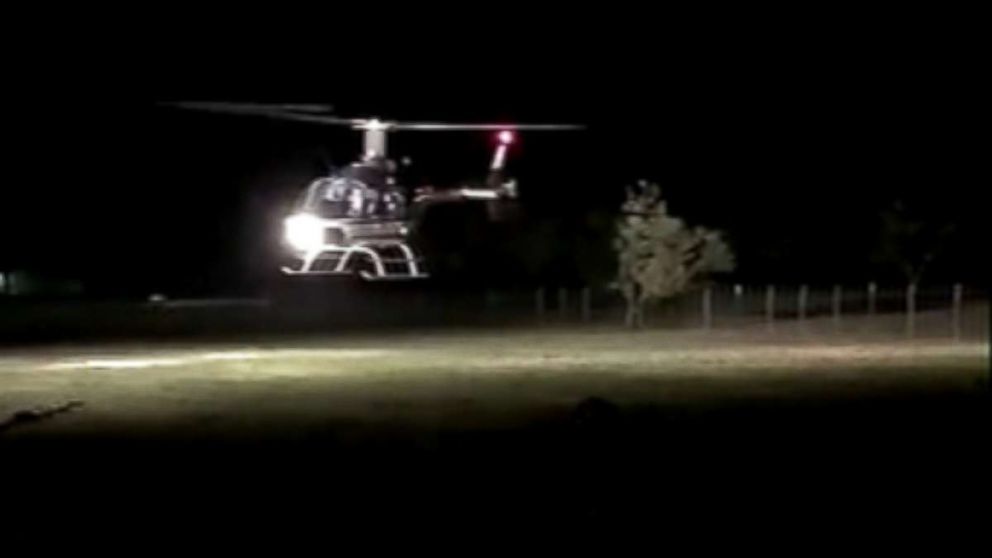 Both seniors at Sam Houston State University, Byler was majoring in agriculture engineering while Ackerman's major was agriculture communications.
"These two individuals made a huge impact and will always be remembered by their kind hearts and uplifting spirits. Will and Bailee spent their last moments on Earth surrounded by family and friends in what can easily be said was the best moments of their life," David Eller, the school's student body president, said in a statement.
Byler was a member of the SHSU Rodeo Team and served on various students organizations, Eller said.
"Will and Bailee exemplified the university motto, 'The Measure of a Life is it's Service,'" Eller said.
Wedding guests posted videos online of the doomed helicopter appearing to take off safely from the Byler ranch as friends and family cheered. Other videos showed Ackerman, wearing her white wedding gown, dancing with her nine bridesmaids and showering Byler with kisses as he was seated in a chair at their wedding reception Saturday night.
The months of wedding planning had seemed to pay off for Ackerman and Byler.
"Last night was magical in every way," a wedding guest wrote on Instagram Sunday. "Absolutely perfect. Bailee & Will - I hope I find a love as true & wonderful as yours. I have peace in the fact that you left this earth so full of happiness and love. How awesome to spend your honeymoon with Jesus."
As she and Byler were putting the final touches on their wedding plans, Ackerman wrote in a Sept. 24 Facebook post, "This whole 'bride' experience has been more than I have ever dreamed of and we still have so much left to do. Thank you ALL for the memories. I am a lucky lady."
ABC News' Christine Theodorou and Matt German contributed to this report