The five passengers killed when a tourist helicopter plunged into the frigid East River of New York City on Sunday all died from drowning, according to the city's medical examiner.
The cause of death was released as the investigation of the crash by the National Transportation Safety Board stretched into its second full day.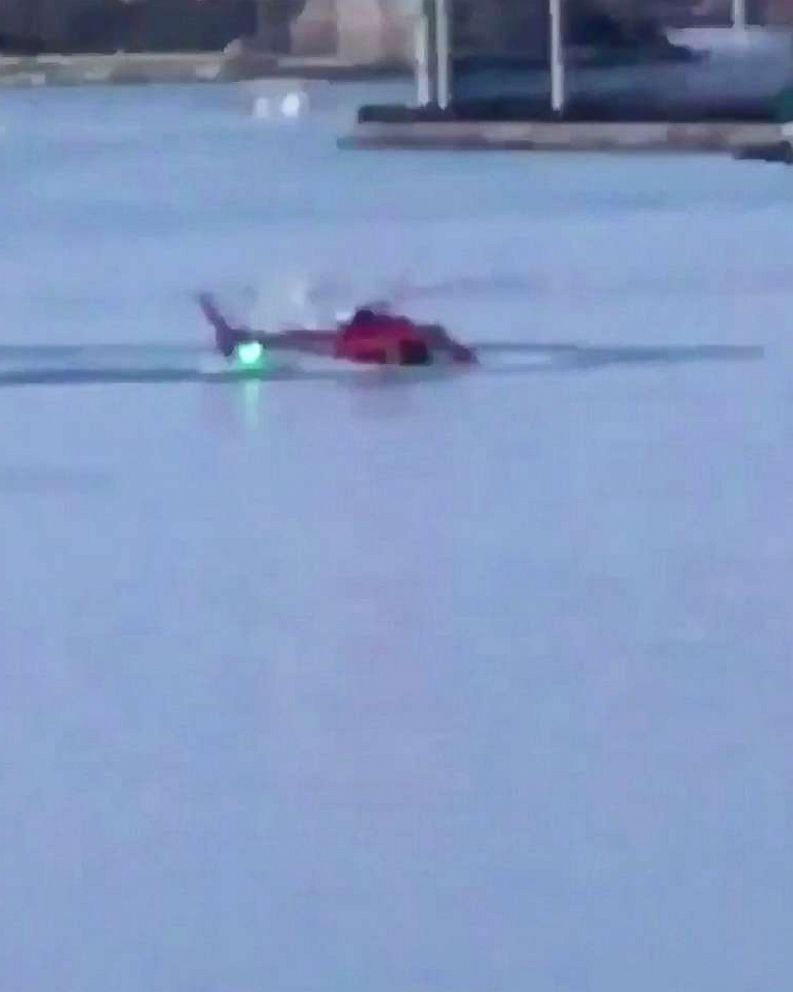 Killed in the crash were Daniel Thompson, 34, and Tristian Hill, 29, both of New York; Carla Vallejos-Blanco, 29, of Argentina; Brian McDaniel, 26, a firefighter from Dallas; and Trevor Cadigan, 26, who recently moved to New York from Dallas to start a journalism career.
The helicopter pilot, Richard Vance, 33, was the only survivor. He told New York Police Department investigators a passenger's harness somehow got wrapped around the fuel shut-off switch, accidentally cutting off the fuel supply to the helicopter and resulting in engine failure, multiple officials briefed on the investigation told ABC News.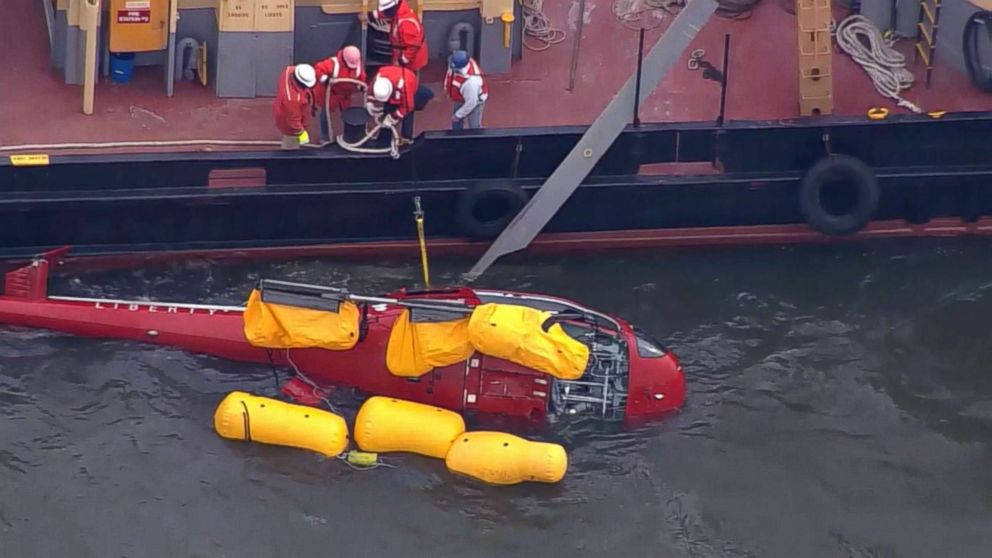 Gary Robb, a helicopter crash lawyer for 37 years, told ABC News today that Vance's explanation of the crash was an unlikely scenario.
"I find it implausible that a strap could cause that lever to be actuated because you have to pull it up and back," Robb said.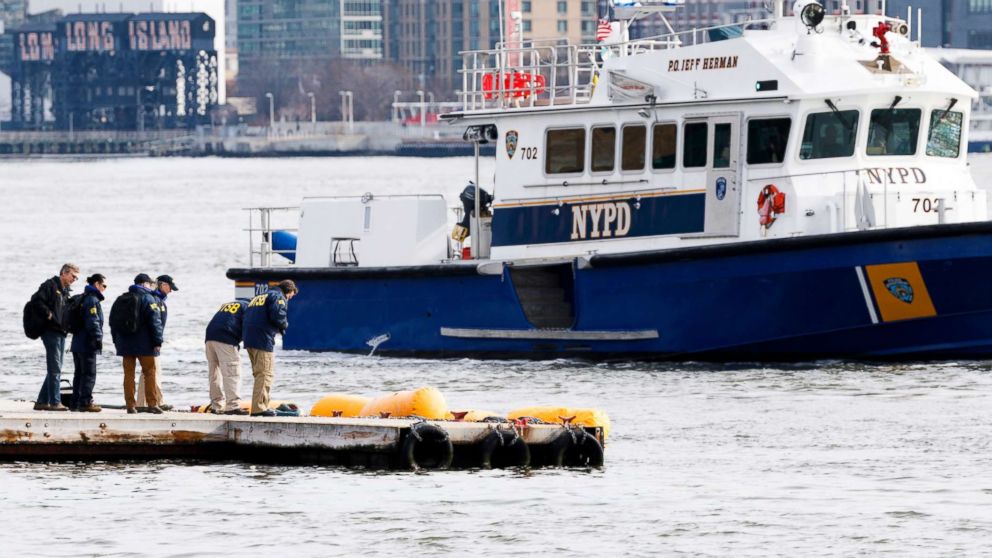 He added that a safety wire attached to the switch would have also had to be broken. He said emergency lights on the helicopter's control panel should have gone off alerting the pilot of a fuel problem.
Liberty Helicopters has declined speak in detail about the crash, only saying it is cooperating with the NTSB investigation.
The helicopter crashed at 7:08 p.m. Sunday, moments after Vance radioed "Mayday!" to the air traffic tower at LaGuardia International Airport and reported "engine failure."
Vance told investigators that he initially thought about crash-landing in Central Park but decided against it, officials told ABC News. Video taken by witnesses showed the helicopter splashing into the East River off East 96th Street on Manhattan's Upper East Side.
The flight -- which originated in Kearny, New Jersey, and was to take about 30 minutes -- was a photo shoot tour of New York landmarks. Passengers were harnessed in tightly and the helicopter had no doors to provide better views for photography, officials said.
"These open door helicopters are death traps," Robb said. "You need to be an escape artist like Houdini if you're upside down and in cold water."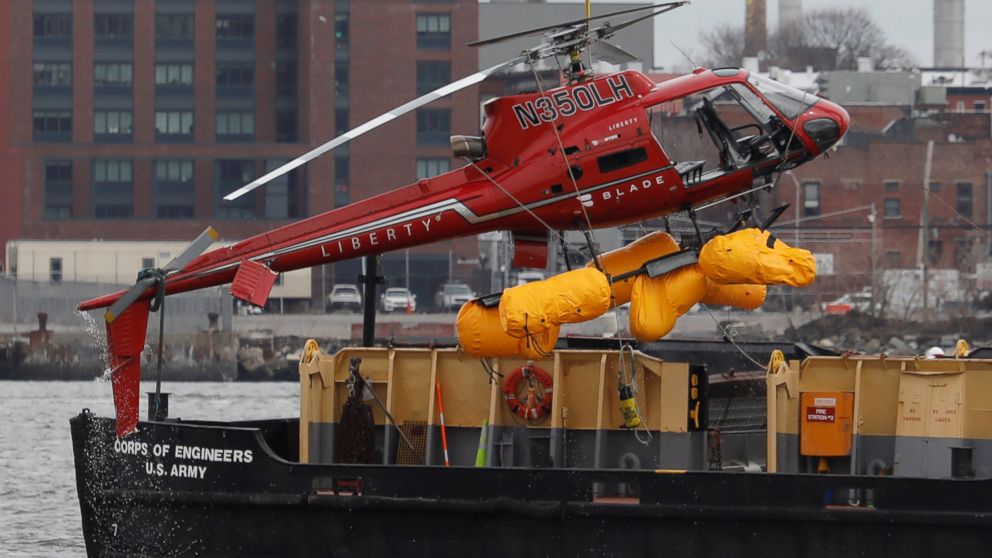 Robb said passengers likely received little if any training before boarding the doomed aircraft. He said usually passengers receive a 10- to 15-minute safety briefing and a knife to cut themselves out of a four-point harness, in which shoulder straps and waist straps come together at one of four points.
"It was inevitable that something like this was going to happen," Robb said.
The Federal Aviation Administration issued a statement late today, saying, "We are giving urgent attention to the use of harnesses specifically for aerial photography flights."
"We are supporting the NTSB and we will take appropriate action based on what we learn from the investigation," the FAA statement reads. "As a matter of overall safety awareness, we are preparing further communication and educational outreach to aerial photography operators and consumers on the use of these harnesses."
The FAA has the authority to ban such aerial photography flights but did not elaborate on its statement.
Robb -- who filed a lawsuit last week on behalf of a British man who died in a Feb. 22 crash of a tourist helicopter in the Grand Canyon -- also questioned why Vance apparently did not try to free his passengers after escaping from the helicopter wreckage.
"He got himself out so quickly. Why couldn't he have gone back in and extricated two or more of these passengers?" Robb said. "That's a gross dereliction of duty."
ABC News aviation expert Steve Ganyard said the helicopter's emergency pontoons apparently did not deploy property and may have caused the aircraft to tip over once it hit the water.
"He picked out the river, knowing that he had floats that should have kept the helicopter floating and upright on the river," Ganyard said.
"If you look at the pictures as the aircraft is recovered, the floats on the right side of the aircraft do not appear to be fully inflated. So potentially what could have happened is the left side inflated but the right side did not inflate properly, and the aircraft rolled right as the blades hit the water," he said. "If those floats had worked properly, everyone would have walked away or swam away from this tragedy."
As of late this afternoon, NTSB investigators had yet to speak to the pilot, Vance, but were hoping to schedule an interview soon, the agency said in a statement.
In an update on the investigation, the NTSB said the pilot had contacted the LaGuardia air traffic control tower while flying at an altitude of 2,000 feet to request entry into its airspace about five minutes before he declared "Mayday!" and reported engine failure.
Investigators also conducted a full examination of the helicopter and recording devices recovered from the wreckage, including a GoPro camera, that were sent to an NTSB laboratory for analysis, the agency said in a statement.