In a daring overnight raid masterpiece paintings worth over $120 million, including a Matisse and a Picasso, were stolen from the Paris Museum of Modern Art.
"I am saddened and shocked by this theft, which is an intolerable attack on Paris' universal cultural heritage," Paris Mayor Bertrand Delanoe said in a statement today.
The five modern art masterpieces were discovered missing early this morning as the museum was preparing to open to the public. It is now closed and police have cordoned off the area opposite the Eiffel Tower while forensic teams scan it.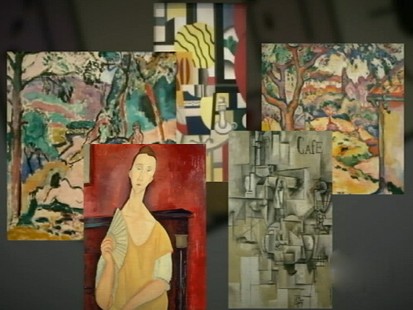 "It is essential to allow the police to find out how the security system has been outsmarted and
how such valuable paintings could have been stolen
," Christophe Girard, Paris City Hall deputy culture secretary, said.
Investigators are examining the museum's surveillance footage which reportedly shows a masked thief at work, removing the paintings from the museum.
The next step for the police will be "to locate the perpetrators and of course to retrieve those paintings whose value is important, a total of just under 100 million euros ($127 million)," Girard said, putting the value of the pictures at a much lower estimate than initially reported.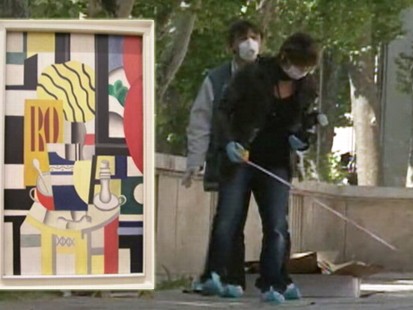 Earlier the Paris prosecutor's office had put the total worth of the paintings much higher at approximately $613 million.
The stolen works were "Le Pigeon aux Petits-Pois" (The Pigeon with the Peas) an ochre and brown cubist oil painting by Pablo Picasso; "La Pastorale" (Pastoral), an oil painting of nudes on hillside by Henri Matisse; "L'olivier pres de l'Estaque" (Olive Tree near Estaque) by Georges Braque; "La Femme a l'Eventail" (Woman with a Fan) by Amedeo Modigliani; and "Nature-Mort aux Chandeliers" (Still Life with Chandeliers) by Fernand Leger.
The intruder entered by cutting a padlock on a gate and breaking a museum window, the Paris prosecutor's office said.
Stolen to Order?
"There is a security system, there are three people in the museum at all times. So they were there, but the system was outsmarted as they saw nothing, so they didn't react to anything," Girard said.
But art experts have been questioning the security standards of the museum. An anonymous police official told the Associated Press that some of the surveillance cameras were broken.
"Thieves are becoming more brazen, more sophisticated. You [museums] can't sit on your security. You have to stay ahead of thieves, they are getting through security," Chris Marinello, head of Recovery Team, The Art Loss Register told ABC News.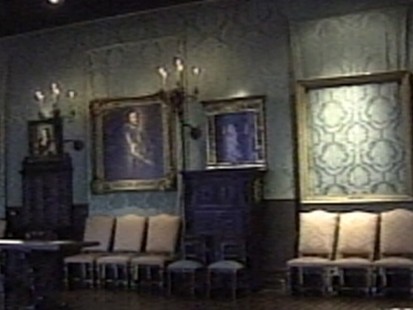 The director of the neighboring modern art museum Palais de Tokyo, Pierre Cornette de Saint-Cyr, called the thief or thieves "fools."
"You cannot do anything with these paintings. All countries in the world are aware, and no collector is stupid enough to buy a painting that, one, he can't show to other collectors, and two, risks sending him to prison," he said on LCI television.
"In general, you find these paintings," he said. "These five paintings are unsellable, so thieves, sirs, you are imbeciles. Now return them."
But previous heists have proved lucrative for thieves who have either stolen to order for their customers or have held valuable art as a ransom.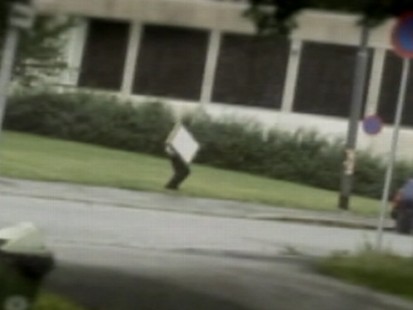 "Thieves are looking to make money out of this. Once they realize that they can't put it out in the market, they will use it to get a ransom payment or in some cases, to get a payout from an insurance company."
While not the biggest art heist ever, as was at first thought, it ranks up there among the top art thefts in decades.
The most expensive art heist to date is deemed by experts to be the theft of $500 million worth of paintings from the Isabella Stewart Gardner Museum in Boston in 1990, and the most famous to be the removal of Leonard da Vinci's Mona Lisa from the Louvre in 1911.
ABC's Ammu Kannampilly, Jean-Nicholas Fievet and The Associated Press contributed to this report.