Mandi Schwartz began skating almost as soon as she could walk, beginning a journey that would take her from a tiny town on the Canadian prairie to the Ivy League.
As a forward on Yale University's women's hockey team, she was admired for her tenacity, her endurance -- a string of 73 consecutive games played -- and her kindness.
"This is the daughter everybody wants," says Tedd Collins, a doctor who has come to know Mandi well. "If you could imagine having a kid, this is the kid you want."
But today, Mandi, 22, is facing a challenge far bigger than any she faced on the ice.
"She called me from the doctor's office," recalls Hillary Witt, Yale's former hockey coach. "She said, 'I have leukemia.' I almost fell off my chair."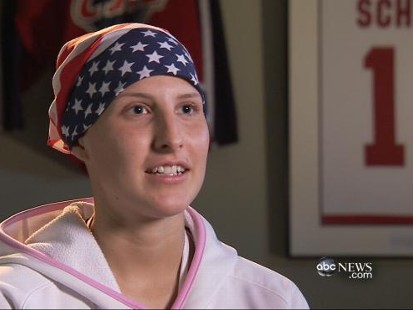 The team rallied around her, wearing her No. 17 on their helmets, leaving her spot open during pre-game introductions and keeping her jersey in the locker room, even on road trips, as she underwent chemotherapy back home in Canada.
But 18 months after being told she has acute myeloid leukemia, Mandi now needs something her teammates can't provide, a bone marrow transplant, or, better yet, a transplant of umbilical cord blood.
And she needs it soon. If doctors don't find a perfect match in about 30 days, they'll go with an imperfect match, which could be fatal.
Friends, teammates and hockey players have embarked on a desperate international search to find a suitable donor, a task complicated by Mandi's mixed Russian, Ukrainian and German heritage.
In the middle of it all is Collins, an immunologist who knows exactly what Mandi is going through.
His daughter Natasha, a promising medical student at Yale, battled the same type of leukemia but died last August. In the hospital, she made a last request.
"She said, 'One day dad, maybe you can't help me, but hopefully you can help other people. And she told me about Mandi."
Mandi's friends and Yale teammates have organized bone marrow donor drives, adding more than 25,000 people to bone marrow registries.
Hope for Recovery: Donated Stem Cells From Newborns
But so far, an exact match has not been found. Collins believes a transplant using stem cells from umbilical cord blood now represents Mandi's best hope. Research shows umbilical cord blood -- rich in stem cells -- is much easier to match than adult bone marrow.
And so fulfilling his daughter's request, Collins launched the foundation BecomeMandisHero.org that arranges for expectant mothers to donate their newborns' umbilical cords -- to help Mandi and others in need of stem cell transplants. The foundation has become his life's work.
Collins estimates that finding just 200 donors of cord blood from people with Mandi's ethnic background should be enough to find two matches.
"The donor exists for certain. There are millions of women having babies every day. And a large number of those babies will match Mandi's," Collins says. "We just have to get the word to them."
Rick Schwartz, Mandi's father, says, "It's like we have an army fighting for us -- an Army fighting for Mandi. ... We're going to find that match."
Mandi beat back the cancer once, only to have it return. After more chemotherapy, the cancer again was declared to be in remission, opening a window to try a transplant -- her best hope for long-term survival. Her doctors hope she can undergo the transplant in Seattle this summer.
Collins said his goal of helping Mandi and others like her "gets me out of bed. Honestly, this is very, very important to me. It's more important than anything I've ever done.
"She's just like my daughter. It's really that simple," the immunologist says. "I don't know, God is really an amazing God. I'm certain that he put her here for a reason, and I have to think my daughter died for a reason to get through the day. So, maybe this is it."
Mandi says, "It's now just a waiting game and hoping someone will sign up that will be a match. ... I don't worry into the future. I just hope everything will fall into place."
For more information on how you might be able to help Mandi and others like her -- either by donating umbilical cord blood or bone marrow -- click on becomemandishero.org or natashasplace.org. Additional ways to reach out and help can be found on Mandi's Facebook page.