Sgt. Frank Lugo leads a double life. In the United States, he was a successful hedge fund trader with condos in New York and South Beach, Fla. Now he is in an unlikely spot -- Iraq, where he lives in the sprawling slum of Sadr City.
"My lifestyle's obviously drastically different back home than it is here," Lugo said. "But there are things that can't be replicated back home that are here. This belief that we're trying to accomplish something that's greater than oneself."
Lugo is an Army reservist. At 36, he has re-enlisted four times, swapping fast cars and fancy restaurants for body armor and bombed-out buildings.
"I deeply believe that we're here to make a difference," he said. "I believe we're doing just that, especially in Sadr City."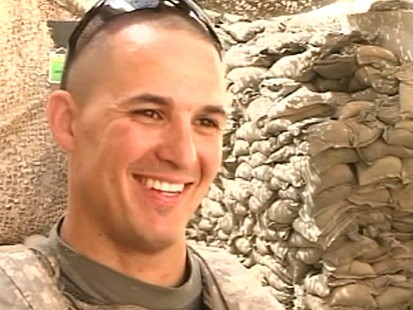 Sadr City residents are mostly Shiite Muslims, and the district was once a stronghold of militias loyal to Shiite cleric Moqtada al-Sadr.
After months of heavy fighting here, Lugo and the men of Task Force Gold are now responsible for reconstruction and development.
"Five weeks ago, there'd probably be like 3 or 4 feet of trash," Lugo said. "They couldn't operate their businesses here."
Garbage has been cleared from the streets and sewage has been drained. Lugo and his fellow task force members are building a park. Piece by piece, the war-torn city is becoming a community. And most important, jobs are being created.
"Economic stimulus is our … No. 1 focus," Lugo said.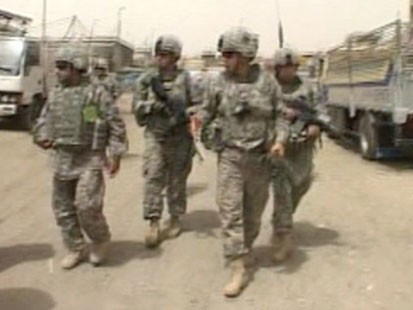 And that's where Lugo's investment experience comes in handy. He helped transform Sadr City's broken economy into a center of commerce.
"This is the third-largest market in Iraq," he said. "A few months ago business was at a standstill, now though, things are thriving again."
One of the main reasons for the economic turnaround in Sadr City has been microgrants, Lugo explained.
Microgrants, small grants of a few thousand dollars, have been awarded to business merchants, crippled by combat. Since May, Lugo's team has distributed $300,000.
"What it does is help them refurbish their shops, or rehabilitate their stock which they lost," Lugo said.
The U.S. military's rebuilding efforts to repair businesses and broken homes have built bonds of trust with local residents.
At the end of a long day in 120 degree heat, Lugo dined on hot dogs with a fellow soldier. His seat in a mess hall in Sadr City couldn't be farther away from his other life, but he is happy where he is.
"Far too often in corporate America, everything's about the bottom line and how fast can I get ahead," Lugo said. "Whereas here, making sure that everyone comes home with 10 fingers and 10 toes, and making lives better for the people of Sadr City, is our No. 1 priority."
While Lugo feels a deep connection to the people of Sadr City, he hasn't completely forgotten about the lifestyle he left behind.
"There'll be a time and a place to go to South Beach and drink some mojitos, definitely."