Holiday travel never sounded like this. Karaoke has left the neighborhood bar and landed in a humiliatingly public place -- the terminal of Houston's Bush Intercontinental Airport.
After getting through security, travelers are greeted with a chorus of holiday classics -- including "Rudolph the Red Nose Reindeer" and "Jingle Bell Rock." The karaoke machine is prominently displayed on a small but festive stage.
Since holiday travel can be frustrating, the airport decided to bring karaoke to the terminal, hoping to ring in some holiday cheer during long layovers and weather delays.
"The goal is to make our customers who are coming through the airport relaxed," Caroline Riera-Schneider, IAH customer service manager wrote on its Web site. "They're stressed. They're on overload and we want to say come, sing a song and have some fun and enjoy your trip."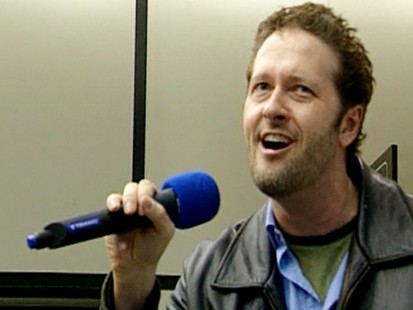 Having tried choirs and bands in the past, airport supervisor Rob Mason thought karaoke would be the next logical step. He brought in his own karaoke machine, and offered to emcee the events -- tuxedo and all -- free of charge.
"It has been better than my wildest dreams," Mason said. "We have such talent in the airport and around the airport -- a lot of people who can really sing."
Whether out of boredom or holiday cheer, passengers are picking up the mike and belting out holiday classics and carols. While some can carry a tune, most don't come close -- which is what makes airport karaoke so much fun.
From the construction workers singing "Frosty the Snowman" on their lunch break to a man who got so into singing "Santa Claus Is Coming to Town" that he almost missed his flight -- the terminal is the latest hot spot.
A parade of cute kids swarms the stage, singing, "Jingle Bells, Jingle Bells, Jingle All the Way," and "I saw Mommy Kissing Santa Claus."
As for the unsuspecting passengers, some pretend not to hear the holiday classics getting butchered behind them. Others struggle through their layover, blatantly trying to block the sound. Others join right in.
It takes a lot of nerve to grab that microphone. But for many with time to kill, the microphone is a welcome addition -- even without a drink to loosen up first.
Mason is willing to make a disturbing prediction: "I think you are going to see this year-round," he said.
Think about how much longer your next layover will feel when it comes with its own soundtrack.