Major League Baseball won't overturn an umpire's bad call that stole a perfect game from Detroit Tigers' pitcher Armando Galarraga.
MLB Commissioner Bud Selig said in a statement today that "the human element has always been an integral part of baseball, it is vital that mistakes on the field be addressed."
But the commissioner has decided not to invoke his authority to overturn umpire Jim Joyce's errant "safe" call, although he acknowledged a statement that "there is no dispute that last night's game should have ended differently."
If Joyce hadn't botched the call, the play would have ended the game in triumph for Galarraga's bid to throw a rare perfect game.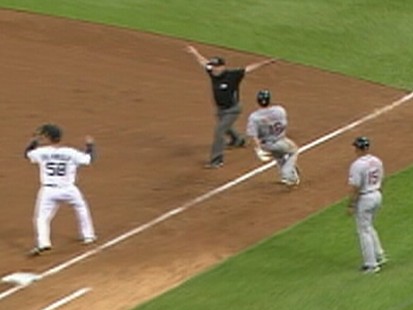 But Selig's statement did say that MLB will review how baseball is officiated and "the expanded use of instant replay," a move he has long opposed.
Good Sportsmanship on Display in Detroit
Joyce and Galarraga put on a display of perfect sportsmanship today at the beginning of another Tiger-Indians game in Detroit.
Joyce walked onto the field at Comerica Park with his colleagues, his face red with emotion and fighting back tears as he faced fans for the first time.
Joyce was assigned to call balls and strikes behind the plate today, and the home plate umpire routinely accepts the line-up cards from the managers of both teams at the start of the game.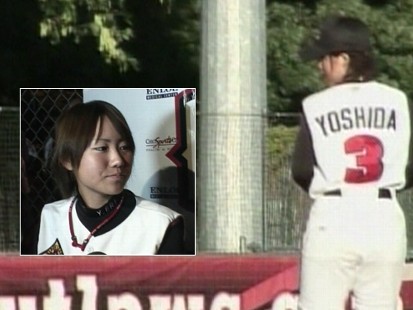 Instead of the manager, the Tigers sent Galarraga to the plate with the line-up card. That moment of reconciliation was planned by Detroit manager Jim Leyland. The umpire wiped tears from his eyes.
But Detroit fans weren't moved by the moment. They booed him, still angry over Wednesday night's botched call that denied Galarraga a perfect game, which would have been only the 21st perfect game in baseball history.
Joyce clapped Galarraga on the back before he walked back to the Tigers' dugout. The umpire then tucked the lineup card into his breast pocket, took a breath, and prepared to call balls and strikes.
Praise for the Umpire Who Made a Mistake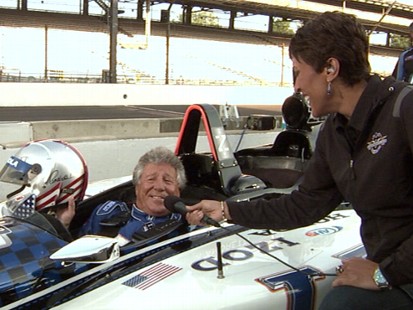 Before the meeting, Leyland expressed admiration and sympathy for the official.
"This is one of the best umpires in the game. I think how Jim Joyce handled it was also a big key," he said noting that Joyce had admitted he made a bad call instead of being defiant or arrogant. "The guy was in shambles, you know, years. My heart aches for the guy."
Galarraga, who accepted Joyce's apology on Wednesday, said he wasn't sore about the call.
"You just move on, it's already happened," he said. "In my mind and heart and everybody I know, all you guys see I threw a perfect game."
Galarraga admitted he'd love it if the history books are changed to reflect reality, though it now seems his that the official call will not be reversed.
Joyce admitted to making the wrong call immediately after Wednesday night's game against the Cleveland Indians after watching a video replay. He even went to the Tigers locker room after watching a replay and tearfully asked to apologize to Galarraga.
The pitcher accepted Joyce's apology and his hug.
Bad Call, Good Sportsmanship
"You don't see an umpire after the game come out and say, 'Hey, let me tell you I'm sorry,"' Galarraga said Wednesday. "He felt really bad. He didn't even shower."
Galarraga had sent 26 consecutive batters back to the bench when in the ninth inning with only one out to go, Jason Donald of the Cleveland Indians hit a ground ball towards first.
First baseman Miguel Cabrerra cleanly fielded the ball and tossed it to Galarraga, who was covering first, seemingly in time to get Donald out.
To the shock of Galarraga and a stadium full of fans, Joyce spread his arms wide, calling Donald safe.
The call was immediately disputed by Tigers manager Jim Leyland and several other players, and instant replays showed that Donald was clearly out. The nearly 18,000 fans at Detroit's Comerica Field, many clearly irate, launched into raucous booing.
Galarraga, however, just smiled and started back for the mound. After the game, though, he expressed his frustration.
"I feel sad," Galarraga said. "I just watched the replay 20 times and there's no way you can call him safe. ... [The umpire] needs to do a better job in that situation. It wasn't even close."
Joyce: "I Cost the Kid a Perfect Game
Joyce also had regrets after the game, saying through tears that he "cost the kid a perfect game." The veteran official, with 20 years of experience in the MLB, said he blew "the biggest call of my career."
Despite MLB's decision, Galarraga may still earn a place in the record books for last night's game, though he'll have an asterisk by his name.
Baseball-Almanac.com now lists Galarraga on its perfect game page under a new category: "Blown Call."
Would Have Been Third Perfect Game This Season
Though a perfect game is a rare occurrence in the history of baseball, Galarraga's would have been the third this season, following Oakland's Dallas Braden and the Philadelphia Phillies' Roy Halladay, who both threw perfect games last month.
ABC's John Berman and the Associated Press contributed to this report.