The newest front lines in the war on meth have been drawn and this time they are your local pharmacy.
A meth user can't make methamphetamine without pseudoephedrine, the main ingredient in most over-the-counter cold medicines like Sudafed, so first Oregon and now Missouri and Mississippi have made those medicines available only with a prescription.
The success of those laws, particularly Oregon's, which has been on the books for five years, has lawmakers from California to Washington, D.C., considering ways to make it harder to get these drugs.
According to the United Nations, meth is the most abused hard drug on earth. Each year thousands of labs are busted across the nation; in 2008, 6,783 labs were discovered.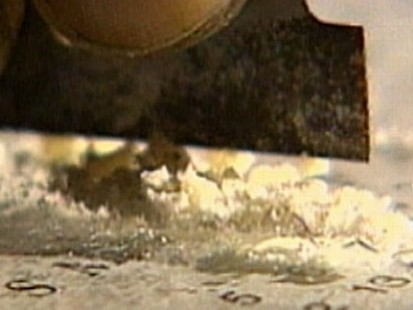 But in Oregon, monthly lab seizures have declined by 96 percent since requiring a prescription for medicines containing pseudoephedrine. In 2009, only 10 labs were discovered in Oregon, down from 192 in 2005 when the law was passed.
It was Rob Bovett of the Lincoln County District Attorney's office who pushed the state to pass the law requiring a doctor's prescription to purchase cold medicine.
Bovett is so consumed with beating the drug that he carries around the parts of a portable meth lab to show lawmakers how easy it is to make the drug when ingredients are available over the counter.
But Oregon was not always winning the war on meth. In 2001, at the height of the meth epidemic, the state was awash in meth labs. That year 1,480 were reported, according to the Drug Enforcement Agency (DEA).
Sgt. Erik Fisher of Oregon State Police said police were busting meth labs by the hundreds.
"We were tripping over meth labs," Fisher said. "It was everything we could do to stay ahead of processing those labs on a regular basis."
Nine years later, thanks in part to the crusading prosecutor, Oregon has almost completely eradicated all of its meth labs.
Meth-related arrests have also dropped by 40 percent from 956 arrests per month in 2007 to 541 per month in 2009.
Fight Over How to Win the War on Meth
Bovett said he fields calls from states that want to replicate Oregon's track record. Mississippi was the second state to pass a law similar to Oregon's. Missouri has also passed laws and states like California are strongly considering laws.
Bovett's success has also caused pharmaceutical companies to take notice. They have begun to wage their own war of sorts, challenging this law and others like it. Companies such as Johnson & Johnson, Pfizer and Merck say it is too hard for customers to buy cold medicine.
Pseudoephedrine is a very profitable business for companies, earning them more than $500 million a year.
The Consumer Healthcare Products Association (CHPA) has launched a campaign to fight these laws. They are pushing for states to instead set up a computer tracking system to prevent abusers from making repeated purchases. They are even willing to pick up the tab for the tracking systems.
Oklahoma, Arkansas and Kentucky have launched these tracking systems with the financial backing of the industry, and Oklahoma has become the model state for using the system.
In the United States, meth use by teens has dropped by about 25 percent in the last three years, according to the National Institute of Drug Abuse.
Although the cold drug control laws and tracking systems have been successful at curbing the small labs that used to be responsible for much of the meth production in the United States, Mexican drug cartels have begun to pick up on this lucrative business.
Five main Mexican drug cartels have increased operations in the United States in recent years, according to the DEA.
According to Bovet, pharmaceutical companies are standing in the way of further success in the war on meth, but the CHPA and pharmaceutical companies say that their tracking systems are far more beneficial to the public.
The battle lines are drawn, and states continue to look to Oregon and Oklahoma as models for each of these systems.