At this summer's Kentucky Job Fair in Louisville, thousands lined up -- some in sleeping bags overnight -- just for the chance to fill out an application.
"Jobs are hard to come by," Louisville resident Vicki Petty said. "No matter how many applications you put in."
Another Louisville resident, Duane Campbell, said people had grown desperate.
"Some of them don't have their utilities on in their homes. ... No water, no lights," he said.
Bruised by the recession, Louisville is suffering through a 9.7 percent unemployment rate -- very close to the nation's average, 9.6 percent. "For sale" signs litter the city's neighborhoods.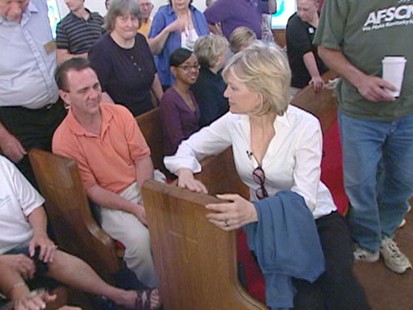 But as "World News'" Diane Sawyer found as she returned to her hometown for the weeklong "Going Home" series, everyone is coming up with creative solutions to take care of each other -- mothers swapping kids' clothes, landlords giving tenants breaks on their rent and small businesses donating prom dresses for teenagers who can't afford them.
Anne Smith runs MUSCL, a multidenominational ministry of Christians, Jews and Muslims that has gotten the local utilities, like the electric and water companies, to help pay residents' bills.
Click here to visit MUSCL's website for information on how to donate.
"We're Band-Aid agencies, but boy the Band-Aids we put on," she said. "We can stop the bleeding for 30 days, just let them regroup and maybe gain some self-esteem back."
Todd Gary, once a thriving Louisville real estate agent, now goes months between sales. MUSCL paid his water bill. He said it was his first time ever having to ask for assistance.
"Water is life," Smith said. "We have stories of people getting buckets from next door and [using] the garden hose. The neighbors help them fill the bathtub. You have to have water to exist."
John Summers, owner of the Amoco Transmission on Dixie Highway for six years, said he was on the verge of closing in 2008 and '09. He said property owner Glen Elmore let him pay less than the standard rent rate for several months.
"I was just totally honest," Summers said. "I didn't have enough money, the set amount for rent that month. We talked about it [and he] was willing to work with me."
Summers said Elmore and wife Judy saved his business.
"Not a lot of landlords [are] willing to work with their tenants, but Glen and Judy were," Summer said. "Without that, I would have lost my business for sure, without a doubt in my mind."
"We're glad to help out and maybe it'll help John get a little extra business," Elmore said. "There's a lot of people right now who need a little help."
Louisville's Treasured Brown Hotel
When the Brown Hotel -- home to the world-famous Hot Brown sandwich, a mix of turkey, bacon, cheese and a secret sauce -- started feeling the effects of the recession, general manager Brad Walker said the staff got wary.
"In a down economy, people started getting concerned about coming in every day. The staff [was] concerned about losing benefits," he said. "We wanted to give them some assurance that wasn't going to happen."
So Walker came up with an idea: He cross-trained all of the hotel's employees, saving everyone's jobs.
"We were creative as much as we could be, trying to get positions and extra hours so that they could pay their bills," Walker said. "We had staff all over the hotel just to keep them fully employed on a full schedule."
Hotel maids now make the beds, paint the walls, vacuum and change the light bulbs. Katie Hall mans the the front desk in the morning and takes reservations at night. Ricky Conrad takes care of guests' needs in the mornings and delivers room service in the evenings. And David Graham is a doorman who also serves guests drinks.
Graham said at times it can be a little challenging but he's grateful. "I just thank God for the Brown," he said. "They put us in other areas -- instead of sending us home -- and I have to thank God."
All over Louisville, a refrain of "we are all in it together" emerges in the stories we heard from churches, families, co-workers and small businesses.
Walter Cox's construction business flat-lined last year, so he supplements his income as a taxi driver on the weekends. The Pollitt family grows their own vegetables to cut down their grocery bill -- even though the deer eat their corn. And the family-owned grocery story ValueMarket showcases more local foods.
John Summers, the owner of a local AAMCO auto repair shop on Dixie Highway, had to lay off half his small staff and was down to his very last paycheck, when he says a lucky combination of divine intervention and kindness saved his small shop.
"The Good Lord just turned us on," said Summers, referring to an uptick in business last year that was capped by an ultimate gesture of grace.
"I was just totally honest with my landlord [Glen Elmore], I didn't have enough money. We talked about it and he was willing to work with me," Summers said.
Elmore, owner of the property where the AAMCO shop operates, gave him a reduction in his rent -- a lifeline that Summers credits with rescuing his business from the brink, "I would have lost my business for sure without a doubt in my mind."
"I don't think he could survive without a little help and there's a lot of people right now who need a little help," Elmore said, explaining his decision.
"The thing about John is he's a nice young man," Elmore's wife, Judy, said. "He has a family and this day and time you have to help people when they have children, they have wives. You have to do whatever you can to keep livelihood going until we get through this, but we'll make it; everybody will make it."
How Giving Back Can Help
Across town, a group of Louisville mothers got together last weekend at a "pass it on kids" sale. Donating used clothes, DVDs, toys and books, they were able to raise $11,000 for local charities that they feel need it just as much as they do.
And over at Flavorman, a small business that creates flavors for beverages, they had to lay off 25 percent of their workforce during the recession, but the company started a drive to collect and donate hundreds of shoes for the charity Soles4Souls.
"It seems counterintuitive, but it's always been a part of what I know, when you give, you receive," Flavorman founder David Dafoe explained. "We always stuck to our core values of the philosophy of the company and the culture of the company and that's how we got through."
Flavorman not only raised $1,000, but it donated a pallet of shoes to the local Soles4Souls program.
"It was really cool. It was one of those things where we were all having a rough time," said Marlena McGuffey, a lab manager at Flavorman who oversaw the company's drive. "Things were bad everywhere but no matter how bad it gets, there's always someone who has it worse."
Even familiar pillars of strength like Big Brothers Big Sisters got a boost from three local alumni fraternities, Alpha Phi Alpha, Omega Psi Phi and Kappa Alpha Psi. The fraternities all pledged to find 30 African-American Big Brothers by the end of the year.
Organizers admit the pledge is part of a national drive, but say it comes at a time when the community needs role models more than ever, citing lack of employment that creates more pressure for families to stay together. There are 250 Little Brothers are on the organization's waiting list.