New York City Mayor Michael Bloomberg told ABC's Diane Sawyer today he's confident that those responsible for the failed Times Square bomb will be caught. But he called for people to be patient as the investigation proceeds.
"What we do know is where the car came from, and we're tracking who originally owned the car to where it went," said Bloomberg. "We'll eventually find out who got it, we think, unless it was stolen in the middle of the night or something."
"There are hundreds of video tapes that we have to go through because every building in this day and age has security cameras," said the mayor. "It just takes a long time to go through and you've just got to look and see if there's anything different. [...] The one thing you have to have is patience when you are doing an investigation like this."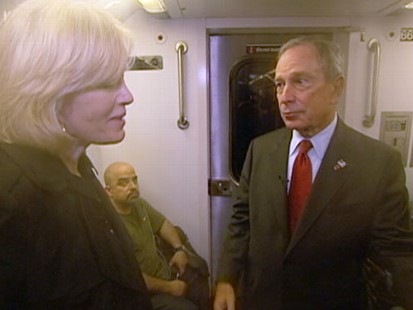 Bloomberg reflected on the latest in a string on terror incidents to target New York, from the original attack on the World Trade Center in 1993 to the
horrors of 9/11
. Each incident, he said, offers a lesson.
"There are no guarantees in life, and we've been a target since 1993," said the mayor. "I think the first thing to learn here is that all of our training is in the right direction."
"We spend an enormous amount of money and an enormous amount of time training each individual agency and working together. [...] And you saw that working here. It was smooth, it was seamless. Somebody saw something -- a cop knew what to do right away."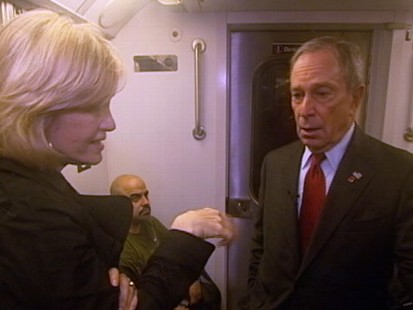 'If You See Something, Say Something'
Bloomberg praised police officers, but also took time to acknowledge the efforts of average citizens. A Times Square vendor, Duane Jackson, first noticed the SUV and alerted police.
"He saw something and he said to the cop, 'Hey, this is strange,'" said the mayor. "That's exactly what you need."
While the motive behind this failed bomb attempt is still unknown, Bloomberg told Sawyer that New York remains a target because of what it represents to the globe.
"America still is the symbol of democracy around the world. And New York is the symbol of America around the world. So you would expect if anyone doesn't like it they would come here to protest or to say what they want to say."
New York Mayor Mike Bloomberg on the Times Square Car Bomb
"The real world is if you let security concerns dominate, you won't have anything to protect. You won't have an economy, you won't have people," said the mayor. "I mean the bottom line is you have to continue to let people come and go. They have to have access. They have to be able to park their cars and get into stores and all of that stuff. Otherwise the bad guy wins without doing anything."