When the Raether triplets were born 10 weeks prematurely, Mira Raether suffered the most serious medical problems. She was diagnosed with renal acidosis and failure to thrive. At 2 1/2 years old, she underwent a kidney transplant.
Now 4 years old, the Milwaukee, Wis., toddler has exhausted the $500,000 lifetime cap on her parents' insurance. She no longer has private coverage for treatment of her kidney problems and currently has temporary Medicare coverage.
"They [the insurance company] won't pay the claims," said her mother, Sheryl Raether.
That will change Wednesday as the first changes under the new health care law begin.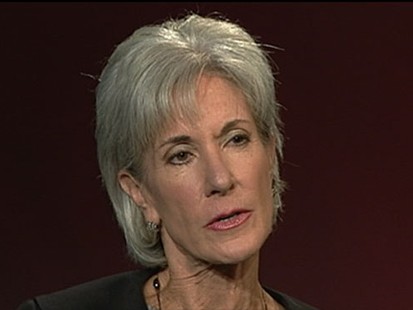 As of Thursday, health insurance companies will no longer be allowed to deny coverage to children because of preexisting conditions, stop providing coverage to customers because of technical errors on past applications or impose lifetime dollar limits on essential benefits -- as was done to Mira.
"Some of the worst abuses of the insurance companies are going to cease to exist," Health and Human Services Secretary Kathleen Sebelius told ABC News. "People will have some stability behind the plans they paid for."
Sheryl Raether said a huge weight will be lifted from her shoulders with the new rules.
"Knowing that we don't have that financial burden, we'll be able to take her to a doctor and know that we have insurance to fall back on," she said.
Insurance companies are obligated to include the new measures when health insurance policies are renewed, starting on or after Sept. 23, 2010. Which means that if an insurance policy is renewed on Sept. 1, those covered under the policy may not be eligible for the benefits under the new law until Sept. 1, 2011.
Additionally, several provisions may vary depending on where people live. The way high-risk pools are implemented vary from state to state, for example, as do the limits on how much insurance companies can raise their premiums.
Concerns as Insurance Premiums Rise
The consumer protections will not be free. Premiums will go up for everyone.
"The impact is likely to be fairly small -- 1 percent to 2 percent -- in terms of an overall premium impact," Sebelius said. "Premium rates have been rising three times as fast as wages, which is why a lot of people were dropping coverage. What we think will happen over the next couple of years -- but certainly there will be a major impact in 2014 with a new marketplace -- is more competition and people having some negotiating power."
Because of these new consumer protections, officials from some insurers – CIGNA and Wellpoint – have already decided to end child-only plans.
Karen Ignani, of the industry's largest lobbying organization, America's Health Insurance Plans, said the companies were taking those steps because the new regulations create "an incentive to wait until people absolutely need coverage before they purchase it. And that is creating a challenge in the market."
White House press secretary Robert Gibbs said "I think it's, obviously, very unfortunate that insurance companies continue to make decisions on the backs of children and families that need their help."
Christine Rowe of Lansdale, Pa., said she was skeptical of how the new consumer protections would take effect. Her son Alex, 7, has a rare bleeding disorder and his medication can run $30,000 a month.
Rowe was laid off three years ago from a Fortune 500 company and now works for a small charity that doesn't offer group health insurance. Her husband is self-employed. Alex is covered by Medicare, which is paid for by the state.
More than a dozen providers refused to offer him a policy because of his preexisting condition. Rowe said the family eventually stopped applying two years ago after at least a dozen insurance providers rejected her son.
"It just didn't seem like it was worth my time anymore to continue," she said.
She said she was happy that the rule on preexisting conditions would be lifted, but worried that consumers would price her son's policy so high that she couldn't afford it.
"My family pays, just for me, my husband and my daughter $700 a month. If you come back and tell me it's an additional $100 to insure my son, I would throw him onto my insurance policy," Rowe said.
"If someone comes back and tells us it's [$2,000] or $3,000 a month, we can't afford that and it's basically telling my family that we can't have insurance anyways," she said.
Sebelius said that it was important for people to understand what the new provisions were and what they would do to costs but also what they would likely do for protections.
"People buy health insurance because they want to protect themselves and their families when they get sick," she said. "We've had some rules of the road in place, which put that protection in real jeopardy.
"We want companies to be solvent, to be profitable... But we also want to make sure people can afford coverage and stay in a marketplace," she said.