If you could send a message to President-elect Obama, what would it be?
Last March, 32-year-old B.J. Hill left his teaching job in Boston to walk across the country and ask Americans that very question. Beginning his journey at San Francisco's Golden Gate Bridge with a notebook and camera in hand, he has captured snapshots in time and documented what's on the minds of Americans to give to the president-elect.
Want to learn more about B.J. Hill and his journey? You can follow along with each step he takes on his blog, Walkamerica2008.com.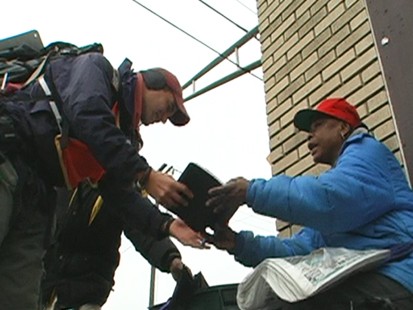 Click here to read his full story.
Hill, stopping in coffee shops and diners, gathered messages for the next president in three leather-bound journals. The entries, which cover wide ground, are fragments of American lives, and share what's on the mind of Americans.
Hill's goal is to present his three journals to Obama. If you have a message or any words of wisdom for the president-elect, weigh in, share your message for him here, and we'll pass them on to B.J. Hill.
Here's a sample of the messages Hill has collected on his journey:
Messages for Our Next President

"Mr. President, do not expect to win all the time but don't get discouraged."

"I would ask the next president to make minimum wage enough to live off of."

"I came up in this world thinking 'When will we have a black president?' Mr. President, I hope you good luck and may god be with you and your family." -- Maryland.

"Stop abortion now, please. Stop abortion now, please. We're the greatest country in the world; I'm so ashamed of what we do." -- Delaware.

"Dear Mr. President, this is a moment to be proud and to know that everything is possible." -- Virginia.

"Mr. President, as a hospice nurse, my concern is health care. We need it, it needs fixing. I voted for you in hopes for the future. Help people live with dignity and die with dignity, keep Medicare going and let's also get off oil. Best of luck." -- Pennsylvania

"Dear Mr. President, I'm a researcher that got laid off because my boss's NIH grant was postponed, due to the lack of funding because of the war spending. Save science, including stem cell research for my daughter's future."

"Mr. Obama, Best of luck in your upcoming term. It will be a trying four, maybe eight years, but the people of America have put their trust in you. Be sure to visit Ottawa soon, and you have a supporter in Canada." -- tourist from Canada.

"Mr. President, I have a 3-year-old daughter, who has just begun her life. I hope she has a very long and prosperous one. Please do everything in your power to assure she remains happy and safe." -- Virginia.

"In Ireland, people celebrated more at your election than at JFK's in the Irish Catholic [world] that says how important it is that you have taken the reins." -- Ireland.

"Dear Mr. Prez, Congrats and I'm proud to be an American, now. Good luck! From Philly, with love!" -- Philadelphia.
For more information on B.J. Hill's journey cross-country, visit his Web site.