Tarte Flambe
Ingredients:
1 sheet puff pastry
1 egg
1 pound Spanish onion, peeled and sliced thinly
2 tablespoons butter
2 tablespoons water
1 pound slab bacon, 1/8 of an inch cube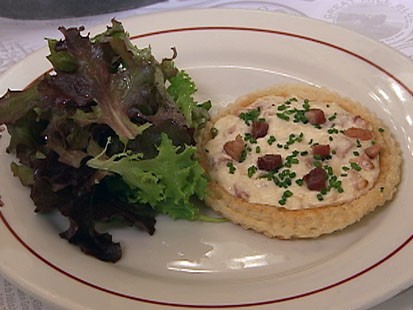 1 cup creme fraiche
1 cup ricotta cheese
2 teaspoon salt
1 turn of peppermill
chopped chives
Method:
Preheat oven to 350 degrees F.
In a small bowl, beat the egg and set aside.
Cut the puff pastry into 4 disks using a 5-inch cutter.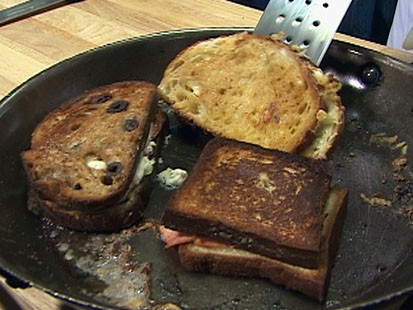 Poke holes all over the dough with a fork to prevent rising. Place the dough on a baking sheet, and brush with egg-wash. Bake for 12 minutes. Remove from oven and let cool.
In a small, flat bottomed pan over medium heat, add water, butter, onions and 1 teaspoon of salt. Cook slowly, stirring to prevent sticking and burning, for about ½ hour. They should be soft and sweet with minimal color. Place on a sheet pan to cool.
Place bacon in a heavy-bottomed pan large enough to fit the bacon in one layer. Cook over low heat for about 5 minutes moving the bacon to prevent it from burning on one side. Drain bacon on a paper towel to cool.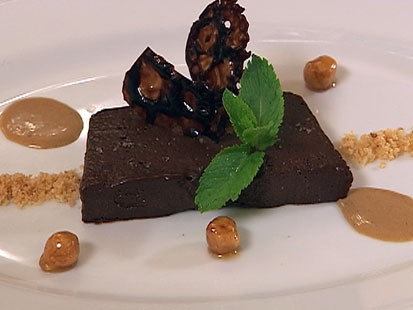 In a large mixing bowl, combine creme fraiche, ricotta, onions, salt and 2/3 of the bacon. Mix well.
Evenly distribute the cheese mixture in the tart shells, spreading from the center out, and leaving a small lip on the outside of the shell. Top with the remaining bacon and transfer to the oven for 3 minutes. Remove from oven, and garnish with chopped chives. Serve immediately.
Serves 4.