It's been two years since Larry Overton heard a Texas jury convict his wife, Hannah, of capital murder in the bizarre salt poisoning death of 4-year-old Andrew Burd, a child the couple was trying to adopt.
Raising their remaining five children in Hannah's absence has been challenging, but Overton says he'll continue to fight until his wife's conviction is overturned.
Last October, three justices in Texas' 13th Court of Appeals denied Hannah Overton's latest appeal, affirming a ruling made by the trial court.
Hannah Overton, 32, is currently serving a life sentence in a Texas prison.
In its decision, the court concluded that "a rational jury could have found beyond a reasonable doubt that Overton intentionally caused A.B.'s [Andrew Burd's] death by either of the theories alleged by the state, and that Overton was aware that her conduct of failing to provide or seek medical care was reasonably certain to cause A.B.'s death. Therefore, we conclude that the evidence was legally sufficient to support a finding that Overton either intentionally or knowingly caused A.B.'s death."
When 4-year-old Andrew Burd arrived at a hospital in critical condition in the fall of 2006, doctors didn't have a clue what was wrong with him. Blood tests soon revealed that he had salt poisoning, or hypernatremia. Andrew's levels were off the charts -- almost double the norm and among the highest ever recorded.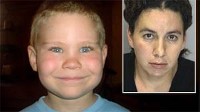 Courtesy Larry Overton & Dawn Werkhoven
Doctors turned to Hannah Overton, then a 29-year-old pregnant mother of four, who was in the process of adopting Andrew. She told them Andrew had thrown a fit that afternoon after he'd been fed a full lunch. Instead of giving him more food, she said she put a few dashes of creole seasoning in a sippy cup of water.
Click here to watch the interrogation video
But that didn't calm him, she said, and a few moments later he fell to the floor, vomited and complained of being cold. Overton said she suspected the flu, but after an hour and a half, Andrew's condition failed to improve. That's when she and her husband, Larry, took Andrew to the hospital.
The Overtons' story aroused the suspicions of doctors and investigators. The next day Andrew died and the devout Christian couple, who had no criminal history, became murder suspects. As the investigation continued, authorities developed a theory that Andrew's death was an intentional poisoning.
"We were just waiting for someone to look at it and say, 'This is just an accident,'" Larry Overton told "20/20." "Instead, we were arrested."
To investigators, Andrew's sudden and bizarre death was no accident. Within days, the authorities had begun weaving a sinister tale of murder, theorizing that Hannah Overton had become overwhelmed with the arrival of a foster child.
The arrest warrants painted the Overton home as a house of horrors, where Andrew was monitored by a camera and was punished with spicy seasoning. Detectives even used the Overtons' children to build a case against them, saying unusual forms of punishment had been previously used.
"This case boils down to a woman who, basically, tortured a child," said prosecutor Sandra Eastwood, "becoming so enraged she forced him to have 23 teaspoons of hot pepper and then watching him die in agony."
A grand jury returned an indictment on capital murder. In the state of Texas, if a child younger than 6 dies at the hands of another person, it's considered a capital case. The charge carries a minimum life sentence.