It used to be that the first day of kindergarten was the first day of school. But now there's a new movement: Universal pre-K. Every child in America should have a chance to start school before kindergarten. Isn't that a wonderful idea?
Universal pre-K was one of President Obama's campaign promises, and most Americans agree with him. Sixty-seven percent of Americans think the government should pay for every child to go to preschool, according to a June 2008 poll by Peter D. Hart Research Associates/American Viewpoint.
It all sounds so good. However, Mia Levi, a parent who owns six preschools in California, is not convinced.
"Of course it sounds good. All they hear about is a little sweet preschool program, and it's for the little children, and how can you say no to little children?" she said. "But this whole thing is a scam. It's like some kind of spin they want everybody to believe."
One argument against universal pre-K is that most American kids already attend pre-school. Parents pay for it themselves, and if they can't afford it, there are free programs like Head Start.
But under a universal system, taxpayers would pay for every child, regardless of who needs it.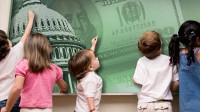 ABC News Photo Illustration
"It's a flagrant waste of money," Levi said. "It's as if I went shopping for myself because I needed a dress for a party and I went and bought a dress for everybody else who was going to be at the party, whether they needed it or not. Who does that?"
The government thinks it can do a better job, but don't they have enough problems running K-12 education?
Just this week, while delivering remarks on education in America, Obama said, "We've let our grades slip, our schools crumble, our teacher quality fall short, and other nations outpace us."
Is the solution to our problems to add more grades onto a broken system?
"The government is providing K-12 education. and unfortunately, we're in the toilet," said Levi, "to say that they are the ones to define what quality is, is laughable."
Universal Preschool 'a Waste of Money'
While there is no guarantee that government would run preschools well, there is one guarantee: It would cost taxpayers billions.
"Now with the economic situation being what it is, you're telling me that we're going to devote billions of dollars that we don't have? It's a waste of money," Levi said.
Making matters worse, private preschools that are already functioning well would have to conform to government standards, reducing the incentives to compete and provide the best-quality education. Levi and many others recognize this.
"The beauty of preschool is that there are myriad choices. If we didn't do our job, families would go down the street to the next school. Public schools aren't doing their job, and they get to just keep opening their doors," she said.
Yet the president and many universal pre-K advocates point to statistics that claim for every $1 the government invests in pr-school, we will get $10 back.
Lisa Snell, education director of the Reason Foundation, points out that those impressive pre-K statistics are misleading because they're based on small studies of kids with very low IQs.
"They have these tiny studies of severely disadvantaged kids. But then they extrapolate as if you would have the same benefits for middle-income and higher-income children," she said.