This recession has no lack of villains. There are predatory lenders, super scammers like Bernard Madoff, and propped-up CEOs who insist on their multimillion-dollar bonuses while Americans lose their homes and watch their savings plunge.
But there is also a group of Americans who have done extraordinarily generous things, even as the economy around them crumbles.
Call them recession angels, people who have taken their own money and given it to employees and their communities just as everybody else has been cutting back.
Click Here for the Latest Business Stories From ABC News
Take Grace Groner, who passed away in January at the age of 100. For much of her adult life she lived modestly in a one bedroom home in Lake Forest, Illinois, an affluent Chicago, suburb.
Groner's single indulgence was a scholarship program she created for Lake Forest College,, her alma mater. Years ago, she donated $180,000 for a scholarship program that enables some of the college's 1,300 students to pursue internships and study-abroad programs.
But even college administrators were stunned to find out that upon her death Groner bequeathed her entire estate to the college. The total amount: $7 million.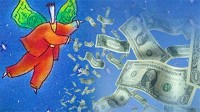 ABC News Photo Illustration
Stephen Schutt, Lake Forest's president, told the Chicago Tribune that he knew of Groner's plan for her estate for more than a year, but that he had no idea how large the gift would be until after her death.
Equally amazing in an era of gyrating financial markets is how Groner amassed her wealth. It stemmed from a $180 stock purchase she made some seven decades ago, her attorney and long-time friend told the Tribune.
William Marlatt says that in 1935, Groner bought three $60 shares of specially issued Abbott Laboratories stock and never sold them. Groner work as a secretary at Abbott for 43 years. The shares split a number of times over the next seventy years and Groner reinvested the dividends, says Marlatt, who says long before Groner passed away, her initial stock purchase had become a fortune.
"She did not have the (material) needs that other people have," Marlatt told the Tribune. "She could have lived in any house in Lake Forest but she chose not to."
And about that modest, white shingle house that Groner lived quietly in for years? She left that to the college, as well. It will be turned into "Grace's Cottage," a living quarters for women who receive foundation scholarships.
Then there's Danny Cottrell, the owner of a pharmacy in a tiny town in southern Alabama.
He decided recently that the town of Brewton needed its own stimulus and that his 24 employees deserved a little something extra. So he doled out $16,000 in cash bonuses. Every full-time worker got $700 and every part-time employee got $300.
Cottrell asked only that his workers donate 15 percent to a charity or somebody who was in worse shape than they were, and then take the rest and spend it at local businesses. To track the local impact of his "stimulus," Cottrell handed out the bonuses in $2 bills.
"I handed them their $2 bills and turned them loose," he told ABC News. "They've done a good job. I've been very pleased. They bought into it. It's really been a lot of fun. It's sort of taken on a life of its own."
The money has been spent on clothing, livestock feed, auto parts and at restaurants and bakeries in the town of roughly 5,500 people.