Get ready for a bipolar world.
Despite the title of a best-selling book of a few years back, it turns out that the world isn't flat. And, despite all of the leveling forces being unleashed by the Internet, global business and social networks, it won't be getting any flatter in our lifetimes.
But don't believe the growing legions of naysayers to Tom Friedman's book either, because nearly all of them begin by accepting his underlying premise … and then set out to debunk it by showing how pockets of entrenched cultural differences won't succumb to Twitter and the iPhone.
As many recent stories have shown, if your business follows Friedman's advice you are very likely to get blindsided by markets with rules that are alien -- even antithetical -- to our own. But if you follow the advice of the Friedman debunkers, you risk even greater disaster by not taking advantage of the scalability of the new digital marketing, distribution and sales tools. In other words, while the "Flat Worlders" are likely to get bruised by real cultural diversity, the non-believers --or "Bumpy Worlders" -- risk being killed by more efficient competitors.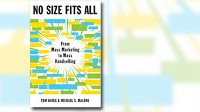 So what's the truth?
I'm not trying to be clever when I tell you that it is both. And yesterday, a new book of mine, "No Size Fits All," was published to explain that answer. If you are keeping track, yes, that's two books by me in a single year -- and I've got a nice case of tendonitis to show for it.
The first book, if you'll remember, ("The Future Arrived Yesterday") described the rise of a new kind of company, the "protean" corporation, that is beginning to appear around the world. The new book looks at the emerging global market in which these companies will joust for dominance. I've co-authored "No Size Fits All" with marketing guru and Silicon Valley executive Tom Hayes, whose own book, "The Jump Point" -- on the impending explosion of 2 billion more consumers around the world -- was published last year and neatly dovetails with the two other books.
Still to be written (next year, because I'm getting too old for this pace) is a fourth book, also co-authored with Tom, in which we will describe how these protean corporations will actually compete and eventually control the new global marketplace. That, with luck, will complete what we think is the first real vision of global business competition in the 21st century.
Now, let's go back to that apparent contradiction between a world that is both "flat" and "bumpy." To understand how that can be so, you need only look at your own life today as a consumer in the 21st century economy. I suspect that if you do so, you'll see that you are, in fact, moving simultaneously in opposing directions.