Taylor Noble calls it "a job from heaven."
Next month, New York financial services firm Cantor Fitzgerald is slated to open the Cantor Exchange, a new movie futures market -- a place that will allow experienced traders and film buffs alike to take bets on upcoming releases they think will rock (or face ruin) at the box office. It's one of two movie futures exchanges expected to launch this year.
Noble would like to sign up for the Cantor Exchange and someday, maybe try movie futures trading as a career. He's got some time to decide: At 18, Noble is still a senior in high school -- and he may not be the only teenager with visions of celluloid short sales dancing in his head.
Teens across the country have been exposed to the idea of film-based financial markets through the Hollywood Stock Exchange, a 14-year-old virtual entertainment market, also run by Cantor Fitzgerald. Using play money -- HSX's currency is officially known as "Hollywood Dollars" – the market's some 200,000 users can buy "stock" in hundreds of films, most of them still unreleased. If the films rake in cash at the box office, HSX investors see their returns skyrocket -- if the films crash, so do the investors' holdings.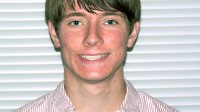 For years, economics and mathematics teachers have used HSX as a tool to teach their students about everything from graphing to investing basics. Noble, of Savannah, Ga., learned about HSX through his high school economics teacher, Don Cutts. Cutts, a former stockbroker, has included HSX in his lesson plans at Savannah's Herschel V. Jenkins High School for the last four years.
"What got me going was mathematically and systematically, how brilliantly they simulate the actual operations of a stock market. Stocks go up and down because of demand and good news and bad news and rumors," he said. "So I started using it in the class and the kids wouldn't let it go."
Though it's unclear exactly how many of HSX's 200,000 accounts belong to teachers and students, the high school and college set have made their presence known on the exchange. A scan of HSX's leagues – groups of users competing against each other for the best returns – turns up names like Cuyuma Valley High School, HHS (Hingham High School) Film Studies and SJU (St. John's University) TV Center, among others.
Making Math and Economics Fun Through Movies
HSX wasn't actually formed to be a teaching aid, said Jeff Hartke, a senior market analyst at the exchange, but "clever people out there have used us as an example to talk about things that are interesting to their kids -- to show math and economic theory in a fun way, because everybody likes movies."
Cutts was pleasantly surprised by just how much HSX excited his students. He's heard them raving about their various movie investments in the school hallways. He knows many who continued playing the HSX market after graduating high school and entering college.
"It was mind boggling," he said, "Kids that I couldn't get to stay awake for 20 minutes in class were begging, 'We've got to go to the library and work on the stock exchange today.'"
The business model of HSX is based primarily on providing research on entertainment preferences – something HSX analysts like Hartke can discern thanks to users' trades – to industry clients like Warner Home Video, MGM, Fuse Networks and BET.