You can call them television stars. You can call them best-selling authors. You can even call them chefs ... but they don't like it when you call them celebrities.
"It's a term that I don't personally like," said Michael Schlow, an award-winning chef and owner of five restaurants in the Boston area.
"Running around ... on the Food Network, that's not my gag," said Gordon Ramsay, who runs 22 restaurants around the world, has 14 best-selling cookbooks, cookware and bakeware, an entire airport terminal selling his food as well as five television shows -- one of them is the wildly popular series called "Hell's Kitchen."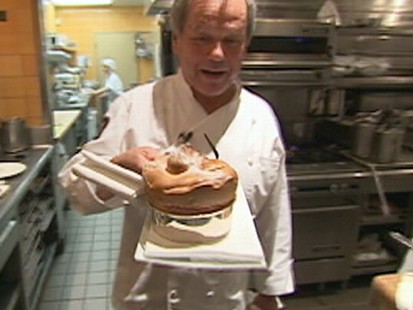 "I think the phrase 'celebrity chef' is a very overused phrase," said Bobby Flay, who has seven restaurants, six shows on the Food Network, nine books and two endorsements. "It drives me crazy."
And what about Wolfgang Puck, believed to be the patriarch of celebrity chefdom?
"I really don't like it because it's a very confusing term," he said. "Chefsf became, over the last 10 to 15 years, really like rock stars in a way. You know, you walk through the airport and people come up to you and ask for autographs! Thirty, 40 years ago it wasn't like that at all."
Click Here for recipes from Wolfgang Puck
Forbes magazine puts Puck's 2008 annual earnings at approximately $16 million. He jokes, "Yeah, it was a very bad year."
He says that's a generous estimation but admits that "I'm doing well."
So what's the secret to building a culinary empire?
"It's never just the food," he said. "I could go into the dining room today and talk with the people for 10 minutes and they would prefer that than if I stayed in the kitchen and cooked their pasta or their meat or their fish and then never came out and said hello."
Puck, who was born in Austria and trained in France, said he first came to the United States because he "thought everybody in America is rich. So, I said, I'm going to come to America make some money and then maybe go back and retire in Europe somewhere. Little did I know, in America you have to work very hard to move forward."
And move forward he did. Today, at the age of 59, Puck is the owner of 17 fine dining restaurants, the author of six cookbooks, and has recently opened Wolfgang Puck Expresses in airports and Wolfgang Puck Bistros, which offer "fast casual" service during the day and table service at night. There are about 80 of them -- so many that he says he's "lost count."
He also sells a line of pots and pans on the Home Shopping Network and a line of prepared foods including tomato soup and frozen pizzas. But there is more. He caters giant events like the Grammys and Oscars and spends time with his two young sons.
"I try to follow my intuition," he said. "And most of the time when I follow my intuition, I'm right."
Wolfgang Puck: Cooking Should Be Fun
When he does appear on television, Puck says he always tries to focus on the home cook.
"I always try to think, what would people do out there? What do they do in the kitchen or how can I help them in the kitchen and also showing people that it's really easy and it should be fun in the kitchen," he said. "You know, have a glass of wine and cook, and even if it doesn't come out right -- the worst thing is that it doesn't come out right and you throw it in the garbage."
Puck always wanted to be a chef, and his first food memories involve his mother, who was also a professional cook.
"I grew up in the countryside, and I remember, for example, going into the vegetable garden and picking the leek, the carrots, the cole rabis, some potatoes, and making a vegetable soup. It was so amazing," he said. "Naturally, my favorite thing was always dessert. I love sweets more than anything."
When Puck left his childhood home at the age of 14 to pursue his dream of a culinary career, he said his father didn't offer encouragement.
"He said, 'Cooking is for women. That's not really for a man and you know, in three days, in three weeks you are going to be home again anyways,'" Puck recalled.
The first chef he worked with told him he was too young and "not good enough," and Puck said it marked a turning point in his life.
"I went home at night and there was a big river and I stood on the bridge there and I said: Should I jump or should I not jump in the river? Because I thought I'm going to kill myself, and then after an hour I said, 'You know what? Maybe I'm just going to go back tomorrow and maybe he's going to be in a better mood and say I'm OK.'"
He returned to work, and "became better and better. I worked harder and harder and everything worked out fine."
Spago: Great Atmosphere, Plus Pizza!
Puck opened Spago, his first restaurant, in Los Angeles in 1982. It became an overnight sensation.
"I remember, you know, Johnny Carson or Michael Douglas and Kirk Douglas, and Sidney Poitier and Michael Jackson and Madonna, and we had everybody at the restaurant, so everybody was talking about Spago and I had people from all over coming up to me and saying, let's open up a Spago in New York! Let's open a Spago in Tokyo!"
He attributes Spago's success to a combination of the relaxed atmosphere and "really good" food.
"It was the first restaurant with an open kitchen, you could see me cook and the other chefs cook and it was very friendly. But I already had the farmer in Sonoma raising lamb for me. I had a guy raising squab. We got fish from the right fish guys, we got the vegetables from the farm in Rancho Santa Fe. So whatever we served was the best quality," he said.
"We just made it simple. It wasn't fussy. It wasn't with a lot of sauces. A lot of food came from our wood burning pizza oven or wood burning grill. So, it had this great barbecue-y flavor in a way and maybe Americans really loved it. Plus we made pizzas!"
Puck says a chef is also an entertainer whose job it is to "make the people happy," and you also have to be a businessman.
And that might be the key now, because while his fine dining restaurants might not be making as much as they usually do, feeding soup to the masses as opposed to feeding just the posh few in his restaurants has been instrumental to his success -- especially in these bleak financial times.
"I always thought that people should get great food at any level," he said. "It's actually more difficult for me than having really upscale fine dining restaurants. So when we make a Caesar salad at the airport, it tastes the same as if it was at Spago."
Either way, Wolfgang Puck Inc. wins. But in this whirlwind of food shopping, restaurant opening and star catering, there is something that is lost. Cooking. When asked how much time he spends in the kitchen, he said, "not enough."
Jose Andres -- the chef/owner of eight restaurants, author of four cookbooks, host of two television shows -- agrees.
"Lately because the volume of restaurants, hotels, TV shows, everything I am doing now somehow has as a chef, I have been cooking less in the last five years, that I've ever dreamed of. Actually, some weeks, I do not even cook."
Andres said he hopes to cook more and more as he gets older. "I think actually as a chef, I am going to be the contrary to what is becoming the norm."
'Have a Great Time'
This reality for famous chefs has become the source of some controversy.
"I think the problem with the industry today, with kids today, is the whole rise of the celebrity chef," said, Johnny Iuzzini, the renowned pastry chef at Jean-Georges restaurant in New York City. "Kids come out of school, and they assume that they're chefs, first of all. They assume that they're going to make a lot of money, they're going to get book deals, TV shows or whatever else. And they don't understand that when you come out of school, you have a basic foundation. You have something now that you can build on. It's up to you to build on that."
Tom Colicchio, host of the incredibly popular "Top Chef" on Bravo and chef/owner of the Craft restaurant empire sees it differently.
"You know, the idea of separating yourself as a restaurateur and a chef or a business manager and a chef is something that's fairly new," he said. "Because you know years ago the options that are available to chefs now weren't there. ... There's so many different things that we're sort of allowed to do. So you kind of have to have two hats, especially if you want to run a successful business."
Either way, Puck said he's honored to have played a part in making cooking "a really great profession.
"Now we get really smart, young people into our profession, whereas before cooking wasn't a profession. No girl wanted to go out with a cook. Today, cooking is really a great profession and people instead of becoming lawyers and doctors become chefs."
And for Puck, it all comes back to being "a chef first."
"If you don't serve great food and give great service, people are not going to give you their money anymore. You have to be really careful and be on your toes all of the time."
Does he ever get tired?
"I always tell people that we are going to be tired and sleep a lot when we are dead, so I think right now, while we are here, why don't we make the most out of it and have a great time?"