Actor Ryan O'Neal received support from a surprise courtroom visitor, Farrah Fawcett's "Charlie's Angels" co-star Jaclyn Smith, during closing arguments in a civil trial over the ownership of an Andy Warhol portrait of the late star.
"I really feel Farrah would want that portrait with Ryan and then onto Redmond," Smith said Monday outside the courtroom, referring to Redmond O'Neal, the couple's only child during their decades-long relationship.
Smith, who did not testify, appeared Monday at Los Angeles Superior Court where Ryan O'Neal testified earlier in the civil trial that the Warhol portrait of Fawcett belongs to him. But the University of Texas at Austin claims that the portrait is part of the artwork Fawcett left to her alma mater.
Smith said she was friends with Fawcett until her death in 2009 from cancer at the age of 62.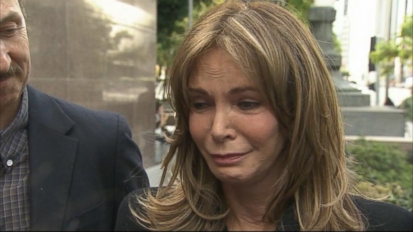 "She's here. I feel that she's here," Smith said of Fawcett. "She would say, 'Hey, these are my guys and they're going to win.'"
Jurors began deliberating Monday after lawyers made their closing statements, but left for the day without reaching a verdict.
University attorney David Beck told jurors Monday that O'Neal should hand over the portrait to the school. The University of Texas claims the portrait, one of a pair painted by Warhol in 1980, was part of Fawcett's art collection. The other portrait is on display at the university's Blanton Museum of Art in Austin.
The Oscar-nominated actor's attorney, Marty Singer, urged jurors to allow O'Neal to keep the portrait, calling the university's pursuit of the artwork a case of greed that contradicted what Fawcett told friends about its ownership.
O'Neal, 72, says the iconic artist gave one portrait to Fawcett and the other to him. O'Neal admits the disputed portrait hung in Fawcett's condo for years, but only because a girlfriend of his didn't like it above the bed in his Malibu home.
O'Neal testified two weeks ago that he asked Fawcett to store the portrait at her place.
The portrait, which is estimated to be worth millions, remained at Fawcett's condo until her death and O'Neal removed the artwork soon after.
The "Love Story" star claims he and Fawcett reconciled in 2001 after he was diagnosed with cancer and was with her until her death.
Jurors have heard nearly three weeks of testimony from Fawcett's former collaborators and numerous friends.
Craig Nevius, a reality-television producer who collaborated with Fawcett on her reality show, testified that he believed O'Neal stole the portrait from the star's home days after her death.
But several of Fawcett's friends and a former caretaker testified for O'Neal that she told them that one of the Warhol portraits belonged to the actor.
The Associated Press contributed to this report.