The Duchess of Cambridge delighted children today as she returned to work. Kate, wearing a recycled Max Mara green coat and a black houndstooth check kilt skirt, traveled to Edinburgh, Scotland, for a series of engagements designed to continue to raise awareness for childhood mental health.
The mother of Prince George and Princess Charlotte visited St. Catherine's primary school where she joined right in singing and giggling with the young students. The duchess, who is known as the Countess of Strathearn in Scotland, has been on a mission to destigmatize mental illness and empower children who are suffering from bullying.
Her visit to the elementary school was to highlight the work she does with the charity Place2Be, of which she is Royal Patron. The charity encourages children to address their feelings and be open about bullying. It targets children from especially troubled backgrounds who might also be struggling with families where addiction, child abuse, violence and poverty are present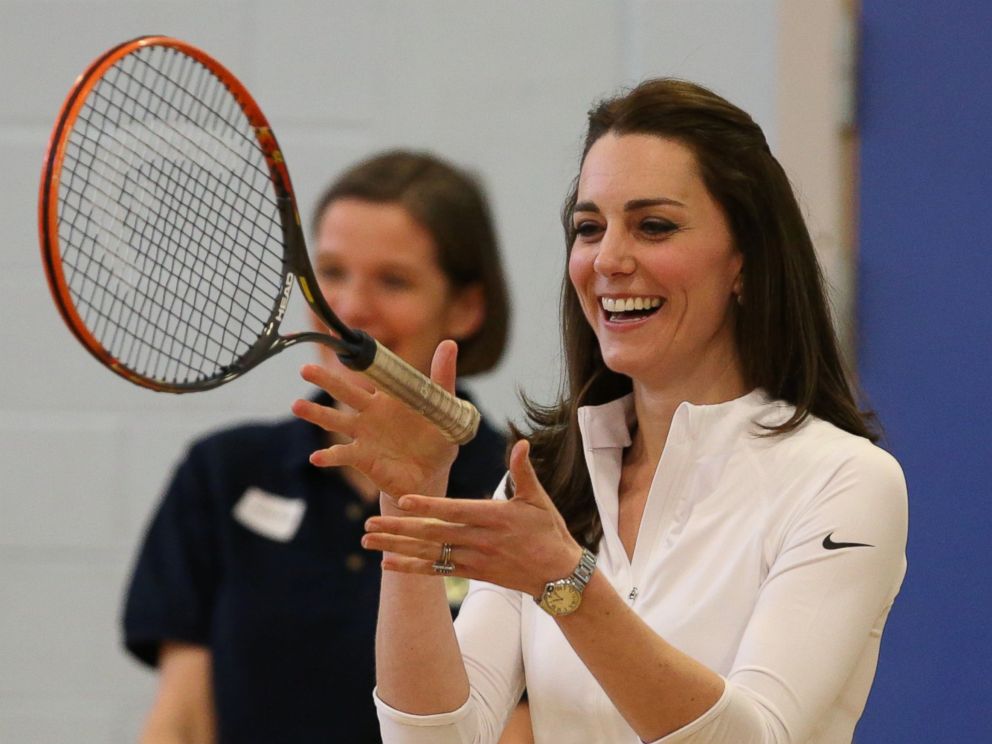 Earlier this month, Princess Kate, 34, launched Childhood Mental Health Week in the U.K. with a powerful public service announcement designed to raise awareness of the struggles children face as they grow up.
Kate later joined teachers in Scotland for a workshop on childhood mental health.
Midway through the day, the mom of two donned her trainers, racquet and workout clothes, hitting a tennis workshop with Wimbledon champion Andy Murray's mother who leads a Tennis on the Road coaching seminar for kids. The program uses sports to help build confidence among young people.
Judy Murray founded the project in 2014 and it strives to increase the popularity of the sport and expand coaching capacity.
Both Catherine and her husband, Prince William, the Duke and Duchess of Cambridge, are avid tennis players and have a healthy competition playing against one another. Kate is reportedly the better player, beating the future king of England most of the time.
The couple normally attend Wimbledon each year. Kate has been the queen of Wimbledon for some time. She has been courtside with her sister Pippa and family, and Prince William and Princess Kate met with Novak Djokovic after his Wimbledon victory.
Later this year, she's expected to take over as the patron of the All England Lawn Tennis and Croquet Club, better known as Wimbledon, from Her Majesty the Queen. The queen has served Kate with the prestigious prize as she slowly hands over some of her patronages when she turns 90 in April. The official announcement is expected in June during the Wimbledon tournament.
This is the first time Kate has gone solo on a work engagement north of the border in Scotland. She and William met and fell in love at St. Andrews University in Scotland, so the place holds special significance in her heart.
Kate also attended a program at her charity, The Art Room, which makes sure arts programs flourish in schools and encourages creativity for children, but most of all provides art therapy for struggling children.
The duchess has been Royal Patron of The Art Room since 2012, which reflects her interest in the field. Her university degree from St. Andrews was in the history of art.