Uncluttering a closet can be spring cleaning's most daunting chore.
If cleaning out your closet is still unchecked on your to-do list, have no fear: Organization expert Julie Morgenstern's SHED system and these inexpensive items can help make your closet cleanup a snap.
Morgenstern, author of "When Organizing Isn't Enough: SHED Your Stuff, Change Your Life," has developed a simple system to determine what to keep and what to throw out.
Morgenstern says that SHED is meant to turn what can be a scary or stressful chore into an opportunity for growth.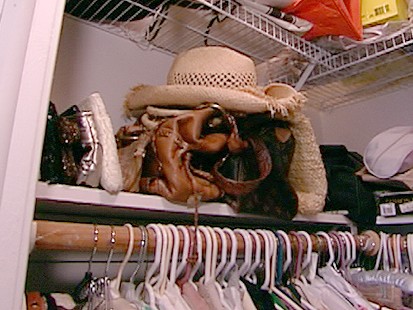 SHED Your Closet
Separate the treasures. Identify the gems that are worth holding on to and put them aside.
Heave the rest. Get out anything that isn't one of your treasures in one fell swoop.
Embrace your identity from within. After you've cleared the clutter, and you realize your stuff is gone, you might feel lost. A boost of self-confidence can remind you who you are without the stuff.
Drive yourself forward. Move forward and create a new vision for the life you want -- a life with more engagement and more freedom to do interesting things than you could have done when you were bogged down with clutter.
6 Inexpensive Ways to Get Organized
Huggable Hangers
Price: $39.99
Huggable hangers are great because they are very thin and you can fit more clothes in your closet and get more out of your space. They are covered with material to make sure that things don't slip off. They also create a uniform look that makes your closet more approachable.
Huggable Hangers and other ultra slim hangers are available at a variety of retailers including the The Container Store and Bed, Bath and Beyond.
Stack-N-Nest Shoe Bins
Price: $7.99
People lose their shoes in the bottom of their closet all the time. These clear bins are great because of their versatility. They stack up, and you can put them on a shelf above the rod or put them on the floor. They hold a tremendous amount of shoes in a very accessible way, and because they are clear, you can see what you have before pulling bins out of the closet.
A number of retailers including The Container Store offer these types of stackable shoe bins.
Flip-Flop and Sandal Organizer
Price: $12.99
Flip-flops are a favorite for summertime footwear but tend to get lost in a closet because they don't really fit anywhere. The flip-flop and sandal organizer is a wonderful solution. You can hang it on the back of your closet door or on your closet rod and have all of your flip-flops accessible, visible, easy to grab and wear -- and easy to keep organized.
Available at the Container Store and other retailers.
Umbra Dublet Adjustable Closet Rod Expander
Price: $19.99
This product instantly doubles the room in your closet for hanging clothes. Short hanging things don't go all the way to the floor so the closet rod expander will let you hang shirts and jackets on the top and pants or skirts below.
Available at the Container Store and other retailers.
Shelf Dividers
Price: $6.99 for set of two
Using a closet's top shelf can cause things to pile and topple into each other, making your stuff inaccessible. Shelf dividers are a simple and inexpensive product that can help solve this problem. They will keep your stacks of sweaters and jeans separated and make it easy to collect things and put them in their proper place.
Shelf Dividers at this price point are available at organize.com and spacesavers.com.
Extra Tip: Basket for Hangers
A basket or canvas tote in the bottom of your closet is a handy way to store extra hangers. Excess hangers on the closet rod just clutter your space. When you take something off the hanger, throw it in the basket. That way, the next time you go to hang something, it's right there.