You can train yourself to be happy, according to Robert Holden's newest book "Be Happy: The Power of Happiness in You."
He shares the key steps to take in the follow-up to his previous bestseller.
According to the book, one key is to put your past behind you and focus on being happy now. Another is to stop blocking happiness from taking root in your life. As you put the principles into practice, you can help others become happier, too.
Read an excerpt of the book below and head to the "GMA" Library for more good reads.
Chapter 9
Choosing Happiness
The real reason why happiness means so much to you is that happiness is your true nature. Happiness is who you are, and it is what you experience when you accept yourself, when you relax, and when you stop neurosing about being a "size zero," about "why he hasn't called", and about "what I should be doing with my life." Happiness isn't "out there." And, when you really think about it, the blocks to happiness aren't "out there" either. Why? Because there is no "out there" out there.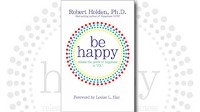 The happiness course shows you how your psychology creates the world you experience and how it can either enhance or block your awareness of true happiness. Happiness is not a state of mind; it is your true nature. That said, certain states of mind can either help or hinder your experience of happiness. In other words, happiness is your original nature, but you may well be suffering from psychology. Your psychology (that is, your perceptions, your beliefs, and your self-talk) is what stands between you and happiness now, success now, and love now.
Over the years, my work on happiness has been independently tested by psychologists and neuro-scientists who are able to record the wonderful results that happen when people change their psychology. A new belief, a new perception, can undo your mind and open up a whole new world of possibility. Scientists have shown that when students in my course change their thinking they literally alter the chemistry of their brains, which shifts their experience of the world and also increases their happiness, peacefulness, and well-being.
I begin the exploration of the psychology of happiness by asking my students to answer the following question with a "Yes" or "No." The question is: "Could you be even happier—even if nothing in the world around you changed?" I give my students a full five minutes to choose their answers so that they can really think the question through. That said, most students tell me that they only need about five seconds. The answer is almost always an emphatic "Yes." Over the years, I would estimate a percentage split of 90 percent for "Yes" and 10 percent for "No." In the most recent course, the score was 100 percent for "Yes."
These very high scores appear to confirm the "negligible role" that life circumstances play in happiness. To be truly happy, you have to get your head around the idea that circumstances don't matter as much as you think they do. Leading happiness researcher Sonja Lyubomirsky says, "The general conclusion from almost a century of research on the determinants of well-being is that objective circumstances, demographic variables, and life events are correlated with happiness less strongly than intuition and everyday experience tell us they ought to be."1