It doesn't have to cost hundreds of dollars to decorate an entire room for the holidays. As part of "Good Morning America's" Holiday Handbook, Sarah Gray Miller, editor in chief of Country Living magazine, offers eight projects that can help you save a bundle and still create a festive living room this year.
The JOY Pillow
Upgrade store-bought throw pillows in a jiffy with simple appliqués. First, type JOY into a word-processing document, using any font you like. Enlarge each character to full letter-page size and print. Then, cut out the letters and trace them onto white felt in their cut-out forms. Pin stripes of fusible bonding web, such as Stitch Witchery to the back of each felt letter. Center each one (with webbing underneath) on a pillowcase and carefully remove the pins. Iron on according to the package instructions. Once the letters have adhered, add decorative stitching with embroidery thread, if desired.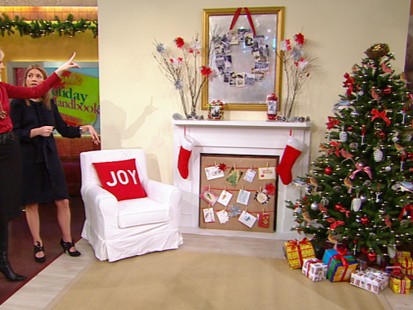 The Price Tag and Where To Buy:
Solid red toss pillows are $9.09 at
www.costplusworldmarket.com
. Felt is $2 and stitch witchery is $2.99 at
www.joann.com
.
Card Display
Fabric stretched serves as a perfect blank slate for displaying holiday greetings. Simply string ribbons across the canvas, staple in back, and then hang cards from decorative metal clips.
The Price Tag and Where To Buy: Card display is $5.99 at www.kitraft.biz or $4.58 at www.antonline.com and ribbon is $2.
Tissue Flowers
What's not to love about these fuss-free flowers? Fashioned from paper, the fake blossoms don't require watering and keep their cheery color all year long. Cut out a 3" x 7" rectangle from a stack of four pieces of tissue paper. Fold the stack in half; then cut out a petal shape, lining up the base of the petal with the fold, while leaving the paper connected at the fold. Unfold and rotate the petals so they overlap and form a flower. Bend one end of a 4" piece of wire into a tiny loop; piece the other end down through the center of the flower and thread the flower onto the wire. Scrunch the petals forward and secure to the wire with floral tape; then open them and fluff. Wrap the remaining wire around a twig. "GMA" used the pillows to spice up a comfy white arm chair from Ikea.
The Price Tag and Where To Buy: Tissue paper is $2.72 at www.instawares.com.
Wreath
Reinvent the family tree in wreath form. To make your own photo arrangement, hot-glue a selection of black-and-white snapshots (use copies if you're worried about ruining the originals) to a wire wreath form.
The Price Tag and Where To Buy: An 18" wreath frame is $2.95 at www.mainewreathco.com.
More Holiday Decorating Projects
Bird Ornament
A vintage Audubon book produced these images. Turn them into tree-trimmers by color-copying them onto card stock. Then, cut out the birds and punch holes at the tops.
Key Ornament
Skeleton keys have a fresh look when they're spray-painted white.
The Price Tag and Where To Buy: Spray paint is $4.19 at Sears. Keys are $5 per handful at thrift stores. Additional ribbon is $4 at Lee's Craft Store.
Acorn
Spray-paint white this fall-and-winter classic, and then string it on the tree with ribbon.
The Price Tag and Where To Buy: Spray paint is $4.19 at Sears. - Additional ribbon is $4 at Lee's Craft Store.
Gifts
Simply color-copy sweaters, playing cards, etc. on regular paper and use to wrap gifts.
For more information, visit Country Living magazine at www.countryliving.com.
"GMA" found that beautiful pre-lit tree at Treetopia.