Swimsuit model Joanna Krupa made her exit from "Dancing With the Stars" just one show short of the final dance-off for the disco-ball trophy, despite strong scores from the judges Tuesday night.
"Last night was pretty tough," Krupa told "Good Morning America" today. "I wasn't too shocked to find out I was leaving. I was competing against huge names. ... I was prepared for it, but I am bummed, I won't lie. I tried my best."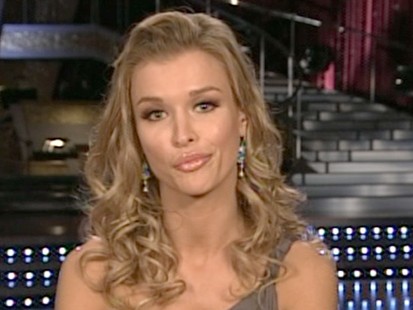 The self-styled "underdog" and professional dancing partner
Derek Hough
were some of the most consistent dancers on the show and earned 81 out of 90 points from judges for their Viennese waltz on Monday's show.
Judge Carrie Ann Inaba was so inspired by the dance that she told the pair, "You took my breath away."
But fan votes, which are combined with judges' scores, dropped their overall scores too low to survive the final cut.
"Even though I got to the semi-finals, I'm over-the-moon excited," Krupa said.
Three couples will take to the dance floor next week for the shows final competition. Krupa told "GMA" she favors Kelly Osbourne for the championship.
"She came in raw with no experience. She deserves a chance to win the title," Krupa said of the reality TV star. "She's a doll face. I adore her."
Osbourne joins entertainer Donny Osmond and singer-songwriter Mya for the finals Monday.
Krupa 'Really Worried' About Past Performance
Krupa and Hough recreated the Viennese waltz after learning their fate on the show Tuesday, but she said it was a previous performance, the "futuristic pasa doble," that was the most nerve-wracking.
"I have the worst timing when it comes to music," Krupa said. "I was really worried. ... [Hough] said it'll be amazing, or it'll be a tragedy.
"I was so happy it came out the way it did," she said.
The dance earned the couple a perfect score of 30 from the judges.
Her success through the competition, she said, is partly due to a literal kick in the behind from her mother.
Krupa's mother decided on the spot before the competition that it would be good luck to nudge her in the butt before dances.
"I guess she was right," Krupa said.