Is there a hangout or restaurant on or off your college campus that serves the best food? What's that special dish that everyone craves at all hours, and is willing to line up around the block for?
"Good Morning America" Weekend wants you to tell us about that hangout, diner, or restaurant and its signature dish. We're looking for fresh, original and creative dishes that capture the flavors and uniqueness of your town!
If your entry gets the most votes from our panel of judges and viewers across America, you and the hangout/diner/restaurant that you entered may be featured on national television!
Read the rules below and click here to enter the "Best Bites: College Edition" contest online.
OFFICIAL RULES:
NO PURCHASE NECESSARY TO ENTER OR WIN. Challenge is open to legal residents of the forty-eight (48) contiguous United States and District of Columbia, 21 years of age or older. Challenge sponsored by Good Morning America Weekend ("Show") and American Broadcasting Companies, Inc. ("Sponsor").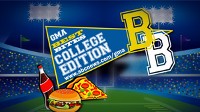 ABC News Photo Illustration
Challenge Entry Period: "Good Morning America's Best Bites: College Edition" (the "Challenge ") entry period begins 7:00 a.m. Eastern Time ("ET") on Saturday, October 16th 2010 and ends 11:59 p.m. ET on Sunday, October 31, 2010 (the "Challenge Period"). Sponsor computer is the official clock for this Challenge.
HOW TO ENTER: You may enter the Challenge by navigating the internet and visiting ABCNews.com/gma. Click on the "Good Morning America Weekend" site, and then click on http://abcnews.go.com/GMA/mailform?id=11835188. To enter, you ("Entrant") must submit an essay of 300 words or less telling us about your favorite local hangout/diner/restaurant ("Establishment") and why its signature dish makes eating there such a memorable experience. You must tell us (in detail) what makes the signature dish so delicious (ingredients, taste, etc.) and why it's a local favorite. Be sure to include the name, address and phone number of the Establishment in your entry, as well as the name of the owner and chef if possible. We also need your name, address, daytime phone number and an email address where we can contact you. The contact information for the Establishment and yourself does not count towards the 300 word limit in the essay.
Deadline for entries: All entries must be received by 11:59 pm Sunday, October 31st 2010.
Eligibility Guidelines: The Establishment you are submitting must be located in the forty-eight (48) contiguous United States or District of Columbia. Your favorite dish must be one with qualities that make it unique to that establishment. If you are a minor, you must include written permission from a parent or guardian to enter. Employees of American Broadcasting Companies, Inc., its parent, subsidiary or affiliated companies, or the immediate family members or members of the same household of anyone so employed, are not eligible to enter or to win.