This Sunday is Father's Day and if you're still searching for the perfect present for your dad, "Good Morning America" and Men's Health magazine have some great gift ideas for every type of dad.
For the High Tech Dad
The Sanctuary
Price: $129.95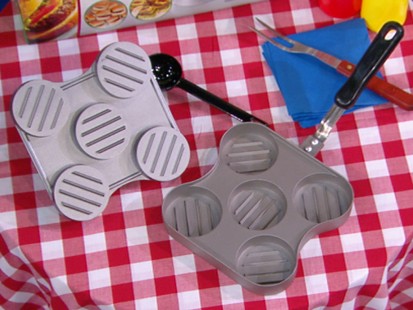 For a dad who's got all the
gadgets
, give him a place to organize them all. The Sanctuary is an integrated charging station that offers a central location to place all of dad's personal items - from phones to ipods and more. It can hold credit cards, wallets, money clips, loose change, keys and other often-misplaced items. It comes in white or black with a reversible black/tan inner tray.
For the Low Tech Dad
Dynamic Frames
Price: $24.99-$34.99
Whether used to house a fishing fanatic's big catch or to show off the grandchildren, this attractive frame allows dad to change the picture the old fashioned way. The dynamic frame displays one image at a time and stores up to 50 or more behind it for later display.
Just lift the latch to open the glass front door, and push the newest photo or drawing into the spring-loaded pocket.
For the Golf Dad
Kooler Klub
Price:$49.95
For the sporty dad, the Kooler Klub is a golf bag drink dispenser for those hot days on the links, perfect for those icy cold aspiring Tiger Woods.
The insulated 48 oz. reservoir holds hot or cold beverages and it includes a long handle bottle brush for cleaning.
For the Chef Dad
Big City Slider Station
Price:$19.99
The Big City Slider Station is a stove-top or grill-top mini-burger or slider maker, with 5 slots to press your meat into. It makes perfectly round baby burgers in just 2 minutes!
***
More from Men's Health:
Chisel a Rock-Hard 6-Pack in 6 Weeks
For the Geek Dad
Rubik's 360
Price:$14.99
The Rubik's cube has gotten a makeover, and if your dad is notoriously nerdy, this might be perfect for him. The Rubik's 360 is spherical as opposed to cube-shaped, and transparent rather than solid. Dad manipulates the clear sphere to get the colored balls into their proper location.
For the Music-Lover Dad
King of coasters
Price:$18.00
For the dad who likes music and a cold drink, these coasters are just the thing. Made of labels cut from the center of classic vinyl records, these coasters will be a hit. The discs are sealed so moisture won't seep through to the surface and they come in a set of six.
***
More from Men's Health:
Chisel a Rock-Hard 6-Pack in 6 Weeks