Expectant parents dream of looking into their baby's eyes once their bundle of joy has arrived. But for new parents Bridget and Mike Wildschuetz of Kyle, Texas, that day will have to wait.
"We just felt that our faith in God and his plan and purpose for her was what was going to carry us through this," Bridget Wildschuetz, 31, said. "So at that point, we said, 'We're going to name her Faith.'"
Faith, or "Super Baby Faith," as she is known by her family and friends, was diagnosed with severe bilateral microphthalmia, a rare congenital disorder that results in little to no eye development, usually during the first trimester.
Geneticists believe that only one in every 10,000 births will have some form of the condition, which could leave patients with no structure, or globe, in either eye, depending on its severity.
"She's 100 percent totally blind," Mike Wildschuetz, 34, said of his daughter. "She's never going to be able to see anything. It's just basically an empty socket."
Although her parents say they are up for the challenge, there is still the issue of finances. Mike Wildschuetz, a mining engineer, was laid off from his supervisor job in October 2008 and left work permanently to help take care of 2-month-old Faith. His wife works as a physical education teacher at a local elementary school.
But with Faith's medical bills starting to trickle in, along with other standard payments, Mike and Bridget said they can't help but feel overwhelmed.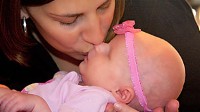 Courtesy Johanna Burleson
"Every day we get bills in the mail," Bridget said. "It's never ending."
Church Pitches in for Baby Faith
The Wildschuetzes say they have only been able to move forward thanks to the support of family and friends and their faith in God. To help alleviate some of the costs, members of their church, The Connection Church, have donated to a benefit fund created for Baby Faith.
If you are interested in donating to the Wildschuetzes please CLICK HERE.
Since the fund started in late September, $1,447 has been deposited, with family pastor Nic Burleson hoping to raise more by selling rubber bracelets with Faith's name on them.
'We're Not Going to Let Them Go Through This Alone'
"Our church's motto is to connect to God, connect to others, and then connect others to God," Burleson said. "We want to be sure that we do everything we can to keep [the Wildschuetzes] connected and let them know that we care about them, that we love them, that we support them, and that we're not going to let them go through this alone."
Parishioners also assisted the family while Faith was still in the hospital by mowing their lawn and bringing them food as they waited. Families bring the Wildschuetzes a meal a day to help curb costs, Burleson said. A couple even started a Web site, Superbabyfaith.com, to keep supporters up to date with her ongoing condition.
"It was just basically a question of how could we reach more people," said Rafael Marquez, who started the site. "We knew that outside of our church community and church family, there were other people out there that would be willing and able to help."
After Faith was born, he added, the site peaked at about 2,900 page views a day and has since averaged about 300 daily views.
"We just thank God every day for our baby girl and for all those people that He has put into our lives to just help us through this, because it's tough, it's really tough," Bridget Wildschuetz said.